Where To Skimp and Where To Splurge on Your Vacation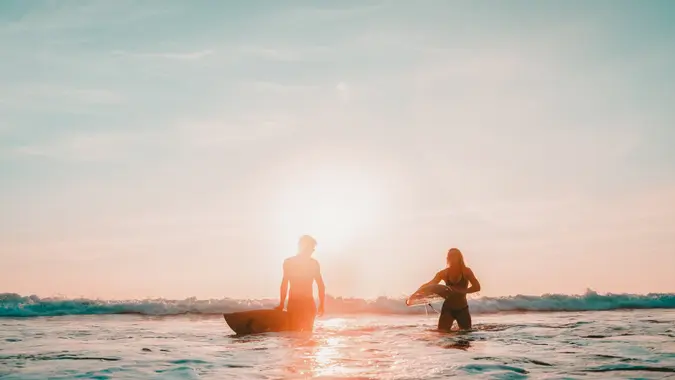 nazar_ab / Getty Images
The COVID-19 pandemic largely brought travel to a halt in 2020, but the new normal of business as usual is starting to return — thanks to COVID-19 vaccines. As of June 18, 44.7% of the total U.S. population was fully vaccinated and 53.1% had received at least one dose, according to the Centers for Disease Control and Prevention.
Modern Money Etiquette: Who To Tip When You're TravelingRead: How Eco-Friendly Travel Can Save You Money in 2021
Since vaccination rates are going up and COVID-19 cases are going down, people are ready to head out of town for a much-needed vacation. In fact, more than 2 million people passed through TSA checkpoints on June 17, 2021, compared with 576,514 on the same date in 2020 — an increase of nearly 354%.
Many people are embarking on vacations they planned to take last year, but were forced to cancel due to the pandemic. Specifically, 75% of people had to cancel a vacation in 2020 because of COVID-19, and 64% are currently planning a trip that was previously cancelled, according to an April 2021 Microsoft Advertising survey.
A lack of travel has meant more time to save for many vacationers, as 44% have spent at least six months putting extra money aside for their trip and 11% have been doing this for more than a year, according to the Microsoft Advertising survey. Therefore, people are clearly ready to spend more than usual on their vacations.
Make Your Money Work for You
Discover: Why It's Smart To Book Your Late 2021 Travel Now
Learn More: How To Save Money on Rental Cars for Your Upcoming Trip

If you're in the midst of planning a trip and you have extra cash to burn, this is a great position to be in. However, it's important to stick to a budget and splurge wisely, because you can still have an amazing trip without overspending at every turn.
In fact, you'll likely get more out of your trip if you indulge yourself in a few meaningful ways that will stand out as lasting memories. Striking a balance between skimping and splurging will help you avoid going broke on this trip, and having regrets about not reeling your spending in earlier.
Brian Stivers, president and founder of Stivers Financial Services, a financial planning firm based in Knoxville, Tennessee, said basic travel expenses — i.e., airfare, lodging, rental cars and food — are on the rise now that more people are venturing out of town. If you're flying to your destination, he said using credit card points to purchase your ticket can allow you to save serious money.
Look: How To Budget and Plan For a Vacation in 2021
See: 40 Pandemic Airport Secrets Only Insiders Know

Make Your Money Work for You
"If you join a frequent flyer program, many credit cards will allow you to transfer your reward points to your frequent flyer program," he said. "Then these points can be utilized for free airline tickets."
He also encouraged looking at discount airlines that typically serve smaller regional airports and fly to popular vacation destinations.
"These discount carriers are usually much less expensive than their full-service counterparts," Stivers said. "In addition, many of them are actually full-blown travel companies and can package a hotel and car with their flight (for) substantially less than making these arrangements individually."
When your flight lands, he advised against renting a car, and instead using pretty much any other available option — i.e., Uber, Lyft, taxi, private driver or public transportation. He said car rental prices have surged due to the pandemic, as many companies sold their vehicles to survive the pandemic.
"I recently reserved a car in Florida that pre-COVID would have cost around $300 to $400 for the week," he said. "I had to pay $1,000 for the week due to the increases in cost."
Make Your Money Work for You
Read More: 6 Simple Ways To Cut Costs on Your RV TripFind Out: How To Plan Future Travel Without Risking Your Deposits
Stivers also recommended using sites like VRBO and Airbnb to find accommodations, instead of a hotel.
"I commonly find I can get a larger place to stay for less than a traditional hotel room," he said. "In addition, I will often eat breakfast (and) lunch in the condo or home, since it has a full kitchen, and divert the savings to choosing where I would like to spend my funds for a special dinner."
Another splurge he advised is hiring a private guide or driver to take you on sightseeing excursions. He said you'll likely offset the higher cost by the time you'll save and the benefits you'll realize.
"I have used private guides and drivers all over the world, and without exception, they have enhanced my travel experience and made it more enjoyable," he said. "This includes the benefits that many guides can take you off the beaten path for unique experiences."
Make Your Money Work for You
Be Aware: The Cost To Book Last-Minute Summer Travel to Top US Destinations
Summer Travel You Don't Have To Splurge On: Cities You Can Stay in for Less Than $140/Night

Additionally, he said they're often able to get you into locations that are difficult to access on your own and might even be able to help you skip the lines at popular tourist attractions. He said these services also often include transportation.
If you're in a major city, Stivers also advised splurging on a food tour for dinner.
"This has become one of my favorite ways to explore a city and have a memorable dinner," he said. "This may cost a bit more for dinner, but often includes a tour of the city as well as enjoying different types of food (and) drink establishments."
Everyone has their own idea of the perfect vacation, but consider these tips to help get the most from your trip — without overspending. You'll enjoy your getaway even more if you can pull it off without breaking the bank.
Make Your Money Work for You
More From GOBankingRates
Last updated: June 22, 2021