Where, When and How To Book a Weekend Getaway on the Cheap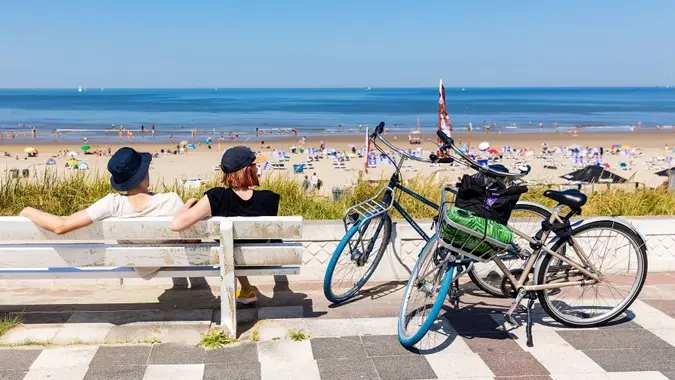 Hollandse Hoogte/Shutterstock / Shutterstock.com
Travel frenzy is hot this summer, with millions of Americans booking vacations. Not every getaway is a week-long affair or more, though. Many are keen on just getting out of dodge for the weekend.
New research from Hopper found that 75% of Hopper users plan to take a weekend getaway sometime in the second half of 2023, with the majority planning to fly (84%) and stay in a hotel (82%) or vacation rental home (34%). Interestingly, 60% of travelers polled say they're flexible with dates and destinations, intent on finding the best deals.
It's great that consumers are remaining flexible, because even a brief travel reprieve can break the bank. In general, prices for travel are skyrocketing. According to a recent report from Kayak, quoted by Travel + Leisure, flight prices are up 35% and hotels are up 5% compared to last year.
With the costs of travel soaring, it's crucial that consumers know when and how to book a weekend getaway without breaking the bank. The new research from Hopper highlighted some of the best destinations, both in the U.S. and beyond, to travel to on a budget.
Top Domestic Destinations for Weekend Getaways (Under $250 Round-Trip)
According to Hopper, these are the top U.S. destinations for weekend getaways that you can snag for under $250 round-trip.
Orlando, FL: $84 to $245 per round-trip ticket
Cleveland, OH: $86 to $228 per round-trip ticket
Houston, TX: $119 to $222 per round-trip ticket
Washington D.C.: $110 to $247 per round-trip ticket 
Minneapolis, MN: $102 to $221 per round-trip ticket
Top International Destinations for Weekend Getaways (Under $500 Round-Trip)
International weekend getaways are arguably more attractive than domestic ones. According to Hopper, you can travel for under $500 round-trip to these locations abroad.
Cancun, Mexico: $250 to $368 per round-trip ticket
San Juan, Puerto Rico: $175 to $343 per round-trip ticket
Santo Domingo, Dominican Republic: $277 to $413 per round-trip ticket 
Montego Bay, Jamaica: $286 to $465 per round-trip ticket
Santiago de los Caballeros, Dominican Republic: $309 to $480 per round-trip ticket
Make Your Money Work for You
The Cheapest Months To Travel
Unfortunately, travel prices for the summer months are steep. According to Hopper, January, September and October are the cheapest months for weekend getaways. It's definitely not too early to book for these time slots!
When To Plan and Book To Save Money
Planning ahead is critical if you want to save money, and this means booking your weekend getaway well in advance. For domestic trips, Hopper recommends to start monitoring prices three to four months ahead of your trip dates and to book one to two months in advance.
For international trips, especially those to highly popular destinations such as the Caribbean and Mexico, begin monitoring prices six months in advance, and plan to book three to four months before your trip dates.
More From GOBankingRates