These Are the Best (and Worst) Places to Visit in March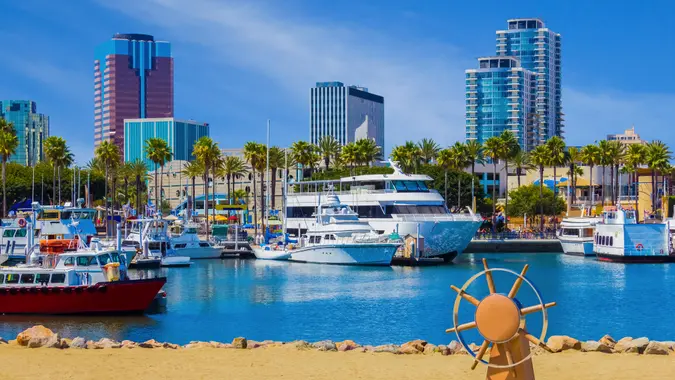 Ron_Thomas / Getty Images/iStockphoto
March is notoriously a tricky time to travel, as prices are generally higher because of spring break. Families and friends crave a quick getaway as the winter doldrums seem to drag on, but inflated prices can be intimidating. That's why it pays to know when you can find March flight deals.
Travel website Hipmunk analyzed millions of flight bookings over a 24-month period to determine which months were the best to travel and find flight deals. Using that data, we're here to show you some of the best places to visit in March and which cities to avoid to help you stretch your vacation dollars further.
Click to See: Cheap Beach Vacations to Book Now
Where to Travel in March: Long Beach, California

Long Beach is one of the best places to visit in March for flight deals, according to Hipmunk. The median flight booking price is just $196, which will save you more than $100 compared to December, a steal if you're craving the ocean breeze.
March weather in Southern California is mild with highs in the mid-60s and plenty of sunshine. Beyond the beach, there are plenty of free and affordable attractions, from the coastal bike path in Shoreline Village to The Museum of Latin American Art's sculpture garden and the Long Beach Museum of Art. Both museums have an admission price of $10. You can save even more money by comparing both hotels and vacation home rentals for accommodations and using Skyscanner to find the cheapest day to fly.
Make Your Money Work for You
Worst Places to Visit in March
While you may be dreaming of a Sunshine State getaway, many Florida destinations have their peak season in March. The state is flooded with visitors for spring training, motorsports, theme parks and water activities. In fact, a majority of warm-weather destinations are overpriced in spring.
Here's a look at the destinations with peak median prices for flights in March:
Orlando, Florida
Median price in March: $365
When to visit instead: January, September ($235)
If you're searching for fun places to go in March for spring break or with the kids, Orlando might initially seem ideal. But the reality is you'll be fighting crowds of every other family who had the same idea. Unfortunately, expensive hotel rooms, long lines and whining children are not the recipe for a relaxing getaway.
As an example, GOBankingRates found that round-trip airfare to Orlando generally averages $247 per person. If you consider flying a family of four, that's quite a bit of extra money you'd be wasting. Consider visiting in September instead. While there is technically no off-season in Disney World, the crowds are lighter in fall before the holiday festivities ramp up.
Savannah, Georgia
Median price March: $482
When to visit instead: September ($333)
TripAdvisor named Savannah one of the best cities for an adult spring break, which only drove up the rising costs. But insiders know that fall is the secret season in Savannah when the air is crisp, cool and perfect for exploring. It's also oyster season, a must for seafood lovers.
Make Your Money Work for You

Las Vegas, Nevada
Median price in March: $390
When to visit instead: January ($259)
Las Vegas generally offers a lot of travel deals to entice visitors to spend money at the casinos, but it's surprisingly not one of the cheapest places to travel in March.
January, however, is a great time to stave off the post-holiday doldrums. While it's too cold for the raging summer pool parties, it's a unique way to ring in the new year right — especially if you're feeling lucky.
Fort Lauderdale, Florida
Median price in March: $383
When to visit instead: September ($219)
Fort Lauderdale is another popular spring break destination, especially with the college crowd. But with a swell of 12,000 extra visitors, the city has begun to crack down on the debauchery.
Visit Florida, a tourism website for Florida, recommends visiting in the fall when you'll get a better deal and avoid the crowds. Plus, the weather is still in the 70s and 80s, perfect for a beach getaway sans partying.
Find Out: 4 Ways to Enjoy South Beach Without Breaking the Bank

Key West, Florida
Median price in March: $655
When to visit instead: July ($414)
The Florida Keys also has its high season in March. It's a bit too far and pricey for students, but a number of people still flock to the Gulf of Mexico in hopes of scoring a tropical getaway pre-hurricane season.
But don't let that deter you from visiting in the summer. If you visit in the summer, there are a number of fun events like the Key Lime Festival and its prime diving season for manta ray, fish and dolphins. Just be sure to check the news and weather forecast before going on your trip.
San Diego, California
Median price in March: $381
When to visit instead: September ($299)
With moderate, stable temperatures all year, there's no bad time to visit San Diego. So why pay more when attractions like the Zoo and Belmont Park are great to visit year-round? You'll save the most in September — which is actually one of the warmer months — and foodies will love Restaurant Week, when you can enjoy fine dining on a budget.
Also See: Best and Worst Spring Break Destinations in the U.S.
Miami, Florida
Median price in March: $398
When to visit instead: September ($290)
Another wildly popular spring break destination, Miami is also cracking down on excessive partying as the misbehavior has taken a toll on city resources. Ranked as one of the trashiest and rowdiest spring break cities, it's not a pretty sight in March.
Instead, plan a fall visit when the co-eds are long gone. The weather might be a gamble, but you'll have the beaches all to yourself and save some serious dough on hotels.

San Antonio, Texas
Median price in March: $444
When to visit instead: September ($324)
San Antonio has become a popular spring destination for families as the Alamo and the River Walk cleverly disguise culture and history as fun. But a trip during the shoulder season won't disappoint either. Fall in Texas is mild, and it's a great time to take in theme parks and cowboy culture with elbow room.
Click through to find out how to find cheap flight deals this spring.
More on Travel
We make money easy. Get weekly email updates, including expert advice to help you Live Richer™.