The Best and Worst US Vacation Cities for Your Wallet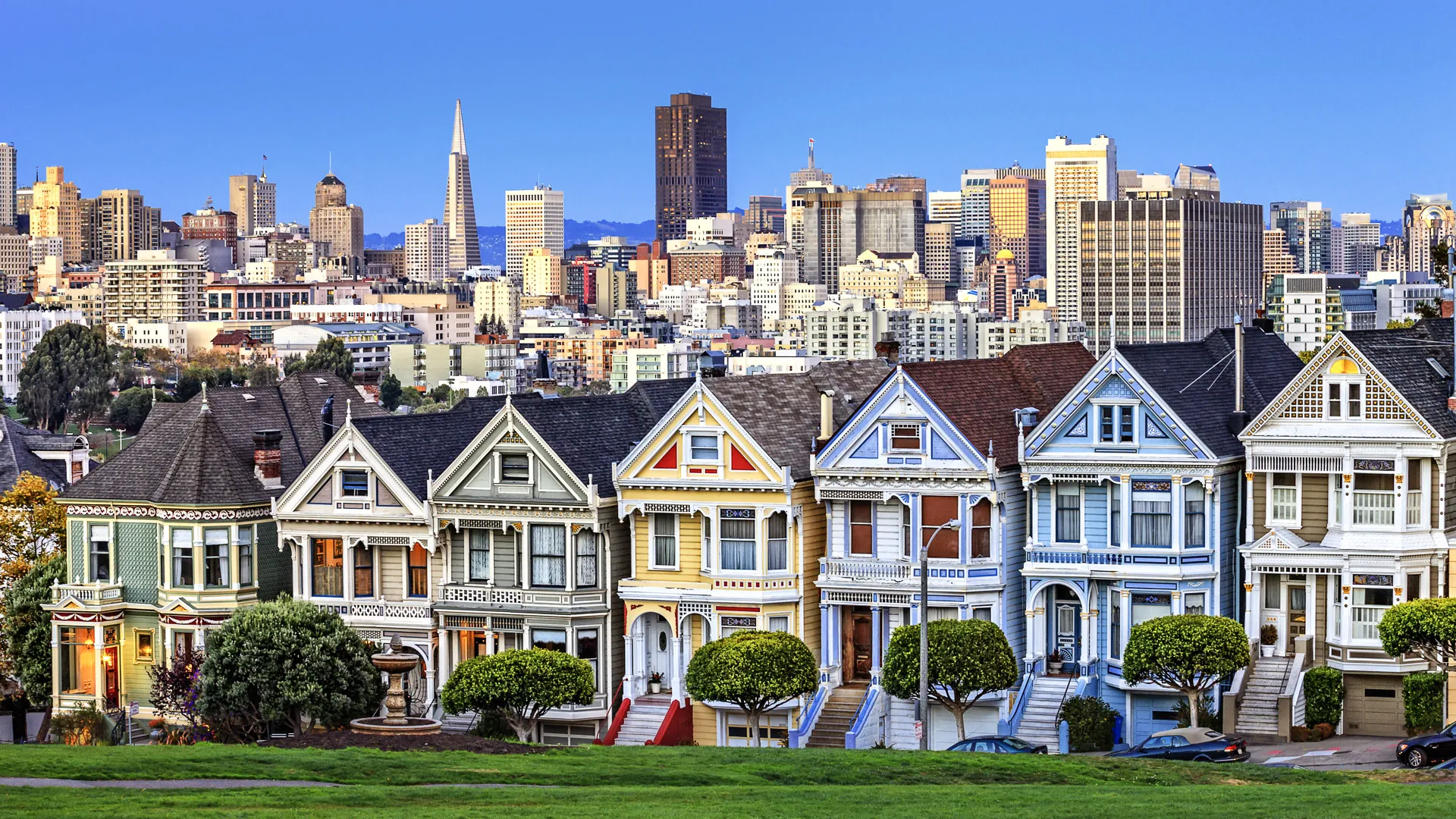 Planning a vacation doesn't have to cost a fortune — if you know where to go. Some U.S. vacation cities have surprisingly affordable accommodations and activities, but others are not so budget-friendly.
To help you pinpoint affordable vacation destinations, GOBankingRates looked at five factors in the most popular U.S. cities to visit: safety, airfare, hotel price, and food and drink costs. Based on those criteria, we identified the 15 worst and best vacation spots in America.
Click through to see which U.S. city you can visit on a shoestring budget, starting with the most expensive destinations.
Data and pricing is accurate as of July 6, 2018, and is subject to change
30. San Francisco
San Francisco is one of the most expensive cities in the U.S. if you live there, and it's certainly not much cheaper to visit. It ranks as the worst vacation city because costs are high across the board. In fact, only one other city — New York — has drink costs as high as San Francisco's, and San Francisco has the second-highest food costs at approximately $75 for a three-course dinner for two.
However, there are a few things you don't have to shell out big bucks for in San Francisco. For example, you can take a free walking tour of the Golden Gate Bridge, and stroll through Chinatown or visit Fisherman's Wharf.
Make Your Money Work for You
29. New York
Be prepared to open your wallet wide if you want to visit the Big Apple. New York has the highest food and drinks costs on our list — expect to pay at least $80 for dinner for two and approximately $7 for a beer. And it has the fourth-highest cost of airfare in our rankings — $380.
But you can keep your costs down in New York by visiting free attractions like Central Park, the 9/11 memorial and the Brooklyn Bridge. Avoid expensive attractions, like baseball games at Yankee Stadium, to cut vacation costs.
28. Philadelphia
In Philadelphia, airfare and hotel costs are high, which is why it's one of the worst vacation cities. The average round-trip airfare is $386, and the average price of a hotel room is $148. Plus, the city's safety rating is among the lowest on our list. Fortunately, you don't have to pay anything to see some of the most famous attractions in Philadelphia, like the Liberty Bell and Independence Hall. 
27. Washington, D.C.
Not only is the nation's capital one of the most popular travel destinations in the U.S., it's also one of the most expensive. Although the average hotel price is reasonable, the cost of food and drink in Washington, D.C., will put a big dent in your budget — $70 for dinner for two and $6 for a domestic beer. Fortunately, some of the city's top attractions — such as the museums and galleries that are part of the Smithsonian Institution — are free.
26. Los Angeles
The home of Hollywood is one of the most expensive places to visit. Hotels cost $116 per night, and food and drink costs in LA can put a dent in your travel budget. The cost of a three-course meal for two at a mid-range restaurant is $65, and a domestic beer costs $6 on average.
But there is no shortage of things to do and see in LA — including plenty of free attractions like the Hollywood Walk of Fame, Sunset Boulevard and Santa Monica Pier.
Make Your Money Work for You
25. St. Louis
At $131 a night, St. Louis has some of the most expensive hotels compared with the other cities on this list. Plus, it also has low safety scores.
On the plus side, you can drink for cheap — domestic beers cost an average of $4. And you can visit a variety of free attractions, including the St. Louis Zoo, and the city's Science Center and Museum.
24. Atlanta
Food and drink costs are fairly reasonable in Atlanta, but the Southern city has pretty expensive hotels — expect to spend $121 per night. It's also among the least-safe cities on our list. But if you do go to Atlanta, be sure to take advantage of free activities like its year-round music festivals and outdoor yoga classes.
23. Baltimore
You can find cheap flights to Baltimore, but food and drink are on the expensive side. The city is also the second-least safe city on this list. On the plus side, many of Baltimore's attractions don't cost a dime to visit, including its Inner Harbor, monuments and many of its museums.
22. Boston
It's far from cheap to visit this popular destination. Boston has the fifth-highest hotel cost on our list — $128. Plus, food and drinks are pricey. You can save money in Boston, though, by visiting its many free attractions — such as Boston Common, Boston Public Garden, the Freedom Trail, Samuel Adams Brewery and the USS Constitution. 
21. Kansas City, Mo.
You can drink for cheap in Kansas City, which has the second-cheapest beers of all the cities on this list. But that won't make up for its pricey hotels, which cost $139 a night. Fortunately, you can do a lot of sightseeing for free in the City of Fountains, and see it all on the KC Streetcar, which doesn't cost anything to ride.
Make Your Money Work for You
20. Chicago
Chicago flights and hotels are relatively affordable, but you'll have to pay a good amount for food and drinks once you're there: A three-course meal for two averages $60, and domestic beers cost $5. It's also one of the least-safe cities in our ranking.
You can save money on your trip to the Windy City by visiting Navy Pier, Millennial Park — home to the famous "Bean" sculpture — and the Lincoln Park Zoo, none of which cost anything to see.
19. Houston
Getting to Houston will set you back a whopping $383 on airfare. But once you're there, hotel, food and drink costs are relatively low. While in Houston, catch a performance at the Miller Outdoor Theatre, take a boat tour of Port Houston or visit the Lawndale Art Center — all of which don't cost a thing.
18. Miami
You can find affordable hotels in Miami, but be prepared to spend on dining out: A three-course meal for two there costs an average of $73.50. With weather that's sunny and warm most months, you can hit the beach for free once you're there.
17. Charlotte, N.C.
Getting to Charlotte isn't cheap. With round-trip domestic flights costing an average of $412, it's the most expensive city to fly to on this list. Hotels are on the lower end at $82 a night, and food and drink costs are about average. The Southern destination is a good choice for people seeking free outdoor adventures, from strolling around the UNCC Botanical Gardens to fishing and hiking at Reedy Creek Park and Nature Preserve.
Make Your Money Work for You
16. Dallas
Food and drink are relatively affordable in the Texas city, but hotels are the priciest of any city on this list, with an average of $185 per night. You can try to offset that cost by exploring the city for free — including the Dallas Arts District — on the McKinney Avenue Trolley. 
15. Columbus, Ohio
Hotels and flights for Columbus are on the more expensive end, but you can dine well in the city for a reasonable amount: A three-course meal for two costs about $50. The city is home to numerous parks and festivals, which you can enjoy free of cost.
14. San Jose, Calif.
Located in Silicon Valley, San Jose isn't just a destination for techies. Visitors can take advantage of numerous free attractions and activities, such as the New Almaden Quicksilver Mining Museum, the San Jose Heritage Rose Garden and Castle Rock, a popular hiking destination. And getting there is affordable, with flights averaging $301.
13. New Orleans
If you want to visit New Orleans for its nightlife, you won't blow your budget on drinks. The cost of a drink here is the third-lowest of any city on our list at just $4 for a domestic beer, on average. Plus, airfare is among the lowest in our rankings. And you can enjoy the gardens, architecture and street performers in the city's best-known attraction — the French Quarter — for free.
But keep in mind New Orleans is the No. 3 least safe city on the list, which pulls it down in the rankings of best vacation spots.
12. Seattle
Seattle hotels are among the cheapest, and airfare falls in the middle compared to the other vacation cities. But food and drink can be expensive, with the average three-course dinner for two costing $60, and domestic beers going for $5.50 on average. It's the most expensive city for foodies overall, a separate GOBankingRates study found. 
You can keep spending in check, though, by taking advantage of the free things to do there. For example, enjoy samples from vendors at Pike Place Market, one of the oldest continuously operated farmers markets and home to the original Starbucks coffee store. 
Make Your Money Work for You
11. Portland, Ore.
Portland hotels are relatively expensive at $125 a night, but food costs in the Pacific Northwest city are among the lowest. To keep a vacation in Portland affordable, enjoy the city's free offerings, such as brewery tours, Forest Park and public art.
10. San Diego
San Diego is one of the safest cities on our list — and it also has affordable hotels, with rates averaging $76 a night. With plenty of beautiful beaches and numerous neighborhoods to explore on foot, including La Jolla Cove, Old Town and the Gaslamp Quarter, it's easy to have fun in the SoCal sun while sticking to a budget.
9. Detroit
Foodies should head to Detroit, which has the most affordable food of any of the destinations included on this list. It also has cheap drinks, with a domestic beer going for an average of $4.
In addition to cheap food and drinks, there are also lots of free places to go in Detroit, including the MBAD and Detroit Historical Museums, antique stores and art galleries. Hotels are cheap too, with rooms for $65 a night — but be cautious while traveling there because it has the lowest safety rating of all the cities.
8. Milwaukee
Hotels, flights, food and drinks are all affordable in Milwaukee, but its poor safety rating brings it down a couple of notches in our ranking. While there, you can take a free brewery tour, enjoy some free live music and take advantage of lakefront hiking trails.
7. Phoenix
Travelers on a budget who want to explore the Southwest should head to Arizona's capital. Airfare to Phoenix is relatively low at $327 for a domestic round trip, and drinks are the third-cheapest of all the cities on this list. There are plenty of free and affordable things to do, such as hiking through the Sonoran Desert, strolling in the city's arts district or learning about Native American culture and history at the Heard Museum. 
Make Your Money Work for You
6. Denver
Denver ranks No. 6 on our list of vacation spots because airfare to the Mile High City is affordable, with the average domestic airfare at $301. However, the city's nightly hotel rate falls in the middle at $90 a night. In a city known for its breweries, the cost of a beer is about average at $4.50. And if you're a beer lover, Denver has a Beer Trail that includes 35 of the city's breweries along its route. 
5. Austin, Texas
Austin is a hot spot for music lovers thanks to its live music scene and big-name festivals like South by Southwest. It makes it onto our list of best vacation spots because of its affordable accommodations and high safety score.
But airfare to Austin costs more than flights to most of the other vacation spots — $346 for a round trip. You can offset the cost of a flight, though, by taking advantage of free and low-cost things to do in the city — such taking a dip in the popular Barton Springs Pool.
4. Salt Lake City
If safety is a concern, consider vacationing in Salt Lake City. It has the best safety ranking on our list. Safe doesn't mean boring, though. Salt Lake City offers plenty of outdoor recreation, arts and culture, and scenic attractions, such as the Great Salt Lake.
The average airfare to Salt Lake City is on the pricier side, however. A round-trip flight costs just under $350, on average.
3. San Antonio
Get your fill of Tex-Mex and a variety of other cuisines for a bargain in this Texas city. San Antonio has the lowest food costs in our rankings — just $30 for a three-course meal for two. The cost of a drink is also the lowest at $3.50 for a domestic beer, but the average airfare is relatively high at $359 for a round trip.
While there, you can see many of San Antonio's hot spots and historic sites by biking, strolling or taking a river cruise along the River Walk.
Make Your Money Work for You
2. Las Vegas
Although Sin City is known for its lofty prices, the cost of traveling to and staying there is actually quite low. It's the cheapest city to fly to, with an average airfare of $233. And because there are so many discount options, Las Vegas has the lowest average hotel price on our list — just $48 per night. If you can't make it this summer, consider going in the spring — it's the most affordable spring break destination in the U.S., a separate GOBankingRates study found.
However, you will spend more on food and drink in Vegas than in some of the other best vacation spots on our list. You could also easily blow your budget at the casinos if you're not careful.
1. Orlando, Fla.
A vacation at Disney World can be expensive, but the city where it's located — Orlando — is the most affordable vacation destination on our list. There are plenty of inexpensive things to do outside of Disney World. Plus, airfare, food and drink costs in this Florida city are among the lowest in our rankings. The average cost of a flight is just $246.
Tips for Planning Vacations in the U.S.
No matter where you want to go, there are ways to save money on travel, including taking advantage of credit card rewards, finding free accommodations by house-sitting or doing a home exchange, and price shopping for cheap flights. Plan ahead and find things you can do for free at your destination of choice, so you don't end up overspending while you're there. And because you should indulge on vacation, look for cities with affordable food and drinks.
Click through to read more about the most expensive times to visit all 50 states.
More on Travel and Saving Money
Cameron Huddleston contributed to the reporting for this article.
Methodology: To compile our rankings, GOBankingRates graded 30 of the most popular cities in the U.S. on five factors: safety, airfare, hotel prices, food costs and drink costs. Safety ratings were provided by Numbeo.com. The cost of airfare is based on average round-trip ticket prices from the Bureau of Transportation Statistics. Hotel cost is based on the average price of each city's three cheapest hotels with a rating of three stars or higher on Hotels.com. Cost of food reflects a three-course meal for two people at a mid-range restaurant. Cost of drink reflects the price of one domestic beer.
Editorial Note: This content is not provided by American Express. Any opinions, analyses, reviews, ratings or recommendations expressed in this article are those of the author alone and have not been reviewed, approved or otherwise endorsed by American Express. American Express credit card products are not available through GOBankingRates.com.

BEFORE YOU GO
See Today's Best
Banking Offers