This Tax Loophole Has More People Buying Private Planes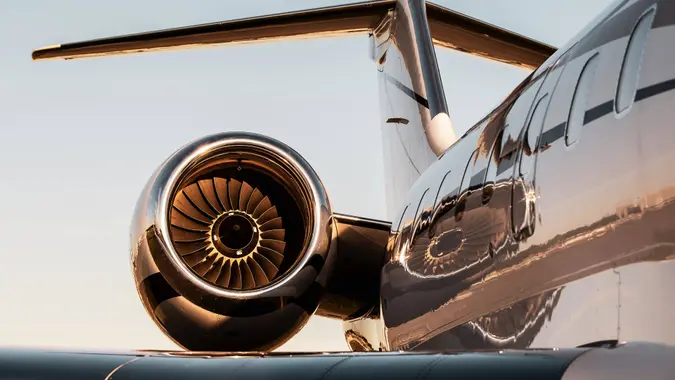 Jetlinerimages / Getty Images/iStockphoto
Ever since former President Donald Trump signed the Tax Cuts and Jobs Act of 2017, the demand for private jets has escalated. The most interested potential private jet owners are business people and execs who are looking to take advantage of what could essentially amount to getting a private jet for nothing. Suzanne Meiners-Levy, a shareholder in Advocate Consulting, a tax law firm that helps businesses buy planes, saw a 30% increase in clients that year, according to the Wall Street Journal.
Related: 23 Ridiculous Tax Loopholes
The tax law allows for taxpayers to immediately deduct the cost of an aircraft purchased and put in service after Sept. 27, 2017, and before Jan. 1, 2027. But this is a tax law tailored to benefit only some of the wealthiest people. The upfront cost of buying a jet is astronomical, to the tune of tens of millions of dollars.
Even if you can't front the cost of a private jet to write off, you can still benefit via jet time-sharing or shared ownership programs, which are becoming more popular due to the new tax cut. Industry disruptors like NetJets, a company that pioneered the original concept of fractional jet ownership, make it possible for people to purchase a share of a specific aircraft type. Each share determines the total amount of hours that you fly in the aircraft.
Check Out: Trump's Tax Tricks and 12 Loopholes Only the Rich Know
Prices per share with NetJets vary, depending on the type of jet and how frequently you fly. In general, you can expect a one-time acquisition fee of anywhere from $550,000 for a 50-hour share and from $4.4 million for a 400-hour share, according to a Forbes Travel Guide article.
You'll also pay a monthly management fee, which could equal around $10,000 for a 50-hour NetJets share, up to approximately $60,000 for a 400-hour share. Again, the actual cost will depend partly on the type of aircraft you have a stake in. There's also a standard occupied hourly fee you'll pay as a share owner, at approximately $2,000 or so per hour.
More From GOBankingRates