What Is the Earned Income Tax Credit and Why Does It Matter for Your Taxes?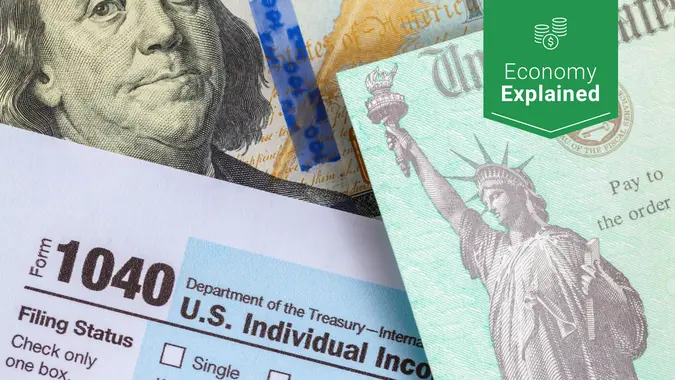 Michael Burrell / iStock.com
The earliest early birds who filed their tax returns in January might have been frustrated to learn that, by law, the IRS can't issue their refunds until mid-February if they claimed the Earned Income Tax Credit. As vexing as that delay might be at the time, taxpayers who qualify for this lucrative credit will certainly find it to be well worth the wait when their refund arrives with a whole lot of extra padding.
Learn: How To Tell If the US Economy Is Actually Improving
Taxes 2022: Find Out Everything You Need To Know About Filing, Refunds and More 
What Is the Earned Income Tax Credit?
The Earned Income Tax Credit — commonly called the EITC or EIC — is a tax break for low to moderate-income households. It's a refundable credit, which means that it can be used to reduce any tax bill you owe, and whatever is left over — or the entire credit, if you don't have a tax bill — will come back to you as part of your refund. You can qualify with or without children.
The EITC debuted in 1975 and today, the credit saves 25 million taxpayers more than $60 million. For tax year 2020, the average EITC recipient received $2,411 from the credit. Aside from the federal government, 30 states offer their own version of the EITC, as do Washington, D.C., Puerto Rico, Guam and even some municipalities.
Who Qualifies for the EITC?
There are a few basic qualifications that virtually every household must meet to be eligible for the EITC for tax year 2021:
You must have worked and earned less than $57,414 in income
You must have earned less than $10,000 in investment income
You must have had a valid Social Security number by the deadline to file your return, including extensions
You are required to have been a U.S. citizen or a resident alien for the entire year
You must not have filed Form 2555, which deals with foreign earned income
It's important to note that there are special qualifying rules for military personnel, members of the clergy, and taxpayers and their relatives with disabilities.
IRS Tax Brackets: Here's How Much You'll Pay in 2022 on What You Earned in 2021
What Filing Statuses Are Acceptable?
Generally, people using the following filing statuses can claim the credit:
Married filing jointly
Head of household
Qualifying widow or widower
Single
Married filing separate (with an asterisk)
That last status is where things get tricky. If you're married and not filing a joint return, you can claim the credit if you had a qualifying child who lived with you for more than half of 2021, but only if either of the following applies to you:
You and your spouse lived apart for the last six months of 2021
You and your spouse are legally separated according to the laws of your state or you have a decree of separate maintenance or a written separation agreement and you and your spouse lived in different households at the end of 2021
See: What 2022 Means for Stimulus Checks and the Child Tax Credit
How Much is the Credit Worth and What Are the Income Limits?
Here's how much the maximum credit is worth depending on how many qualifying children you have:
Zero children: $1,502
One child: $3,618
Two children: $5,980
Three or more children: $6,728
The credit phases out at the following maximum adjusted gross income levels. The first maximum income level is for those filing as single, head of household, widowed, or married filing separately. The second is for married couples filing jointly.
Zero children: $21,430, $27,380
One child: $42,158, $48,108
Two children: $47,915, $53,865
Three or more children: $51,464, $57,414
If all of this is a lot to digest, don't worry. Most tax software programs calculate your eligibility for the EITC automatically, and you can find out if you qualify on your own by using the IRS' EITC Assistant and qualification calculator.
More From GOBankingRates