How To File an Amended Tax Return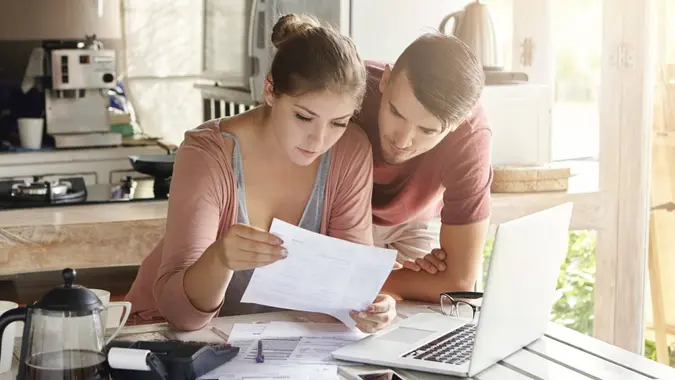 Taxes can be complicated, and it's not uncommon to make a mistake on a tax return. The Internal Revenue Service recognizes this and allows taxpayers to amend their returns to correct errors they discovered after filing.
See: 12 Tax-Filing Mistakes First-Timers Always Make
In the case of mathematical or clerical errors, the IRS will likely amend your return for you. But you'll have to take action on your end if you discover you made a mistake regarding your filing status, income, deductions or credits. Here's what you need to do if you made a mistake on your tax return.
How To Amend a Tax Return: Step-by-Step Instructions
If you have already filed taxes and realized you made a mistake that needs correcting, you'll need to file Form 1040X. Here are the steps you need to take to amend your tax return:
Check the tax year for which you are amending your return at the top of IRS Form 1040X. Enter your identifying information in the appropriate spaces, including your name, address, Social Security number and tax filing status. Also, check the box regarding whether you had the minimum required health insurance for the tax year.
Complete columns A, B and C for lines that relate to the changes that you're making. Write the amount you originally reported in column A, the change in column B and the corrected amount in column C. To change:
Filing status, income, adjustments to income and itemized deductions or the standard deduction: Complete lines 1 to 23
Exemptions: Complete lines 1 to 30
Tax before credits: Complete lines 5 to 23
Nonrefundable credits or other taxes: Complete lines 6 to 23
Payments and refundable credits: Complete lines 11 to 23
Complete the "Part I – Exemptions" section of Form 1040X if you are changing the personal exemptions that you are claiming. For example, if you're divorced and claimed one of your children by mistake, you'll need to remove the child's information from your return.
Explain your changes in Part III of Form 1040X. For example, if you had unreported income, you might explain that you received an additional W-2 after you filed your taxes. Or, if you are claiming a new deduction that you previously overlooked, you might simply say that you were unaware of the deduction or didn't know that you qualified to claim it when you originally filed your tax return.
Attach any forms needed to support the changes that you're making or tax schedules related to your changes. For example, if you received new W-2s or 1099 forms, you should attach those to your amended return. Or, if you are electing to itemize your deductions, attach Schedule A.
Enclose a check or money order made out to "United States Treasury" in the envelope with your return. You can also pay online through the IRS website if you owe additional tax as a result of your amendment.
File Form 1040X along with any related attachments. If you are filing the amended tax return because you received a notice from the IRS, mail it to the address listed in the notice. Otherwise, mail it to the address listed in the IRS Form 1040X Instructions based on the state where you live.
Track the status of your amended tax return using the IRS "Where's My Amended Return" website. Typically, it can take three weeks from the time you mail the return until it shows up in the IRS system, and processing time can take up to 16 weeks.
Don't wait to file a tax amendment with the IRS because the sooner you file, the sooner you will receive your refund. Or, if you owe additional money, the sooner you can pay what you owe and can stop potential interest and penalties from accruing. Plus, you only have three years from the date you originally filed your tax return or two years from the time you paid the tax, whichever is later, to claim a refund.
Up Next: The 6 Most Important Tax Deductions You Need To Claim
More From GOBankingRates
Karen Doyle contributed to the reporting for this article.