Who Gets a 1099 Form? Find Out if You Need to Pay Self-Employment Tax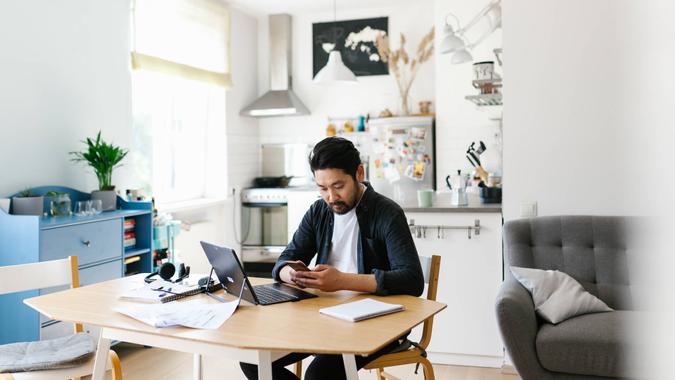 visualspace / Getty Images
At the end of each year, individuals who have an employment contract with a company get a Form W-2 that summarizes their income and tax withholding. For individuals with self-employment and other non-W-2 income, 1099 forms serve the same purpose.
You'll report the income shown on your 1099 form when you file your tax return, and in some cases, you'll have to pay self-employment tax on your earnings. Here's a look at how 1099 forms work and how you can use them during your tax preparation to determine whether you owe self-employment tax.
Find Out: Everything You Need to Know About Form W-2
Form 1099
A 1099 tax form is a type of information form falling under the same classification as a Form W-2. Types of 1099s include:
See: This Is Which 1099 Form You Should File
How Self-Employment Tax Works
Self-employment tax might seem like a punitive tax on taxpayers who run their own businesses, as it's a 15.3% tax on top of federal and state income tax. But self-employment tax actually consists of the Social Security and Medicare taxes that W-2 employees and their employers pay. These taxes are mandated by the Federal Insurance Contributions Act.
FICA taxes total 15.3% — 12.4% in Social Security tax and 2.9% in Medicare taxes. This tax is normally split between an employer and an employee, so W-2 employees only pay 7.65% in FICA. Self-employed individuals are considered both employers and employees for tax purposes, so they pay the entire 15.3%.
Who Must Pay Self-Employment Tax?
You must pay self-employment tax if your net earnings from self-employment are $400 or more or you earned $108.28 or more in church-employee income. Net earnings equal your gross income less any deductions and credits you qualify for, including deductions for business expenses that are considered normal or necessary to conduct your trade. This usually is the amount you report on Schedule C, Profits or Loss from a Business. Half of your self-employment tax is deductible.
Learn: How to File Self-Employment Taxes
Filing Taxes Self-Employed
Self-employed individuals complete a Form 1040 just like W-2 employees do, but they use Form 1099-MISC or 1099-NEC instead of Form W-2 for information about their income and withholding. Self-employed workers use two additional forms W-2 employees don't need:
You only pay the Social Security portion of FICA tax on the first $137,700 of your net earnings for tax year 2020 ($142,800 for tax year 2021), but you pay the 2.9% Medicare tax on all your net earnings. You'll owe an additional 0.9% Medicare tax if you earn more than $200,000, or $250,000 if you are married and filing jointly.
Quarterly Tax Filing
Because the American tax system is a pay-as-you-go system, self-employed individuals often have to make quarterly estimated-tax payments. You can use the worksheet in Form 1040-ES, Estimated Tax for Individuals, to determine if you need to file quarterly taxes.
Generally, you'll owe estimated taxes if you expect to owe $1,000 or more when you file your return. But you won't have to pay estimated taxes if you didn't owe any taxes in the prior tax year, you were a U.S. citizen or resident for the entire year, and your prior tax year covered a 12-month period. In the event you do have to make estimated payments, you'll be assessed a penalty if you don't file them on time, even if you're ultimately due a refund.
Related: What Are the 2020-2021 Federal Tax Brackets and Tax Rates?
Get Expert Help If You Need It
Self-employed individuals who generate even a small profit generally owe self-employment tax. And in most cases, you'll need to pay estimated tax in four quarterly installments. Because calculating self-employment tax can get complicated, you might want to consult a tax adviser, especially if this is your first tax filing.

More From GOBankingRates
Daria Uhlig contributed to the reporting for this article. 
Last updated: Feb. 22, 2021