Self-Employment Tax Deductions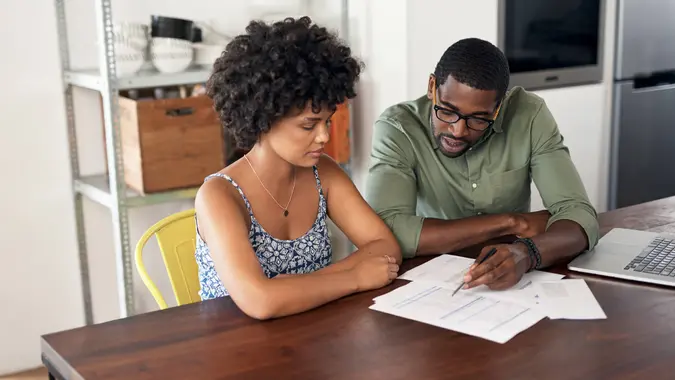 shapecharge / Getty Images
Being self-employed isn't always all it's cracked up to be, especially when it comes to taxes. Not only do you have to use a tax estimator to make estimated tax payments, you also don't have an employer to split the Social Security and Medicare taxes with. For tax purposes, the IRS considers you self-employed if you're in business for yourself, are a sole proprietor or have a single-member LLC, or if you're a member of a partnership. You're required to pay self-employment taxes if you have $400 or more in self-employment income. Read on to learn what deductions you can use to reduce your self-employment tax.
Income Subject to Self-Employment Tax
Only your net income — 92.35% of your net income, to be exact — from self-employment is subject to self-employment tax. So, even though you might be self-employed, other income isn't subject to self-employment taxes. For example, if you also have capital gains, interest income, or even employee income, those other types of income aren't counted when calculating your self-employment taxes even though they're subject to federal income taxes.
The IRS defines net self-employment income as your gross self-employment income less ordinary and necessary trade or business expenses. The higher your net self-employment income, the more self-employment tax — and federal income tax — you'll owe. However, there are several types of business expenses you can deduct from your gross self-employment income to reduce your net income. By reducing your net income, you'll also reduce both your self-employment tax and your federal income tax.
Exclusive: Americans' Savings Drop to Lowest Point in Years
3 Types of Self-Employment Tax Deductions
You can take deductions from your self-employment income in three ways: business expenses, a portion of your self-employment tax and a net business-income deduction. Here are details on the three self-employment tax deductions:
1. Deduction for Business Expenses
You can reduce your self-employment taxes by deducting business expenses. For example, if you have your own consulting practice and work out of your own home, your deductions could include:
Office supplies
Vehicle expenses
Home office expenses
Alternatively, if you own your own law firm, you could deduct:
Rent expenses for your office space
Advertising costs
Deductible meals and other entertainment for client development
If you sell widgets, deductions could include:
Costs of the goods you sell
Attorney's fees to have contracts drawn up
If your business has employees, you open up a whole new wave of potential deductions. Of course, you can deduct any wages you pay your employees. If you also provide benefits, such as health insurance or contributions to a retirement plan, you can write off those costs as well. When making contributions to your own retirement plan, such as a SEP IRA, SIMPLE IRA, or solo 401(k), those contributions reduce your income tax but won't reduce your self-employment taxes. You'll report those contributions on Schedule 1, Additional Income and Adjustments to Income, not Schedule C .
Find Out: Which 1099 Form Should You File?
2. Deduction for Paying Self-Employment Taxes
When you're an employee, you can't deduct the payroll taxes that are withheld from your paychecks by your employer. When you're self-employed, however, you can write off the portion of your self-employment tax that's equal to what an employer would have paid if you were an employee. Currently, that means you can deduct half of your self-employment taxes on your federal income tax return.
3. Net Business-Income Deduction
The net business-income deduction lets you write off 20% of qualified business income you earn through a sole proprietorship, partnership or S corporation. Qualified income also includes the deductible portion of your self-employment tax, your self-employment health insurance premiums and qualified retirement-plan contributions you make on employees' W-2 wages.
Don't Forget: The 6 Most Important Tax Deductions You Need to Claim
Reporting Self-Employment Tax Deductions
Use IRS Schedule C, Profit or Loss from Business, to report all of your business income and deductions to calculate your net self-employment income. After reporting all of your income in Part I, you report your expenses in Part II. Each expense has its own line. For example, advertising costs are reported on Line 8 and office expenses are reported on Line 18.
Once you've calculated your net self-employment income, transfer that amount to Schedule SE to calculate the self-employment tax you'll owe. Self-employment taxes are calculated based on 92.35 percent of your self-employment income.
Learn More: How to File Self-Employment Taxes
Cap on Social Security Portion of Self-Employment Tax
It's not technically a deduction, but every year there is a cap on the maximum amount of Social Security tax you can pay. For tax year 2020, the Social Security portion of the self-employment tax is 12.4% of the total 15.3 percent self-employment tax rate, and the other 2.9% is for Medicare taxes.
If you earn more than the income threshold, you'll pay a 0.9% additional Medicare tax. The thresholds are $125,000 for a married individual filing separately, $250,000 for a married couple filing jointly and $200,000 for everyone else.
More From GOBankingRates
Daria Uhlig contributed to the reporting for this article. 
Last updated: Feb. 22, 2021