Gen Z and Millennials Are Most Likely To Expect a Bigger Tax Refund This Year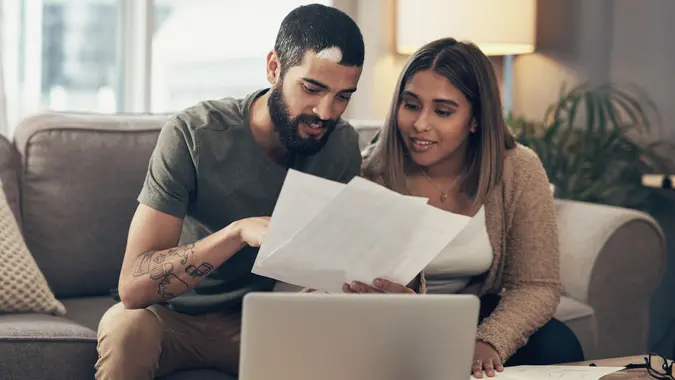 PeopleImages / iStock.com
Tax refunds will be smaller this year for the typical taxpayer. But younger generations aren't letting that get in the way of their optimism.
Find Out: The IRS Has Refunded $15.7B as of Feb. 3 — Here's How Much the Average Taxpayer Is Getting Back
See: 3 Signs You're Serious About Raising Your Credit Score
A new study conducted by Qualtrics on behalf of Credit Karma found that 29% of American taxpayers expect a higher tax refund this year compared to last. In particular, younger demographics were more likely to report higher expectations: 45% of Gen Z and 44% of millennials. 
Unfortunately, not everyone will receive a refund that aligns with their expectations. The average refund is expected to be around 16% smaller this year. Read on to find out why and how to max yours out.
Why Are Refunds Getting Smaller?
Following the financial devastation caused by the pandemic, several tax breaks were introduced to help provide Americans with some relief. However, many of those valuable credits and write-offs have expired for tax year 2022.
For instance, the enhanced child tax credit got a major boost last year as part of the American Rescue Act. But the increase was temporary. For 2022, the maximum value of the credit is $1,050 for one dependent and $2,100 for two or more vs. $4,000 and $8,000 for 2021.
Filers also had the opportunity to write off some charitable donations for 2021 — $300 for single filers or $600 for married couples filing jointly — even if they weren't itemizing taxes. This year, the rule has reversed.
Additionally, taxpayers who didn't receive their third stimulus payment had the opportunity to do so on their 2021 returns. So this year's refunds may be smaller without that extra padding.
Overall, about 18% of taxpayers don't expect to receive a refund at all, according to a GOBankingRates survey. Another 17% expect their refund to be $500 or less, which is the highest percentage of those expecting refunds. 
Take Our Poll: What Do You Plan To Use Your Tax Refund For?
Tax Trends Among Gen Z and Millennials
The good news is that younger taxpayers who do receive refunds will put the money to good use. The GOBankingRates survey found that the majority of those ages 18-24 plan to put refund money into savings (33%), followed by using it to pay bills (19%) and pay off debt (15%). Similarly, respondents ages 25-34 were split between paying off debt and saving (24%), followed by paying bills (22%).
Interestingly, the majority of those ages 18-24 (57%) believe they are paying a fair share of taxes vs. 38% of those ages 25-34. Only 36% of respondents ages 65 and older believe they're paying their fair share (nearly 60% believe they are paying too much). 
How To Increase Your Tax Refund 
The year 2022 may be over, but there are still a few ways you can reduce your tax bill and increase the chances that you get a refund.
Contribute to a retirement account: You have until the tax filing deadline to make 2022 contributions to a 401(k), IRA or another tax-advantaged retirement account, up to the annual maximum. Contributions to these accounts reduce your taxable income (note: this isn't the case for Roth accounts). So if you haven't maxed out your retirement savings for 2022 and have some extra cash to set aside, consider making extra contributions before April 18.
Fund an HSA or FSA: If you have a health savings account (HSA) or flexible spending account (FSA), you can also make 2022 contributions through April 18, 2023. Like retirement accounts, contributions to these types of accounts reduce your taxable income. 
Look into the earned income tax credit: This tax credit is designed to help low- and moderate-income taxpayers save money. Depending on your income, marital status and the number of children, you could be eligible for this valuable tax credit worth up to $7,000. A tax credit reduces your tax bill dollar-for-dollar — and if you don't owe any money, the IRS may refund some or all of the credit.
More From GOBankingRates
Methodology: GOBankingRates surveyed 1,002 Americans aged 18 and older from across the country on between January 30 and February 1, 2023, asking fourteen different questions: (1) How do you plan on filing your taxes for this year?; (2) When do you expect to file your taxes this year?; (3) How much do you expect to receive in a tax refund?; (4) What do you plan to do with your refund?; (5) Do you feel confident you are receiving all the deductions you feel qualified for?; (6) Do you believe your tax dollars are being spent effectively?; (7) Do you believe you are paying too much, too little, or a fair share in taxes?; (8) Have you ever been audited before?; (9) Who will/would use your tax dollars the best?; (10) How much is the standard deduction for a single filer (and married filers) in 2023?; (11) What concerns you the most about Tax Day?; (12) Do you expect your tax refund this year to be more or less than last year?; (13) What do you understand the least about your taxes?; and (14) What would you rather be doing than your taxes? (Select all that apply). GOBankingRates used PureSpectrum's survey platform to conduct the poll.