The IRS is Going Paperless in 2024 — How Much Faster Will You Get Your Refund?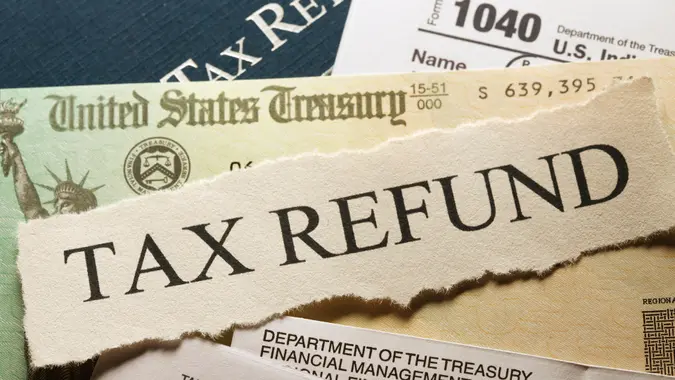 DNY59 / Getty Images/iStockphoto
Taxpayers will have the option to go paperless next year. This means millions of Americans could get their refunds weeks sooner compared to previous years.
The U.S. Department of the Treasure announced that taxpayers will have the option to go paperless for IRS correspondence for the 2024 tax season, and the agency aims to achieve "paperless processing" for all tax returns by 2025.
The Treasury Department says that paper-based processes have long hindered the IRS and frustrated taxpayers. The IRS received 76 million paper tax returns and forms, and 125 million pieces of correspondence, notice responses and non-tax forms annually. The agency also spends $40 million per year to store one billion historical documents.
This initiative will eliminate up to 200 million pieces of paper each year, cut processing time in half and expedite refunds by several weeks.
"This paperless processing initiative is the key that unlocks other customer service improvements," Treasury Secretary Janet Yellen said in an Aug. 2 speech, as reported by CNBC. "It will enable taxpayers to see their documents, securely access their data and save time and money."
Yellen noted that taxpayers will still have the option to send paper returns in 2025, but the agency will digitally process 100% of tax and information paper filings, as well as half of paper correspondence, non-tax forms and responses to notices, CNBC reported.
Eric Hylton, national director of compliance for Alliantgroup and former IRS commissional for the small business and self-employed division, told CNBC that the agency needs to allocate more funds for improved technology to meet these goals.
According to The Verge, the Biden administration's Inflation Reduction Act is helping fund the technology needed to scan paper documents and provide online services to taxpayers. However, CNBC says there's been continued debate over IRS funding since January. House Republicans are attempting to slash funding by $80 billion, approved by Congress in 2022. In May, debt ceiling negotiations included $21.4 billion in IRS budget cuts.
More From GOBankingRates