Will Your Tax Bill Go Up Based on Biden's Budget?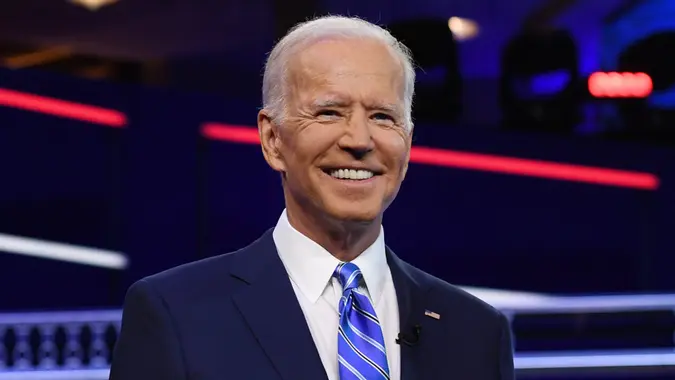 Larry Marano / Shutterstock.com
President Joe Biden said he would raise taxes when the administration rolls out its budget proposal on March 9 but reiterated that it would not apply to Americans whose earnings are lower than $400,000 annually. So unless you earn $400,000 or more per year, you should be safe from the higher taxes proposed by Biden.
"I want to make it clear I'm gonna raise some taxes. Many of you are billionaires out there. You're going to stop paying at 3%. The idea that they pay at a rate that is lower than the rate of a police officer, a schoolteacher, a nurse, is bizarre.  You're going to see the people making less than $400,000, as I said from the very beginning, will not pay an additional single penny in any tax," Biden said, speaking in Virginia Beach on Feb. 28.
The higher taxes would pay for several programs the Biden administration has enacted, as well as lower national debt. It would decrease the U.S. deficit by almost $3 trillion over the next 10 years. However, it would more immediately increase federal spending, a move that has been heavily criticized by Republicans.
Biden also renewed his call on Republicans to put forward their own budget proposal amid a stalemate in debt ceiling negotiations. In response, the House Freedom Caucus presented their plan for cutting the deficit — which includes restricting 2024 federal spending to 2022 levels and limiting future discretionary spending growth to 1% a year, for the next decade. This proposal would save $2.9 trillion to $3.7 trillion in the long run.
Republicans did agree to raise the debt ceiling, but only if Biden makes some concessions, including ditching student debt cancellation, repealing climate-related spending from the Inflation Reduction Act and more.
?
On March 20, the White House replied to the Republican budget proposal, saying it would "be a disaster for families in at least five key ways: endangering public safety, raising costs for families, shipping manufacturing jobs overseas and undermining American workers, weakening national security and hurting seniors."
More From GOBankingRates