Biden Says He's Raising Taxes – Will You Owe the IRS More?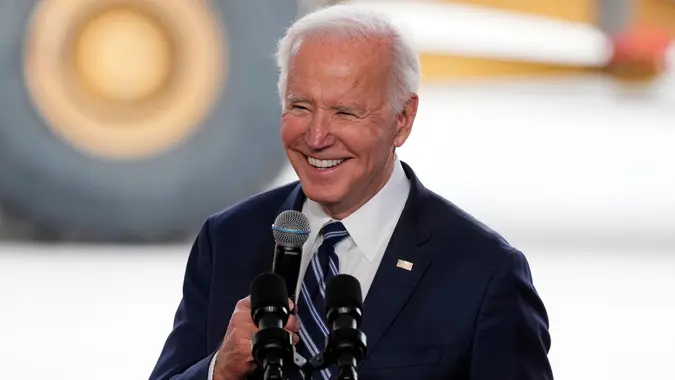 Ross D Franklin / AP / Shutterstock.com
President Joe Biden said he would raise taxes when the administration rolls out its budget proposal on March 9 but reiterated that it would not apply to Americans whose earnings are lower than $400,000 annually.
Learn: What Is the Standard Deduction for People Over 65 in 2023?
See: 3 Signs You're Serious About Raising Your Credit Score
"On March the 9th, I'm going to lay down in detail every single thing — every tax that's out there that I'm proposing — and no one over 400 — making less than $400,000 is going to pay a penny more in taxes.  But lay it out by March 9th, everything, and what we're going to cut, what we're going to spend, what we're going to.  Just lay it on the table," Biden said, speaking in Virginia Beach on Feb. 28.
He also reiterated that the budget would include higher taxes on billionaires, saying:
"I want to make it clear I'm gonna raise some taxes. Many of you are billionaires out there. You're going to stop paying at 3%. The idea that they pay at a rate that is lower than the rate of a police officer, a schoolteacher, a nurse, is bizarre.  You're going to see the people making less than $400,000, as I said from the very beginning, will not pay an additional single penny in any tax."
The higher taxes are aimed partly to pay for the several programs the Biden administration has enacted, as well as lower the deficit.
Biden also renewed his call to Republicans to put forward their own budget proposal amid a stalemate in debt ceiling negotiations.
"And I've invited them to — Republicans — that they should do the same thing: lay their proposal on the table.  And we can sit down, and we can agree, disagree.  We can fight it out," he said.
Meanwhile, Republicans have not yet released specific details about their budget proposal. Chairman of the House Budget Committee Jodey Arrington wrote in a statement on Feb. 27 about his plan " for avoiding this financial Armageddon and restoring fiscal accountability to Washington."
Take Our Poll: What Do You Plan To Use Your Tax Refund For?
"First, stop the spending spree and start passing responsible budgets in order to curtail inflation and stabilize our economy," he wrote. "And finally, we must work on bipartisan solutions to strengthen and save Medicare and Social Security from insolvency and, at the same time, improve the effectiveness and accountability of other mandatory spending programs driving our debt"
More From GOBankingRates