4 Best Bank Accounts for Freelancers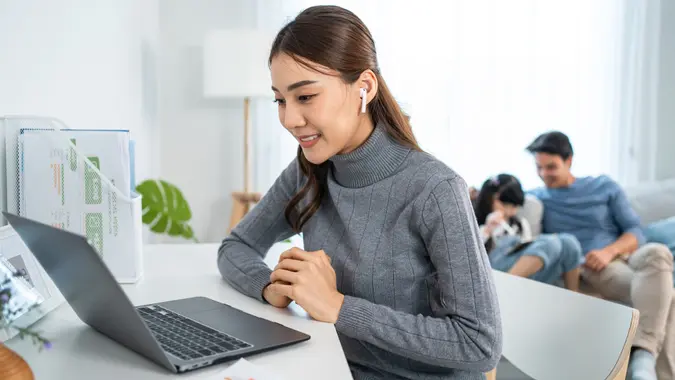 Kiwis / Getty Images/iStockphoto
The post-pandemic shift toward remote work and freelancing created a flood of independent contractors searching for banks that served their unique needs — and the industry responded.
Over the last few years, financial institutions have introduced exciting new mixed-use accounts that let sole proprietors manage their personal and business finances all under one roof.
See the List: GOBankingRates' Best Banks of 2023
Experts: Here's How Much You Should Have in Your Checking Account
The problem now is that all those new arrivals make it hard to find the best of the bunch.
Instead of consulting financial pros or banking industry reps to identify the cream of the crop, GOBankingRates got the real story from the people who know more about the subject than anyone else — actual freelancers who have tried all the options while surviving alone in the financial trenches. Here's what they said.
For Nomadic Freelancers, Schwab Makes Every ATM a Free ATM
One of the best accounts for freelancers isn't a trendy new upstart that exists only on a computer screen, but an industry standard-bearer with decades of history and global name recognition.
Tom Eskey, founder of GarageGymRevisited.com, first opened his Charles Schwab checking account nine years ago, and he thinks the rise of remote work and the gig economy have only solidified its standing as his No. 1 pick for freelancers like him.
"When I first started working online, I took the nomadic plunge that a lot of freelancers take," Eskey said. "In a completely new city and state, I would have to drive close to half an hour to find an ATM for my old bank."
He chose Schwab because it supported the cash-on-the-go lifestyle of a work-from-anywhere freelancer.
"The account continues to offer fully refundable ATM fees for every ATM in the world," said Eskey, who also noted that it's a fee-free account with no balance minimums or foreign transaction fees. It even pays a modest interest yield.
By comparison, Ally Bank refunds just $10 in ATM fees per month. Axos reimburses up to $8.
"I have recommended Schwab to a lot of freelancer friends and I think it is the ideal account for the newly nomadic freelancer," said Esky.
Grasshopper Checks Just About Every Box for Independent Contractors
Perry Zheng, founder and CEO of the real estate investment software firm Cash Flow Marketplace, recommends a newer player that debuted as a digital bank in 2019.
"If you want to open a checking account as a freelancer, Grasshopper is an ideal choice," said Zheng. "It's digitally inclusive, charges no monthly fees, and has no transaction limits."
Take Our Poll: What Do You Plan To Use Your Tax Refund For?
Privately owned and headquartered in New York City, Grasshopper offers unique hybrid accounts that can serve as jacks of all trades for freelancers. Its checking account pays 1.51% APY like a savings account and gives unlimited 1% cash back on transactions like a credit card — all with the debit, ACH transfer, check-writing and direct-deposit functionality of a checking account.
It also doubles as a business account, with features like automatic bookkeeping, invoice-sending and cash-flow management, which together allow Grasshopper to serve as an all-in-one account for many freelancers.
New to the Freelance Game? Lili Can Be Your One-Stop Shop
Moses Aremu, head of marketing at Lonelyaxe, also recommends Grasshopper for established freelancers, but he urges new arrivals to unify their financial services under one roof with a close competitor.
"Lili business checking is ideal for newbie freelancers because it provides free expense management tools and efficient tax tools for debit cards," said Aremu. "As a freelancer who has successfully run a copywriting business for over two years, the best bank accounts for freelancers should be easy to access, charge low fees, and aid in recording and managing business finances separate from personal finances."
Lili does all of those things and more by unifying banking, taxes and invoicing in one program. It has no minimum deposit requirements and no monthly fees. Its comprehensive Lili Pro option costs $9 a month, but even the free version offers expense categorization and quarterly expense reports. Its Visa business debit card is free, as is $200 in overdraft protection, a suite of tax optimizer tools, a write-off tracker and DIY accounting tools.
Do It All From One Platform With Bluevine Business Checking
Shawn Hill, owner of The Grilling Dad, turned his cooking passion into a freelance profession — and he joined several other independent contractors in recommending Bluevine business checking as a can't-go-wrong account for the self-employed.
"What's great is that there are no monthly fees and no minimum balances, so a lean month isn't going to put you out of pocket," said Hill. "They also allow unlimited transactions, which is really helpful. Another perk is the potential for accruing high-yield interest on your account."
Bluevine currently pays 2% on your balance without any of the constraints of a savings account — and you can use the app to pay vendors, share access and organize sub-accounts. There are truly zero fees, including for wire transfers and QuickBooks integration and exports.
"The platform itself is easy to use and it's laid out in a way that is simple and straightforward to manage," said Hill. "You can organize your finances in the way that's best for you and your specific business."
More From GOBankingRates