The Best Banks for Growing Your Retirement Savings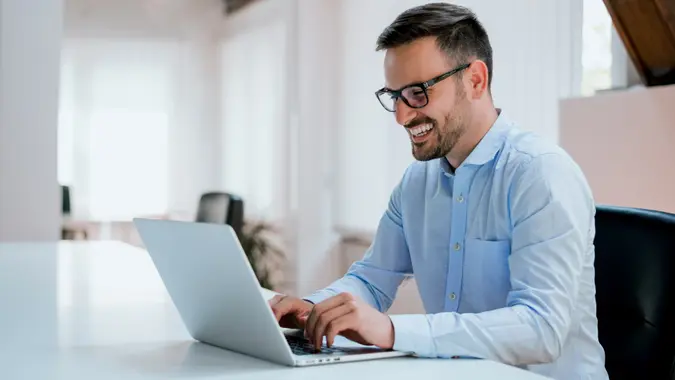 ©Shutterstock.com
If your primary financial objective is to grow your retirement savings, you'll want to find a bank that has a diverse array of products. For starters, you'll want good investment options to help build up your nest egg before you reach retirement. Then, you'll want high-yield savings and CD products — preferably with no fees — to protect what you've earned while still generating some extra interest.
GOBankingRates' Top Picks: Best Regional Banks of 2022
And More: Best National Banks of 2022
Depending on your personal financial needs, you might also be looking for a bank with advanced wealth and estate planning capabilities. The list of five banks below is a good place to start if you're looking for help with growing your retirement savings. 
Navy Federal Credit Union
If you're looking for an all-in-one institution when it comes to growing your retirement savings, Navy Federal Credit Union might be your best bet. About the only drawback to NFCU is that you have to qualify for membership by having some ties to the armed forces, Department of Defense or National Guard.
Check Out: Best Checking Accounts of 2022
However, those who qualify will find a customer-friendly institution with 24/7 live stateside support, no-fee checking, a no-fee savings account paying a 0.25% APY, money market accounts paying up to a 0.50% APY, and a 12-month CD paying up to a 0.60% APY. The credit union also offers loans, retirement accounts and extensive financial resources, although it doesn't offer investments like many other banks do. However, the credit union also has 298 branches, unlike the online banks on this list that have zero.
Ally Bank
If you were to calculate a score for a bank based on fees, customer service availability, investment options and savings and CD APYs, Ally Bank would almost assuredly come out at the top of the pile. The bank is well known for its no-fee deposit accounts and its high yields — currently, for its savings account and for its 12-month CD.
Related: Best CD Accounts of 2022
The bank also offers live, 24/7 customer service, $0 commission for stock and ETF trading, and a free robo-advisor. The single drawback for some customers would be that Ally is an online-only institution. That might make it a plus for others, though, as it helps the bank to eliminate its account fees.
Axos Bank
Axos Bank is another top option in online banking. What the bank gives up in traditional services for customers who prefer an in-branch experience, it makes up for in low fees and high APYs. Like Ally Bank, Axos Bank doesn't charge any monthly maintenance fees for its deposit accounts. Currently, you can earn a 0.61% APY in the Axos Bank savings account for deposits up to $25,000, and the bank's rewards checking pays up to 1% back with qualifying activities.
Read More: Gen Z and Millennials Favor National and Online Banks, Survey Shows — What Does That Mean for the Future of Credit Unions?
Axos Bank also excels on the investment end, offering zero-commission trading on stocks and ETFs and a $10/month Elite Investing Platform with access to enhanced research and discounted fees on options trading. Even though it's an online bank, Axos offers white glove service via its Premium Private Client Banking, available for those with at least $250,000 on deposit.
TIAA
TIAA is one of the industry kingpins when it comes to high-yield, low-cost accounts, although it is also an online-only bank with no physical branches. Both its savings account and 12-month CD pay some of the best available yields, with APYs of 0.50% and 0.55%, respectively. A Bump-Up CD is also available, starting at an APY of 0.80% for a 3 1/2-year term and offering the option to raise that rate once during the life of the CD.
Helpful: 50 Easy Things You Should Do To Save Money
If a money market account is more to your liking, TIAA offers a Yield Pledge Money Market account paying a 0.40% APY that comes with a guarantee that its yield will remain in the top 5% of similar accounts — the same pledge offered on the bank's checking account, which currently pays a 0.10% APY. TIAA also offers what's likely the most extensive range of investment options of any bank on this list, including brokerage and managed accounts, health savings accounts and the ability to invest in precious metals or foreign currencies.
Eastman Credit Union
Eastman is a smaller credit union, but what it lacks in size it makes up for with its products and services. For starters, Eastman has 28 physical locations, so those in need of a traditional banking service living within Eastman's service area of Tennessee, Virginia and Texas can avail of in-person banking. However, those looking to build wealth will appreciate the bank's no-fee checking, decent 0.30% savings APY and top-of-the-line 0.65% APY on its 12-month CD, jumping to a 0.70% APY for jumbo deposits of $100,000 or more.
The bank's Beyond Free Checking account also pays an APY of between 0.05% and 0.30%, which is quite rare for a free checking account. Those in need of more advanced investment planning can avail of the credit union's ECU Asset Management division, which offers no-cost consultation and is offered in consultation with LPL Financial.
More From GOBankingRates