Here's Your USAA Routing Number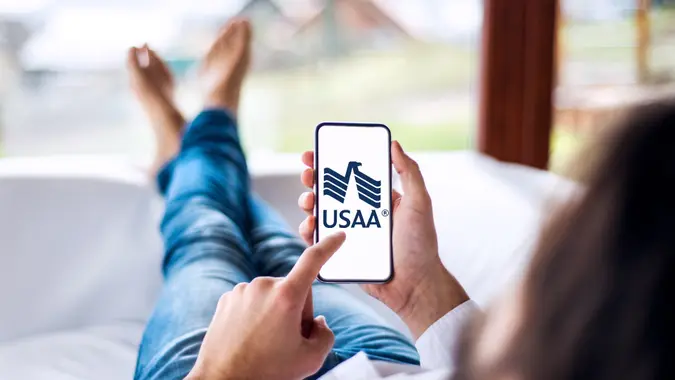 Halfpoint / Getty Images/iStockphoto
If you currently have a membership with the United Services Automobile Association, more commonly known as USAA, or you plan to do business with someone who banks at USAA Federal Savings Bank, you'll need to locate the bank's routing number.
Unlike bigger banks that have several routing numbers, there is only one USAA Federal Savings Bank routing number. USAA provides banking services to its members, which include active and retired members of the U.S. military and their families.
USAA Routing Number
USAA makes it easy to know your routing number, as it's the same for every state. Here's the USAA routing number:
USAA Routing Number
314074269
What Is a Routing Number?
Routing numbers have several names, including ABA numbers or bank transit routing numbers. The U.S. Federal Reserve assigns a special nine-digit code to each financial institution, and this code is the routing number.
USAA bank has just one routing number. Other banks and credit unions might have multiple branches in several states, which means their banks will likely have more than one routing number. Each unique number will not only indicate which bank you're doing business with but also the bank's specific branch location, if applicable.
When you make a request to transfer funds electronically or through paper checks, your bank will use the routing number to know exactly where to send the money.
What Does Your USAA Routing Number Mean?
To understand the importance of a routing number, you need to break down what each of the nine digits mean.
The Federal Reserve uses the first two digits of the routing number to show which of the twelve Federal Reserve Districts the financial institution is located in. For example, the number 05 is associated with Richmond, VA, while the number 11 would be referring to Dallas. The next two digits are used to identify the regional processing center and the bank's location. Together, the first four numbers are called the Federal Reserve Processing Symbol.
Digits five through eight are used to identify the specific bank, such as USAA, Chase or TD Bank. The last digit is called the "check digit," because it helps prevent fraud and ensures that the entire routing number is valid. It's automatically generated using a mathematical algorithm.
USAA Routing Numbers for International Wire Transfers
USAA Savings Bank customers will use the same routing number for checks, ACH transfers — such as direct deposits — and international wire transfers; however, this is not always the case with other banks. Some banks choose to issue one routing number for their paper products — checks, for example — and another routing number for electronic transactions, such as wire transfers.
Another number often required when sending international wire transfers is a SWIFT code. Each SWIFT code is made up of either eight or 11 characters that include a combination of letters and numbers. Always check with the bank or credit union you plan on using to see if they have a SWIFT code for international wire transfers.
USAA does not have a SWIFT code, but other financial institutions do. Because USAA does not have its own SWIFT code, it partners with The Bank of New York Mellon to receive international transfers that require a SWIFT code.
Transfers With No SWIFT Code
For a transfer to a USAA account in a transaction that does not require a SWIFT code, the sender should provide the routing number and account number, as well as the full name and physical address of the recipient. The will need the bank's address:
USAA Federal Savings Bank
10750 McDermott Freeway
San Antonio, TX 78288
Transfers With a SWIFT Code
For a transfer to a USAA account in a transaction that does require a SWIFT code, the sender will need to send the money first to The Bank of New York Mellon, to be credited to USAA Federal Savings Bank. The SWIFT code for The Bank of New York Mellon is IRVTUS3NXXX.
The Bank of New York Mellon's address is:
The Bank of New York Mellon
225 Liberty St
New York, NY 10286
The sender will also need to provide the account number and address for USAA — the account number is 8900624744, not to be confused with the recipient's bank account number. The address is the same as USAA's address for transfers without a SWIFT code. Finally, the sender needs to provide the recipient's account number, full name and physical address.
How To Find Your USAA Routing Number
There are a few ways to find a USAA routing number. USAA has only one routing number, so you can simply reference the chart above or follow these steps:
If you have a checking account, you can locate your routing number quickly by pulling out your checkbook.
Take a look at your check and look for three sets of numbers strung across the bottom. The first set of numbers is your nine-digit routing number or the number that identifies this check with USAA. The second set is your USAA account number, which lets other financial institutions know exactly which account within USAA bank the funds should be withdrawn from. Finally, the third set of numbers is just the check number.
You can also locate your USAA routing number by logging in to your USAA account online.
It's critical you know how to locate your routing number to set up direct deposit, automatic payments or other bank transfers. If you have any trouble locating your routing number, you can always use the USAA Contact Us page from the company's website, or call 800-531-8722 for assistance.
Information is accurate as of January 24, 2023.
Editorial Note: This content is not provided by any entity covered in this article. Any opinions, analyses, reviews, ratings or recommendations expressed in this article are those of the author alone and have not been reviewed, approved or otherwise endorsed by any entity named in this article.