Here's Your VyStar Routing Number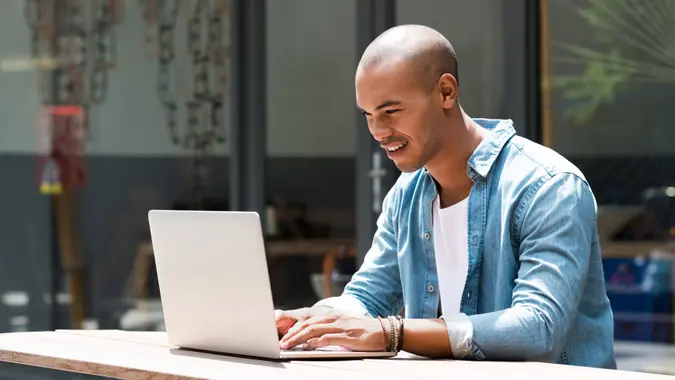 Ridofranz / Getty Images/iStockphoto
Anyone who has signed up for direct deposit or logged in to pay online with an eCheck has likely hit a similar snag: the need to find their routing number. Specifically, if you're a member of central Florida's VyStar Credit Union, you need to know your VyStar Credit Union routing number. But you're in luck because there's a single routing number for all VyStar accounts.
What is Your Vystar Routing Number
The routing number for Vystar Credit Union is 263079276. The Vystar routing number is the same for each state that it operates in.
What Is a Routing Number?
When a financial institution receives a check or a request to process a transfer, the institution needs to be able to identify the checking account the funds will be coming from or, if you're setting up your direct deposit, where they're going to. Routing numbers are an essential way to help locate the bank and region in question for other banks or an automated clearing house that handles electronic transfers.
Although VyStar's relatively small footprint means it only needs the one number to cover all of its members, larger banks with a national scope can have dozens of routing numbers for specific regions or states. For example, Chase has 24 different routing numbers it uses to find which Chase bank is needed.
What Do Bank Routing Numbers Mean?
Each combination of numbers within your routing number has different significance. The first four digits indicate which district of the Federal Reserve Bank the bank is located in, and the second four digits are there to identify the bank itself. That last digit is actually determined with an algorithm and verifies the authenticity of the check.
Many banks that facilitate international money transfers have a separate SWIFT code to help them communicate with foreign banks. VyStar, however, does not have a SWIFT code and doesn't handle outgoing international wire transfers.
How To Find Your Routing Number
There are a few ways to find a Vystar Credit Union routing number. Since Vystar Credit Union only has one routing number for its locations you can simply reference the number above or follow the alternative steps below.
If you have a Vystar Credit Union checking account, you can also find your routing number on a check — the check routing number is the first nine numbers in the lower left corner. You might not have a check handy, however, so you can also call Vystar Credit Union any time at 800-445-6289 to find the routing number for your account. If you are at all confused about which number to use, you should consider calling Vystar Credit Union because using the right number could mean the difference between your money going into the right or wrong account.
About VyStar Credit Union
VyStar Credit Union got its start in 1952 as Jax Navy Federal to serve military, civil servants and the families stationed at Naval Air Station Jacksonville. The name has since been changed to VyStar and membership is now open to residents of Florida and Southeastern Georgia.
VyStar Credit Union is a good alternative to a traditional bank for those who qualify. As a member, you'll have access to low-cost financial services and higher interest rates, known as dividends.
If you are interested in learning more be sure to check out the complete VyStar Credit Union Review.