How To Cash a Check Without a Bank Account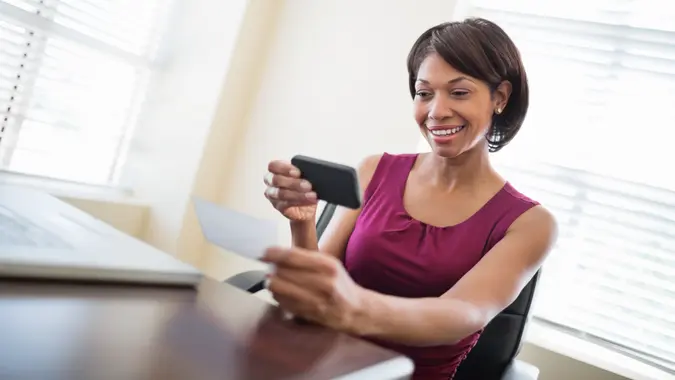 PhotoInc / iStock.com
According to the latest figures from the Federal Deposit Insurance Corp., almost 6 million U.S. households are "unbanked." That means that no one in the household has a checking or savings account at a bank or credit union. This rate is the lowest since the FDIC started tracking the figure in 2009.
However, the millions of Americans without a bank account sometimes still need access to banking services, such as check cashing. If you're wondering, "Where can I cash a check without a bank account," keep reading to learn how and where.
How To Cash a Check Without a Bank Account
There are many ways to cash a check even if you don't have a bank account. Here are some options:
The Issuing Bank
You can try to go to the bank that issued the check and see if they will cash it for you, since it was written by an account holder at that bank. However, some banks may not cash a check if you don't have an account. They may also charge a fee or require identification to cash it.
Certain Retailers
Some retailers offer check-cashing services for a small fee. Walmart, for example, will cash two-party personal checks of up to $200 for a fee of up to $6. For all other types of checks, the cashing limit at Walmart is $5,000 — or $7,500 from January to April — and you'll pay a fee of up to $8. You can get cash or load a Walmart MoneyCard for convenience — all you need is a valid ID card.
Upgrade Your Checking Account
Other retailers will have varying policies. For example, some may only cash personal checks, while others may only cash paychecks or checks from a government entity. When using paycheck cashing services, you may need to register with the store of your choice, which takes a little more time.
Some retailers, however, may only offer check-cashing services at certain locations, if at all. Most stores will have their policies online so that you can check them before making the trip.
If you're wondering how to cash a personal check without a bank account, this is an easy option as long as the amount of the check does not exceed the cashing limit.
Check-Cashing Stores
Though they are in the business of cashing checks, check-cashing stores may have the highest fees. Still, it's an option for you to consider, especially if you're wondering how to cash a large check without a bank account. Amscot, for example, will cash almost all kinds of checks with no limits. However, according to Amscot's Check Cashing Rates, it charges a minimum of $3 for all checks and fees of 9.9% on personal checks and money orders.
The benefits of check-cashing stores include fast processing time — you can get the cash almost instantly. Some stores may also be open during late hours or on weekends.
Prepaid Cards
Another option is to get a prepaid debit card. Some prepaid cards will allow you to deposit checks through mobile deposit. You might need to download an app and deposit your check by endorsing it and taking photos to upload. However, processing may take up to 10 days. To get your money sooner, you may need to pay relatively high fees.
If you are trying to cash paychecks, some prepaid cards allow you to set up direct deposit by using the routing number for your card. Therefore, you can skip the check cashing process altogether.
Upgrade Your Checking Account
Sign It Over
If all else fails, you can consider signing the check over to a trusted individual who has a bank account and have them cash it for you. You might want to go with them in case they have questions about the check or require your identification.
Here's an example of how a check typically looks: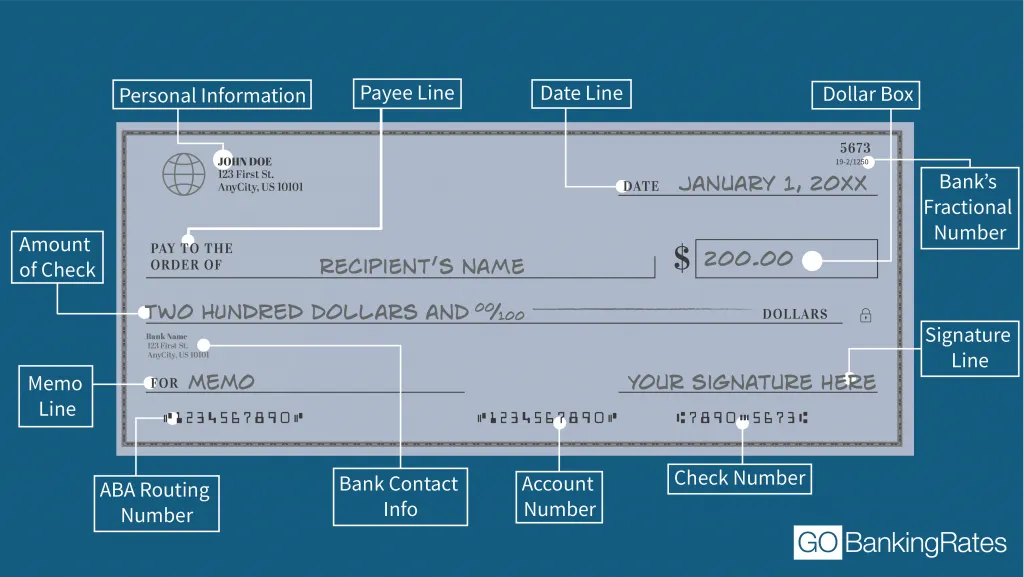 Your name should appear on the payee line, and the person who wrote the check will sign the signature line. To sign the check over to someone else, you'll need to sign the back of the check, on the line that says "Endorse Check Here."
Other Considerations
While there are several options for cashing a check without a bank account, there are a few things you should consider.
You May Have To Pay a Fee
Depending on where you cash your check, you may need to pay a fee. Check-cashing stores and payday lenders have the highest fees and should be avoided if possible.
Prepaid cards are reloadable, so once you buy the card, you can deposit checks repeatedly without additional fees.
You Will Likely Need Some Form of Identification
Typically, if you are cashing your check at the issuing bank, a retailer or other stores, you will have to provide some form of identification.
Consider Opening a Bank Account
Many households that don't have bank accounts cite their reasons as not being able to afford minimum balance requirements or a distrust of banks. However, according to the FDIC's Top Reasons to #GetBanked, the money you put into a bank account is insured by the FDIC and is at a decreased risk of theft, loss or damage. In addition, you can drastically cut check cashing times by using direct deposit without fees.
Upgrade Your Checking Account
If you are able to, consider opening a bank account so that you can access all the banking and financial services offered by banks. Many banks offer free checking accounts with no minimum balance requirements, so they're accessible to just about everyone.
FAQ
Here are the answers to some common questions about cashing checks.
What banks will let me cash a check without an account?

You are most likely to be able to cash a check without an account at the bank that issued the check

– just keep in mind that they may not offer the service, and if they do, they may charge a fee.

While there may be some exceptions, most banks will not allow you to cash a check if neither you nor the person who wrote the check has an account there.

Can you cash a check at Walmart without a bank account?

Yes, you can cash a check at Walmart without a bank account, but it does charge fees depending on the amount and type of check. Check cashing at Walmart may not be available at all locations.

Can I cash a check at a bank I don't use?

Typically, you cannot cash a check at a bank you don't use. You might be able to cash a check at the bank that issued it, even if you don't have an account there, but not all banks offer that service.
Scott Jeffries contributed to the reporting for this article.
Our in-house research team and on-site financial experts work together to create content that's accurate, impartial, and up to date. We fact-check every single statistic, quote and fact using trusted primary resources to make sure the information we provide is correct. You can learn more about GOBankingRates' processes and standards in our editorial policy.