How To Order Checks From Chase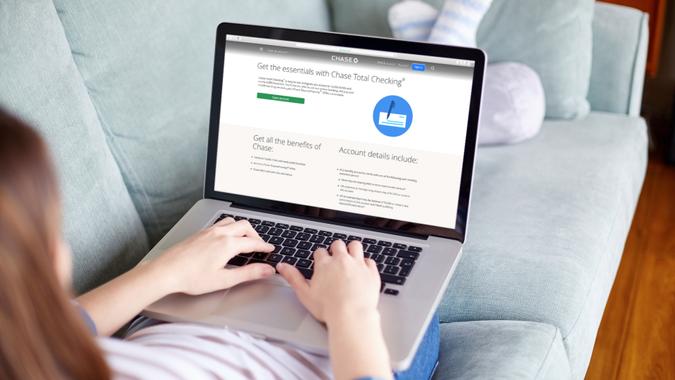 Chase/Neustockimages / Getty Images/iStockphoto
Although Americans make an increasing number of payments electronically, it doesn't mean the use of checks has disappeared. Many checking account holders — including those at Chase — still use checks to pay bills and still need to order new checks when they run low. Fortunately, Chase customers can order checks through a simple process online. The information below should guide you through the process and answer many of your questions:
How To Order Checks From Chase
As with most banks, the quickest way to obtain Chase checks is online. Chase offers a simple process no matter which method you choose.
Customers who want to order checks online should first log in to their accounts at Chase's website. Once you have access to your account, click on "More…". Under this menu, select "Order checks and deposit slips."
One thing to keep in mind is that Chase uses Deluxe as its check provider. Chase encourages customers with business checking accounts to visit Deluxe's website directly.
Earn Perks With A New Checking Account
How Much Does It Cost To Order Checks?
The cost for ordering checks depends on the type of account you have at Chase as well as the check features you choose and where you choose to buy them. Read on for a closer look at costs.
How Much Does It Cost To Order Checks From Chase?
A box of 100 checks starts at $20 for customers with a Chase Total Checking account. The cost might also depend on the type of checks ordered. According to Chase Customer Service, it takes 10 to 14 days to receive checks, though some types of checks can be delivered faster for an additional fee.

Customers also have ways of receiving free checks. The Chase Premier Plus Checking account provides free checks if you choose Chase design checks. If you opt for the Chase Sapphire Checking account, the company provides checks free of charge for both Chase design and personal design checks.
Customers should note that these free checks come with requirements. Those with a Premier Plus account must have an average beginning day balance of $15,000 across all linked Chase accounts or a linked qualifying Chase first mortgage with automatic payments. Customers who fall short of these requirements must pay a $25 per month fee. Sapphire account holders must have $75,000 deposited across all linked Chase accounts or face a similar $25 monthly charge.
Earn Perks With A New Checking Account
Alternative Providers
Though Chase and other banks don't encourage doing this, you can also buy checks from other sources.
Companies such as Costco, Vistaprint and Walmart offer check printing services. All offer a wide variety of designs at various costs. To ensure your order is safe and protected, check for security features such as the "Padlock icon" developed by the Check Payment Systems Association.
Here are a few additional details:
Costco: If you're interested in large orders, Costco offers 492 checks for as little as $18.96 ($15.17 for executive members) through Harland Clarke check printing.
Vistaprint: Costs start at $4.00 for a set of 25 checks.
Walmart: Costs start at $8.46 for a pack of 150.
Technically, you can also print your own checks, but these must meet a strict set of criteria such as using paper stock and dimensions that conform to industry standards. The checks must also include the Magnetic Ink Character Recognition line that bears all of the information of a Chase MICR line, including your routing number and account number. They must also represent your information accurately and bear the legend stating, "This is a legal copy of your check."
Earn Perks With A New Checking Account
Checks that don't conform to these standards will bounce. For this reason, you should consider buying checks from Chase or a reputable check printing service.
What You Should Know
Since a separate company handles Chase check orders, the information you request on the checks won't change your account information on the Chase website. In other words, if you print checks using a different address, the old address will remain in Chase's system unless you contact Chase directly. To make address changes to the system, go to the "Change of Address" section in the "Customer Center" page.
Familiarizing yourself with Chase's check ordering process and rules can help ensure your checks are accurate and secure.
This article has been updated with additional reporting since its original publication.
This content is not provided by Chase Bank. Any opinions, analyses, reviews or recommendations expressed in this article are those of the author alone and have not been reviewed, approved or otherwise endorsed by Chase Bank. Information is accurate as of Jan. 21, 2022.
Editorial Note: This content is not provided or commissioned by the bank advertiser. Opinions expressed here are author's alone, not those of the bank advertiser, and have not been reviewed, approved or otherwise endorsed by the bank advertiser. This site may be compensated through the bank advertiser Affiliate Program.