How To Order Checks From PNC Bank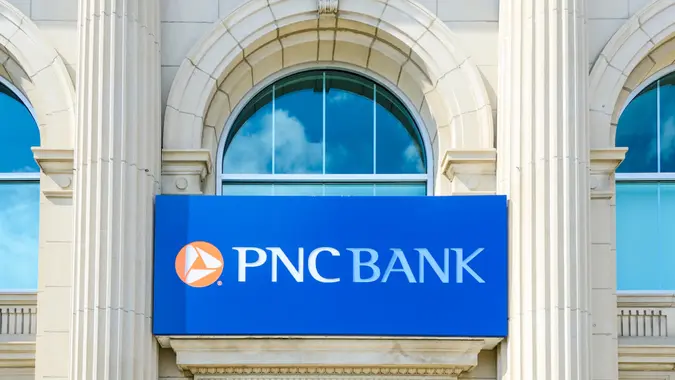 RiverNorthPhotography / Getty Images
Sometimes you can't avoid writing checks, even if you'd rather pay another way. Whether you're paying rent or for a home repair, cash and credit aren't always acceptable forms of payment. That's why it's a good idea to keep an ample supply of checks on hand. Although you can reorder checks, you can't get them the same day, so if you run out you might find yourself having to buy a money order to pay an important bill by the due date.
PNC Bank customers have a few options when it comes to ordering checks. This overview explains what they are and how to take advantage of them.
How Do I Order Checks From PNC Bank?
PNC Bank gives you two ways to order checks:
Order online
Visit a bank branch in person
If you prefer the convenience of ordering online, be sure to have your routing number and account number on hand before you start. You'll find the routing and account numbers on your checks. The routing number is the nine-digit number on the bottom left. The account number is to the right.
Earn Perks With A New Checking Account
The numbers are also located on your online statements and SmartAccess Card, available through online banking. Non-Virtual Wallet® account holders can select "Show Account & Routing Number" under the Account menu in online banking.
Once you have your numbers, follow these steps to order checks:
Log in to online banking.
Select the "Customer Service" tab.
Under "Manage Accounts," select "Order Checks & Supplies."
Find the account you want checks for.
Under the "Order" column next to that account, select the "Checks/Supplies" link.
Automatic Check Reorder

Rather than placing an order manually every time you need more checks, you can sign up for Automatic Check Reorder. Whenever your current supply dwindles by 70%, PNC will automatically send you a new batch and debit the cost from your account. You'll see the automatic reorder activation option after you follow the steps above and select the "Checks/Supplies" link to place your order.
The only alternative method of ordering checks from PNC Bank is to go to a branch to place an order in person.
Earn Perks With A New Checking Account
How Much Does It Cost To Order Checks?
The cost of ordering checks depends on the style you choose and whether you add optional services like expedited shipping to your order. Prices also vary according to whether you purchase your checks through PNC Bank or an alternative supplier.
Good To Know

Performance Select Checking and Virtual Wallet with Performance Select customers get free checks. However, these accounts have a $25 monthly maintenance fee. You can waive the fee by doing one of the following: receiving $5,000 in direct deposits per month, maintaining a $5,000 minimum daily balance, or maintaining a minimum $25,000 balance in a linked PNC savings account.
Alternative Ways To Order Checks
Alternative check suppliers might save you money or give you a more comprehensive selection of check styles and designs to choose from. Here are some alternative sources for ordering checks:
Bradford Exchange Checks
Bradford Exchange Checks is a discount retailer that offers check orders up to 70% off bank prices. Standard blue safety checks come 100 per box. Bradford's website recently listed prices of $21.95 for a single box, $41.90 for two boxes and $61.85 for both three and four boxes. Keep in mind that prices are subject to change at any time.
Earn Perks With A New Checking Account
Costco
Costco uses the same check supplier as PNC Bank — Harland Clarke — but the warehouse retailer charges less than PNC. Costco Executive Members pay only $31.18 for four packages of 100 checks each, for a total of 400 checks. Costco Gold Star and Business members pay $38.98 for the same package.
Walmart
A two-pack of Walmart blue secure checks, which has 240 checks total, is $18.42. You'll pay $27.63 for three packs, which contain 360 checks. A four-pack with 480 checks is $36.84.
Vistaprint
Vistaprint is the only supplier listed here that lets you purchase small quantities of checks. You can order as few as 25 checks for $4. Otherwise, checks are sold in packs of 150. You'll pay $15 for one pack, $24 for two packs, $34 for three packs and $45 for four packs.
Vistaprint also carries computer checks that can be printed using accounting software from Intuit, Microsoft Money and Sage 50/Peachtree. Prices start at $37 for 50 checks.
PNC Bank doesn't allow customers to print their own checks directly from the bank.
What You Should Know
PNC Bank's online check ordering and Automatic Check Reordering are available to online banking customers only. Visit the PNC website to enroll.
In the event you enroll in Automatic Check Reordering and later need to switch to a new design, update your address or phone number or change other features of your checks, visit your local PNC Bank branch for assistance.
This content is not provided by PNC Bank. Any opinions, analyses, reviews or recommendations expressed in this article are those of the author alone and have not been reviewed, approved or otherwise endorsed by PNC Bank.
Information is accurate as of Nov. 14, 2022.
Earn Perks With A New Checking Account