How To Order Checks From TD Bank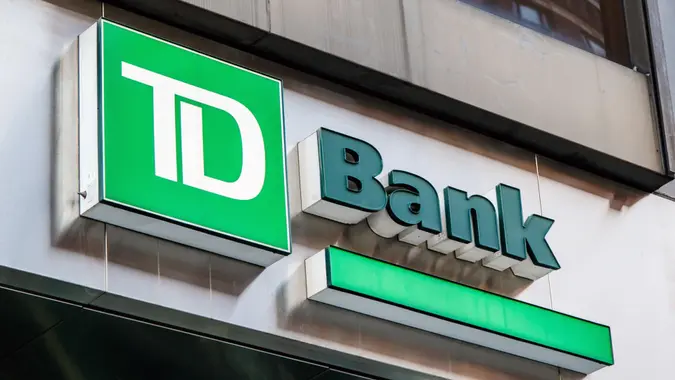 Checks might seem like a relic from the past in this era of online and mobile transactions, but they're still alive and well, even among millennials. Some people have no choice — renters, for example, are often required to pay by check.
Whether check writing is a necessity or a simple preference, you will eventually run out of checks if you use enough of them. If you're a TD Bank customer, refilling your checkbook before that happens can save you from having to make a last-minute trip to purchase a money order to cover an upcoming bill.
Keep reading to learn everything you need to know about ordering checks from TD Bank.
How Do I Order Checks From TD Bank?
The most convenient way for most customers to order checks is online, via the TD Bank website. Have your TD Bank routing number and account number on hand before you start.
You'll find the routing and account numbers on your checks and preprinted deposit slips. The routing number is the nine-digit number on the bottom left. The account number is on the bottom right. You can also get the routing number by calling TD Bank customer service or visiting the website.
Earn Perks With A New Checking Account
Here's what to do once you've located your routing and account numbers:
Go to the TD Bank website and log in to online banking.
Select "Account Options," then "Account Services," then "Order Checks."
Follow the prompts to complete your order.
TD Bank securely transmits your order to Harland Clarke, the check provider.
You have a few other options for ordering checks:
Visit the Harland Clarke website to order your checks directly from the supplier.
Stop in at a TD Bank branch to order in person.
Call 800-355-8123 to order by phone from Harland Clarke.
How Much Does It Cost To Order Checks?
The cost of ordering checks depends on the style you choose and whether you add optional services like expedited shipping to your order. Prices also vary according to whether you purchase your checks through TD Bank or an alternative source.
Good To Know

Some TD Bank checking accounts offer free or discounted checks. Review the terms of these accounts carefully — other charges, such as monthly maintenance fees, will offset any savings you stand to gain by getting your checks for free.
Earn Perks With A New Checking Account
Here are the details on a few TD Bank accounts and what they offer:
TD Beyond Checking
The TD Beyond Checking account comes with free standard check orders. However, you'll pay a $25 monthly maintenance fee on this account unless you maintain a $2,500 minimum daily balance, receive $5,000 in direct deposits each statement cycle, or maintain a $25,000 minimum balance across all TD Bank accounts.
TD 60 Plus Checking
TD 60 Plus Checking offers free standard checks and discounts on select styles. This account has a $10 monthly maintenance fee, but you can get the fee waived by maintaining a $250 minimum daily balance.
TD Convenience Checking
TD Convenience Checking customers get a discount on their first check order. Customers over age 23 pay a $15 monthly service fee, which you can avoid by maintaining a $100 minimum daily balance.
Alternative Ways To Order Checks
Alternative check suppliers might save you money or give you a more comprehensive selection of check styles and designs to choose from. Here are some alternative sources for ordering checks.
Costco
Costco uses the same check provider as TD Bank — Harland Clarke. But Costco Executive members pay just $31.18 for four packages of 100 checks each, for a total of 400 checks. Costco Gold Star and Business members pay $38.98 for the same number of checks.
Earn Perks With A New Checking Account
Walmart
A two-pack of Walmart blue secure checks — 120 checks per pack — is only $18.42. You'll pay $27.63 for three packs, which contain 360 checks. A four-pack with 480 checks is $36.84.
Vistaprint
Vistaprint is the only supplier listed here that lets you purchase small quantities — 25 checks for $4. You'll pay $15 for 150 checks, $24 for 300 checks, $34 for 450 checks or $45 for 600 checks.
Vistaprint also carries computer checks you can use to print your own checks using accounting software from Intuit, Microsoft and Sage 50/Peachtree. Prices start at $37 for 50 checks.
Unfortunately, it's not possible to print your own checks straight from TD Bank.
What You Should Know
To keep your accounts safe, special check-ordering rules apply to certain circumstances.
If you're an online banking customer and you've changed the mailing address on your checking account within the last three business days, you can order checks right away at a TD Bank branch. However, you'll need to wait three additional days to order online.
Customers placing an order for the first time and who've not yet enrolled in online banking must place their order by phone or at a TD Bank branch.
Editorial Note: This content is not provided by any entity covered in this article. Any opinions, analyses, reviews, ratings or recommendations expressed in this article are those of the author alone and have not been reviewed, approved or otherwise endorsed by any entity named in this article.
Information is accurate as of Nov. 14, 2022.
Earn Perks With A New Checking Account