How To Order Checks From Bank of America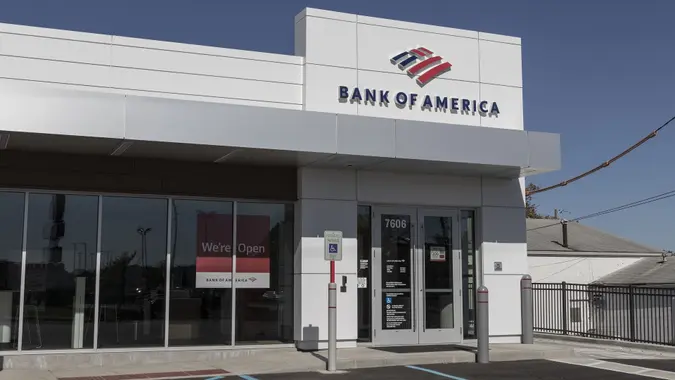 jetcityimage / iStock.com
Checks aren't as common now as they used to be, due to the rise of online and mobile payment options, but people still use them. Tenants often have to pay rent with checks, for example, and then there are just some folks who still prefer writing checks over paying bills electronically.
For those who still use a lot of checks, it's important to know how to order more so you don't run out. Some banks, including Bank of America, offer standard checks free of charge to certain account holders. Keep reading to learn how to order checks from Bank of America, Member FDIC.
See: How To Guard Your Wealth From a Potential Banking Crisis With Gold
How Do I Order Checks From Bank of America?
Ordering checks from Bank of America is simple and only takes a few minutes. Here's how:
Steps To Order Checks

Log in to your Bank of America account via online banking or the mobile app.
Select the appropriate bank account, then do one of the following:

In online banking, select "Order checks/deposit slips."
In the mobile app, select "Order Checks & Deposit Tickets."

You'll be taken to a page where you can access options on designs, along with other products.
Confirm your style, as well as your starting check number and personal info, such as your name and address.
Can You Get Bank of America Checks the Same Day?
Unfortunately, if you need your checks the same day, that isn't possible. There's no way to print out a Bank of America blank check, and according to Bank of America customer service, the bank doesn't issue temporary or counter checks. However, you can opt for expedited shipping to get your check order faster.
Upgrade Your Checking Account
How Much Does It Cost To Order Checks?
The cost of ordering checks varies depending on the style, the number of boxes and where you get them. You don't have to order checks from your bank. Check companies such as Bradford Exchange Checks, along with retailers like Walmart and Costco, also sell personal checks. You can often find better deals at these suppliers than you would at your own bank.
How Much Does It Cost To Order Checks From Bank of America?
If you're interested in ordering your checks from Bank of America, the cost depends on the type of account you have and the style and quantity of checks you want. When you log in to your Bank of America checking account to order, you'll be able to view the check catalog.
Good To Know

Certain Bank of America customers are eligible for free standard personal checks and discounts on certain styles of nonstandard checks, including the following customers:

Bank of America Advantage Relationship Banking®
Preferred Rewards customers
Alternative Ways To Order Checks
If you can't find the check style you want from Bank of America, or you want to see if you can find a better deal, here are some alternatives. Make sure you have your bank account number and your Bank of America routing number before you get started. Both are essential when ordering checks.
Costco: Costco members can get special pricing on checks from Harland Clarke with free standard delivery. Costco Executive members can get 200 Blue Safety checks for $15.30.
Vistaprint: If you rarely use checks, Vistaprint offers small quantities of checks at a much cheaper price than ordering a whole box. You can order 25 wallet checks for $4.
Walmart: Walmart also offers smaller quantities of checks at a reasonable price. You can get 120 Blue Secure checks for $9.85.
Upgrade Your Checking Account
You can also find more specialized designs through these alternatives — often at a higher cost. These include themed checks, like Disney or animal designs, and high-security checks with fraud-prevention features.
Information is accurate as of May 19, 2023.
Editorial Note: This content is not provided by any entity covered in this article. Any opinions, analyses, reviews, ratings or recommendations expressed in this article are those of the author alone and have not been reviewed, approved or otherwise endorsed by any entity named in this article.