How To Order Checks From Walmart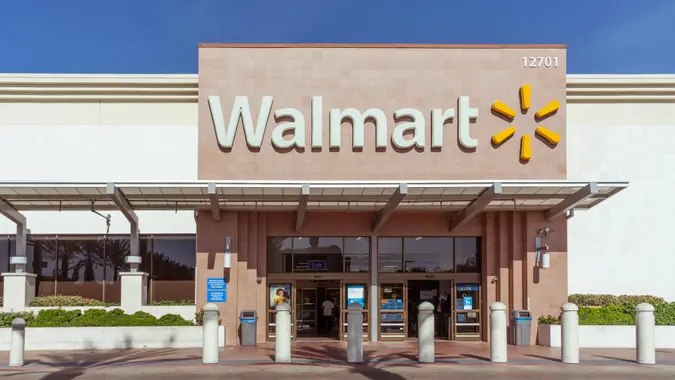 Sue Hwang / GOBankingRates
Despite the increased popularity of debit cards and electronic banking, consumers continue to use paper checks. This means bank account holders need to keep checks on hand for specific situations — and if they run out, they need to order more.
Many folks order checks directly from their banks whenever they run out, not realizing that you can order them from other printers. One such printer is a familiar name: Walmart. The retail giant offers a variety of checks that meet different purposes and wants. Keep reading to learn more about how to order checks from Walmart.
How Do I Order Checks From Walmart?
The simplest option is to visit walmartchecks.com, a site specifically devoted to ordering checks. Walmart contracts with Harland Clarke to print its checks.
You can complete the process by following these steps:
Steps To Order Checks

Select whether you want personal or business checks.
Select the check design.
Provide the required personal information.

This includes your name, address, phone number and other information.

Provide your bank account information.

This includes your routing number, account number and the check number for the first check.

Approve the image depicting the appearance of the checks.
Select the shipping method.

Shipping is free if you can wait for three weeks.
Otherwise, you can pay a shipping fee to get the checks sooner.
Earn Perks With A New Checking Account
Same-day service is not available because it takes a few days to process the order. However, you can request overnight delivery, which is available once the checks have been processed. You can also request a rush order that processes checks at least two days faster.
How Much Does It Cost To Order Checks?
The cost of ordering checks depends on many factors, including the check design and quantity. The cheapest option is to buy basic checks, but you can also choose to pay more for checks with certain design and security features.
How Much Does It Cost To Order Checks From Walmart?
As with most check printing companies, the cost of Walmart checks varies by design and other factors. For example, Walmart charges a minimum of $7.96 for one pack of 150 basic personal checks. That cost rises to $8.96 for 150 specialty checks.
Specialty checks typically include a decorative design based on customer preferences. Walmart also sells high-security checks designed to protect customers from fraud and identity theft. These include features such as holograms and heat-reactive ink circles. High-security checks at Walmart start at $18.46 for a basic pack of 150 checks.
Earn Perks With A New Checking Account
Regardless of the order, Walmart adds a processing fee of $3.46. Taking advantage of in-plant rush will add an additional $5.95 to the cost.
Alternative Ways To Order Checks
Walmart is far from the only check printer in the business. Here are some other options:
Your bank: You can always order checks directly from your own bank, though you might end up paying more. Some banks offer free checks for customers with certain types of accounts. For example, Chase offers free checks or discounted checks to select customers, as does Bank of America, Wells Fargo and Citibank.
Vistaprint: Like Walmart, Vistaprint offers a wide variety of designs and sizes. It also offers greater flexibility on the size and pricing of orders. For example, you can buy a pack of 25 basic checks for only $4 at Vistaprint if you prefer a smaller order.
Costco: Although Costco competes with Walmart in the check business, both retailers use Harland Clarke to handle the printing. Costco customers can choose from several designs, sizes and security features. As a warehouse retailer, Costco offers its best deals in bulk. For example, you can purchase 400 basic checks for $20.02 if you're a Costco Executive Member or $25.03 if you're a Costco Gold Star or Business Member.
It's important to shop around when it comes time to order checks to ensure you get the best product for the best price. Although Walmart is not the only option, it will likely remain competitive due to its offerings and price points.
Information is accurate as of June 6, 2022.
Earn Perks With A New Checking Account