Here's Your PNC Routing Number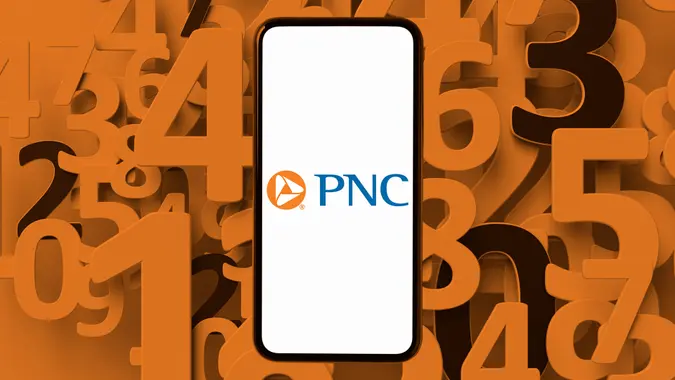 Sending and receiving money electronically with your PNC Bank account is not only convenient but also necessary for direct payroll deposits and certain other transactions. All electronic bank transactions in the U.S. require a routing number, and there are several ways to find your PNC routing number. Keep reading to learn more.
PNC Routing Numbers By State
Like many banks, PNC has different routing numbers for different states and even different numbers for regions within a state. Here's a rundown of PNC's routing numbers by state:
Not all routing numbers are available on PNC Bank's website, so if you don't have immediate access to your routing number, you'll have to either contact your local branch or call PNC customer service at 800-762-9473 to confirm the number.
For other options on how to find your routing number, PNC Bank's website includes a "Wire Transfer Payment Instructions" page that lets account holders search for their routing numbers.
You can also find your routing number at the bottom left corner of your checks or in the top right-hand corner of your online statement. Routing numbers are always nine digits long.
How to Find Your PNC Bank Routing Number
There are a few ways to find a PNC Bank routing number. If you remember which state you opened your account in, just use the chart.
If you have a PNC Bank checking account, you can also find your routing number on a check — the check routing number is the first nine numbers in the lower left corner. You might not have a check handy, however, so you can also call PNC Bank any time at 888-PNC-BANK (888-762-2265) to find the routing number for your account.
If you are at all confused about which number to use, you should consider calling PNC Bank because using the right number could mean the difference between your money going into the right or wrong account.
What Is a Routing Number?
The American Bankers Association developed routing numbers more than a century ago to identify individual federal- and state-chartered financial institutions. That's why routing numbers are also called ABA numbers (as well as RT numbers, short for Routing Transit).
Nowadays, routing numbers are used in all electronic banking transactions, including wire transfers, automatic deposits and online payments. A routing number is assigned to a financial institution when it maintains an account with the Federal Reserve Bank.
Can Banks Have Multiple Routing Numbers?
As PNC demonstrates, banks can have many routing numbers — especially large national banks that operate in multiple states. ABA policy states that eligible banks are entitled to five routing numbers — one associated with its principal office and four additional numbers.
Banks can also request more routing numbers, but these requests must be approved by the Routing Number Administrative Board. Requests for additional routing numbers are often necessitated by mergers and acquisitions.
Banks operating in many states, such as PNC Bank, might not only have different routing numbers in each state but also more than one routing number within a single state. It's a good idea to periodically check the routing number at your local branch, especially if you are notified of a merger involving your bank.
Different Routing Numbers for International Wire Transfers
To send or receive money involving a bank in another country, you'll need to use a SWIFT code instead of a routing number. SWIFT stands for Society for Worldwide Interbank Financial Telecommunications.
PNC Bank is a member of SWIFT, along with nearly 10,000 other financial institutions. Each member bank has a unique SWIFT code used in international wire transfers. PNC's SWIFT code is PNCCUS33.
Information is accurate as of July 11, 2022.
Editorial Note: This content is not provided by PNC Bank. Any opinions, analyses, reviews, ratings or recommendations expressed in this article are those of the author alone and have not been reviewed, approved or otherwise endorsed by PNC Bank.