Here's Your Fifth Third Bank Routing Number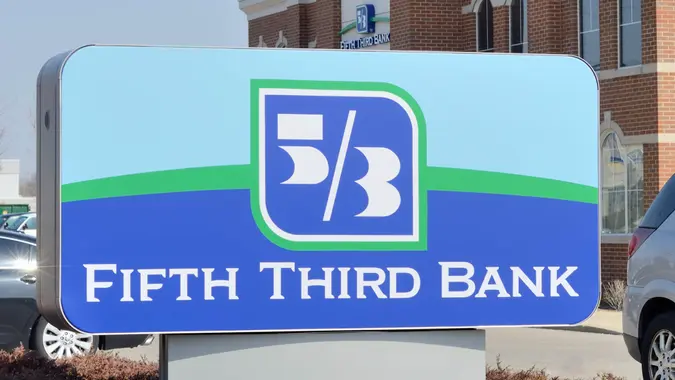 RiverNorthPhotography / Getty Images
Fifth Third Bank serves customers throughout the South and Midwest regions of the U.S. But when it comes to transferring money, does Fifth Third use different routing numbers in different regions? Keep reading to find out.
What Is Fifth Third Bank's Routing Number?
For incoming wire transfers to Fifth Third Bank the routing number is 042000314. For all other types of transfers and services find the routing number associated with your state and region where you opened your account below.
| Fifth Third Bank Routing Number by State | |
| --- | --- |
| State (Region) | Number |
| Florida (North) | 063113057 |
| Florida (Central) | 063109935 |
| Florida (South) | 067091719 |
| Florida (Tampa) | 063103915 |
| Georgia | 263190812 |
| Illinois | 071923909 |
| Indiana (Central) | 074908594 |
| Indiana (Southern) | 086300041 |
| Kentucky (Northern) | 042100230 |
| Kentucky (Central) | 042101190 |
| Kentucky (Southwest) | 083002342 |
| Michigan (Northern) | 072401404 |
| Michigan (Eastern) | 072405455 |
| Michigan (Western) | 072400052 |
| Missouri | 081019104 |
| North Carolina | 053100737 |
| Ohio (Cincinnati) | 042000314 |
| Ohio (Columbus) | 044002161 |
| Ohio (Northeastern) | 041002711 |
| Ohio (Northwestern) | 041200050 |
| Ohio (Western) | 042202196 |
| Ohio (Southern) | 042207735 |
| Pennsylvania | 043018868 |
| Tennessee | 064103833 |
While many banks use only one routing number, Fifth Third uses multiple routing numbers to serve customers across different regions, which is not always the case for multi-regional banks.
Related: Fifth Third Bank Review
What Is a Routing Number?
A routing number is a nine-digit security feature banks use to identify each other during a transaction. Other names used for routing numbers are ABA numbers — which stands for American Bankers Association, which created routing numbers back in 1910 — and routing transit number.
Routing numbers aren't only used in bank transfers. Some services require them if you're making a payment or setting up recurring payments.
Now Learn: How To Find Your Bank Routing Number in Seconds
Banks Can Have Multiple Routing Numbers
As you've just seen, yes they can. The number of routing numbers a bank uses depends on factors such as the size of the bank — big banks like Wells Fargo and Citi® are good examples — and the regions it operates in. Some banks also acquire multiple routing numbers through mergers.
How Do You Find a Routing Number on a Check?
Your routing number can be found on the bottom-left corner of your personal checks, next to your account number. Remember not to confuse the two by entering the longer account number instead of the nine-digit routing number.
Also Find Out: How To Use and Find Your Fifth Third Bank Login
Different Routing Numbers for International Wire Transfers
Banks use SWIFT codes to identify each other globally. The numbers and letters in SWIFT codes identify the bank's country of origin and location. They are normally a combination of eight digits and letters. Longer SWIFT codes identify a specific branch from that bank.
Fifth Third doesn't list its SWIFT code on its website, but multiple secondary sources list it as FTBCUS3C. In the FAQ section of its website, Fifth Third recommends that customers who want to do a wire transfer should visit a branch.
GOBankingRates' Best Banks 2023
Information accurate as of Jan. 23, 2023.
Editorial Note: This content is not provided by any entity covered in this article. Any opinions, analyses, reviews, ratings or recommendations expressed in this article are those of the author alone and have not been reviewed, approved or otherwise endorsed by any entity named in this article.