Countries With the Highest Interest Rates Today
Planning to move? Consider these countries with the highest interest rates in the world.
With extremely low interest rates in the U.S., you won't get rich by parking your money in a savings account. In other countries, however, your cash could make a nice chunk of change just sitting in the bank, due to extremely high interest rates. If you're thinking about relocating, consider a country where you can earn substantial interest on deposit accounts, but make sure factor in how inflation affects interest rates.
Here are the countries with the highest interest rates in the world:
Ukraine: 20.00%
Uzbekistan: 20.00%
Argentina: 17.45%
Mongolia: 15.10%
Azerbaijan 15.00%
Iran: 15.00%
Keep reading to find out which other countries have high rates on one-year certificates of deposit, as well as real interest rates and rates adjusted for inflation.
Related: Here's How the Average Savings Account Interest Rate Compares to Yours
Interest Rates Today: The Highest Interest Rates in the World
Checking, savings, money market account and CD interest rates in the U.S. are low. Consider that the average 12-month CD rate is a mere 0.24 percent, according to the FDIC.
If you're wondering if rates are better in other countries, the answer is yes; many countries offer better rates on CD-like products. But there are risks, including unstable governments and economies. Additionally, the FDIC only insures domestic deposits. Many countries have no such protection. With that in mind, here is a list of countries in the world that offer the highest interest rates worldwide.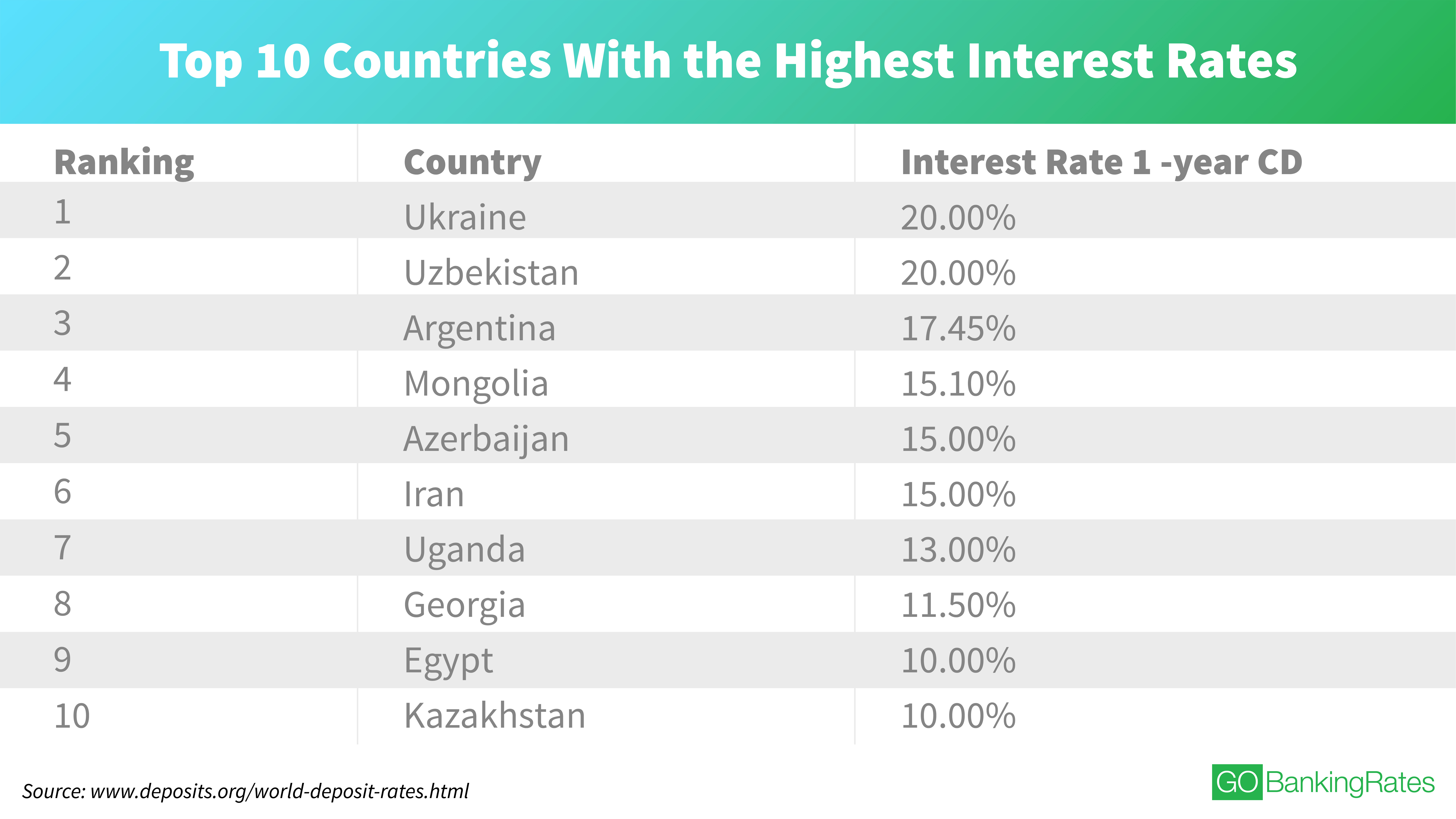 See: 10 Best CD Accounts of 2017
How Inflation Factors Into High Interest Rates
When the price of goods and services rise over time, it's called inflation. A certain amount is healthy, but high inflation rates can be unhealthy. The problem occurs when consumers buy instead of save, contributing to higher inflation, which weakens the purchasing power of the dollar. To keep inflation in check and encourage saving, occasionally the Federal Reserve will raise interest rates. For example, if inflation is 3 percent, but you can get 5 percent interest by placing your money in a savings or money market account, you might choose to save instead of spend.
Your "real interest rate" is the interest rate minus the inflation rate. In this case, you would make 2 percent on your deposited money. That's because, while you earn a 5 percent annual interest rate, the price of goods and services increases by 3 percent, leaving you with 2 percent. When looking at CD or savings interest rates, you also need to factor in inflation to understand how much money your deposit will really earn.
Find Out: Why You Aren't Getting the Interest Rate You Want
Top 10 Highest Interest Rates After Inflation by Country
The true yield on an interest-bearing account must take into account the inflation of the country and currency. With that in mind, here are the countries with the highest bank interest rates in the world, after inflation.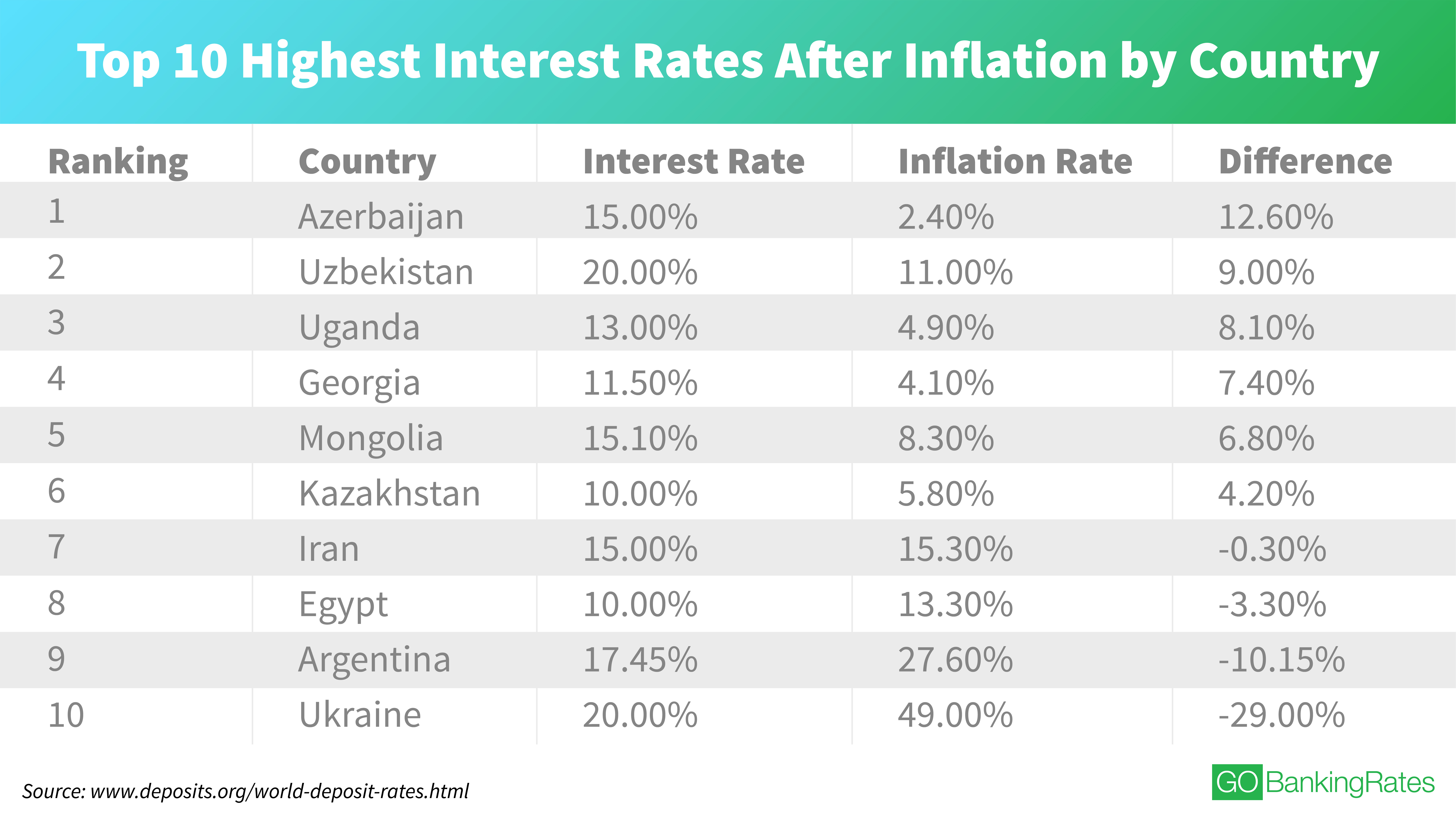 Just as inflation and interest rates vary in every country, so does the cause. Here's a closer look at the reasons the countries with high interest rates have such rates and how inflation impacts them.
| | |
| --- | --- |
| Country | Reason for High Interest Rate and How Inflation Factors In |
| Azerbaijan | A collapse in crude oil prices hit Azerbaijan, forcing high interest rates in an effort to curb inflation. |
| Uzbekistan | Unstable and volatile energy prices, along with political tensions, have a negative effect on Uzbekistan. This might change due to Russian economic recovery. |
| Uganda | Inflation in Uganda is driven by devaluation of local currency; high interest rates combat currency devaluation. |
| Georgia | Inflation has risen due to currency depreciation; interest rates were raised to prevent more depreciation. Russia's recovery could decrease rates. |
| Mongolia | Interest rates were raised to protect its currency from sharp devaluation and to promote stability. |
| Kazakhstan | Interest rates are set high to stave off inflation, which gained momentum last year. |
| Iran | Rates are set high to boost the economy, so that savings rates are higher than inflation and loans are cheaper for industries. |
| Egypt | Egypt's economy is still suffering from the strict government reforms and the floating of the pound, causing double-digit inflation. |
| Argentina | Rates are set high to draw international investors and combat inflation and currency depreciation. |
| Ukraine | Rates have remained high to defend against inflation and prop up weak currency. |
Top 10 Highest Real Interest Rates in the World
Real interest rate is the lending interest rate adjusted for inflation as measured by the gross domestic product deflator. Here are the 10 countries with the highest real interest rates, according to the latest data from the World Bank, released in 2015.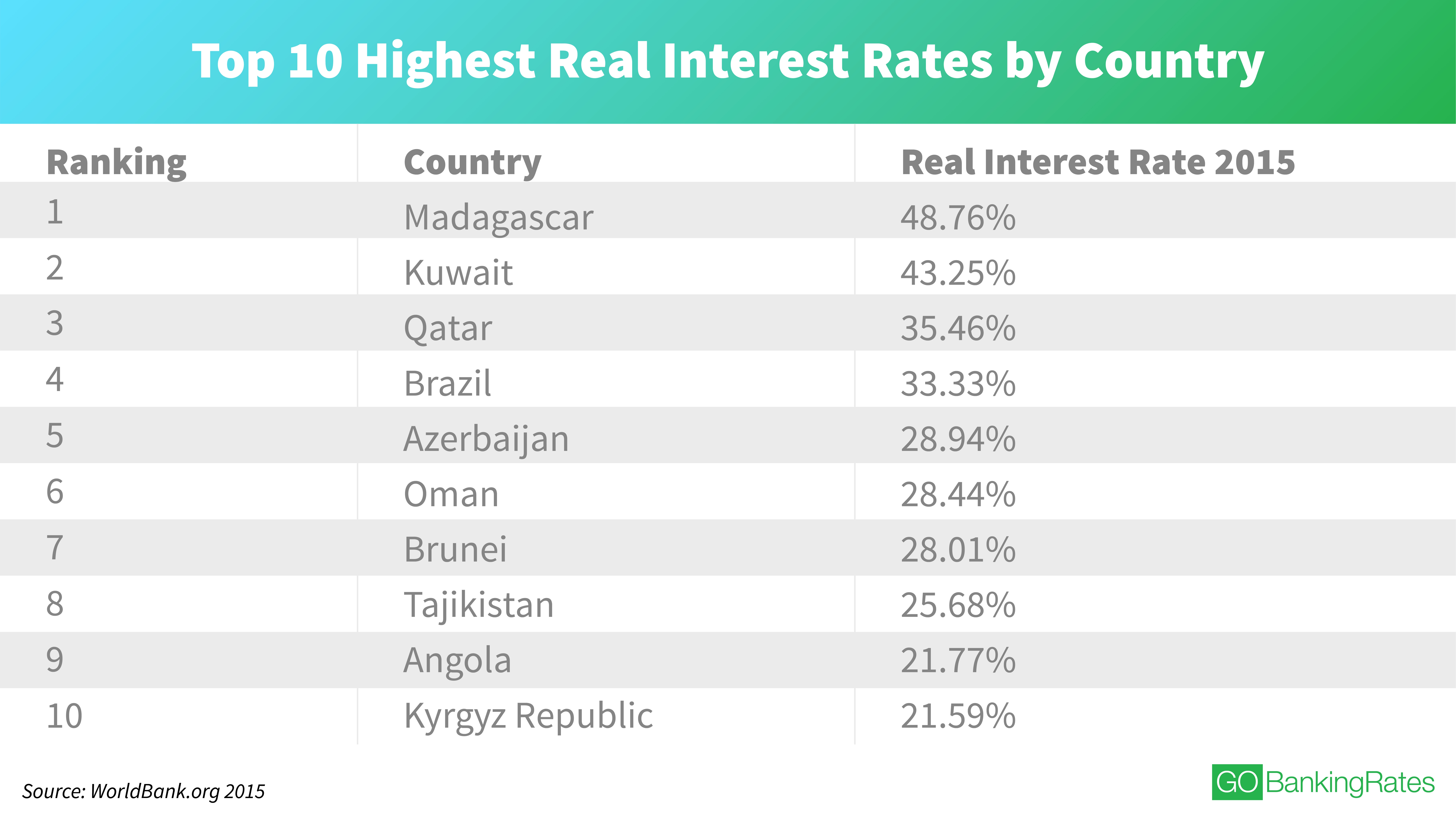 In the U.S., the real interest rate was just 2.16 percent in 2016, nearly 23 times less than Madagascar, the country with the highest real interest rate. Whereas many financial institutions in America have government guarantees for accounts to a certain size, that comes at a cost.
How the US Banking System Compares
Most countries have central banks responsible for controlling the currency, much like the U.S. does. They also have both well-established banks and banks that are smaller and newer, much like U.S. credit unions and small, local banks. The only real difference between the U.S. banking system and those of countries with the highest interest rates on deposits is some of the terms used.
Although the terms "savings account" and "money market account" are found throughout international banking systems, what is understood as a "CD" in the U.S. is similar to what another country might call a term deposit, personal saving certificate and fixed-term deposit accounts. Like our CDs, money must remain in these various accounts for a predetermined amount of time before the depositor is eligible to withdraw the principal deposit and earned returns.
Low interest rates in the U.S. are an indicator of the stability here; the highest current interest rates in the world come from highly unstable countries. The highest interest rate found on a one-year CD in the U.S. was 1.45% APY, which indicates economic stability, especially when compared with other countries. With an inflation rate at 2.5 percent, though, you'd still lose money in the long run.
In the U.S., everything from your mortgage and car loan interest rate to your credit card interest rate is affected by the most basic of interest rates: the federal funds rate. If the federal funds rate rises, all other public and private rates will generally rise, too. This could mean the difference between you earning money on a CD against inflation, or losing money.
Don't Miss: 5 Insider Tips to Get the Highest CD Rates
Proceed at Your Own Risk
Before you roll the dice overseas with dreams of double-digit interest gains, know that the international insurance protection on your deposits is likely not as comprehensive as FDIC deposit insurance. Although foreign central bank interest rates might be higher, here, your money is protected either by the FDIC up to a certain amount or, in the case of credit unions, the National Credit Union Association. For instance, if you purchase a CD at a FDIC insured bank, your deposit is insured up to $250,000. If you bank at a credit union that is an NCUA member, again, your funds are insured to $250,000.
As with all investments and bank accounts, especially in developing countries, it's important to weigh the amount of risk you take on versus the return that you're expected to get. Although it would be great to earn 11% APY on a CD, it's comforting to know that your money in the U.S. is fully protected in the event that your financial institution crumbles.
Up Next: 50 Cheapest Countries to Live In
Ruth Sarreal and Jason Larkins contributed to the reporting for this article.