The 4 Best Bank Account Options for Kids and Teens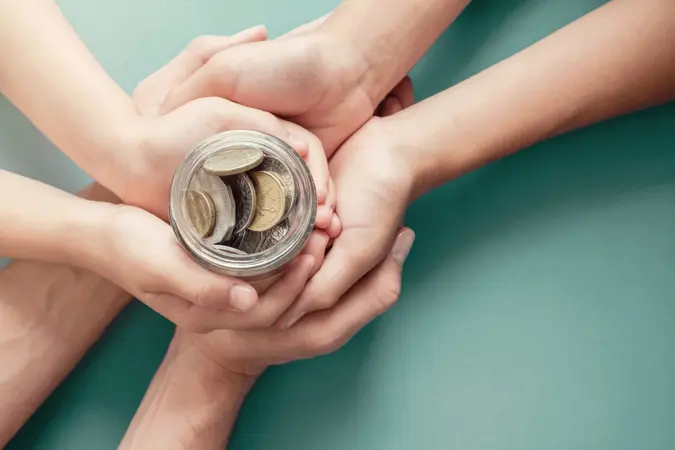 ThitareeSarmkasat / Getty Images/iStockphoto
Having a bank account is important for kids of all ages. In fact, in the long run, it's even more valuable than you might realize.
GOBankingRates' Best Banks: See the Top Banks, Credit Unions and More
See: GOBankingRates' Best Online Banks
"A savings account for a child or teenager should serve as more than just a place to store money," said Brad Calhoun, president and CEO
of Teachers Federal Credit Union. "As a father of three, I recognize the parental desire to do what's best for our kids, including setting them up early in life for financial success. Opening a youth savings account is a great way to teach younger generations about the importance of saving money and overall money management."
However, trying to decide which account would be the best choice for your child can be challenging, and there are a lot of banks competing for your business. To give you an idea of some of the best savings, checking and investment account options for kids and teens out there, GOBankingRates spoke to banking professionals and financial experts to get their opinions.
Related: The 20 Best Savings Accounts
Teachers Federal Credit Union: Youth Savings Account
At Teachers Federal Credit Union, you can open a Youth Savings Account with no monthly fee for just $1. "The Youth Savings Account we offer at Teachers Federal Credit
Union is optimized to help save and grow over time with a competitive 3.00%
APY on the first $1,000 deposited," Calhoun said. "For example,
adding $5 per day into a Teachers Youth Savings Account for 21 years would
result in approximately $40,000."
Calhoun pointed out that not only will the Youth Savings account provide a safe and easy avenue for the child's money to grow, but also will give children the opportunity to learn about the power of compound interest and build responsible money habits.
"As they deposit funds from birthdays over the years, they'll watch
their money grow, both introducing the idea of investing and the motivation
to save more, " he said. "When a child turns 21, the account automatically transitions
to a Regular Savings Account."
Advice: How To Compound Your Income in 2022
Spectrum Credit Union: MySavings Youth Account
Kyle Kroeger, a financial manager and founder of ViaTravelers, recommends the My Savings
Youth account from Spectrum Credit Union. "There are no monthly fees to worry about and the best part is the high
interest rate — even on accounts with a lower balance under $1,000."
Spectrum is currently paying 7.00% APY on the first $1,000 deposited and 0.30% APY on balances below or above $1,000. Plus, the account has no minimum balance requirements. "Kids can get an ATM card from the age of 13, which I think is just the
right time for a child," Kroeger said. "You can generally open this account online for
your kid. Just bear in mind that when your child turns 21 and they have
a bank account especially for minors, they must reapply for a new type
of account."
Important: 25 Things You Should Never Do With Your Money
IncredibleBank: Chill Checking Account
If you have a teenager who is 14 or older who needs to learn to budget and manage money, IncredibleBank's Chill Checking account might be the answer. The account requires a minimum opening deposit of $50 and has no minimum balance requirements or monthly maintenance fees. It comes with a Visa debit card, access to over 30,000 ATMs and free Netflix for a year following account opening.
As long as your teen pays the Netflix subscription with the IncredibleBank debit card tied to the account and uses the debit card for at least five transactions (excluding ATMs) each month, the bank will reimburse the actual amount of the Netflix subscription charge or $16.95 — whichever is less. That's an annual value of $203.40.
Read More: Gen Z and Millennials Favor National and Online Banks, Survey Shows — What Does That Mean for the Future of Credit Unions?
Fidelity UTMA Account
Finally, if you're interested in helping your children learn to invest, you might want to consider this account. "I recommend Fidelity's UTMA for kids of all ages," said Steffa Mantilla, certified financial education instructor and founder of Money Tamer. "It's a custodial account,
which means that the parents control the account until they're an adult.
Then the account and all money in it transfers to your child at around age
18 to 25 depending on the state."
Take note, though — a UTMA account isn't a normal savings or checking account, so your child should have
one of those as well if they want to spend the money like they would with a
normal account.
Insight: 40% of Women Have Less Than $100 in Their Savings Accounts, New Survey Finds
Mantillia said, "What makes Fidelity's UTMA great is that the money added can be invested
into stocks, mutual funds, and ETF's. While your child is young, you can
put birthday money into an index fund and leave it to grow for them. As
your child gets older, this account is a great learning tool for your teen
to research and choose funds to invest in with money they won't need for a
few years."
She continued, "While other banks offer custodial accounts, Fidelity's doesn't have any
maintenance fees and their fund fees are some of the lowest in the
industry. There also isn't a minimum buy-in to the funds, so that $20 birthday money can go directly to buy some stock instead of waiting in a
money market account for it to reach the $3,000 minimum buy-in amount that
other places have."
More From GOBankingRates