How To Wire Money: Step by Step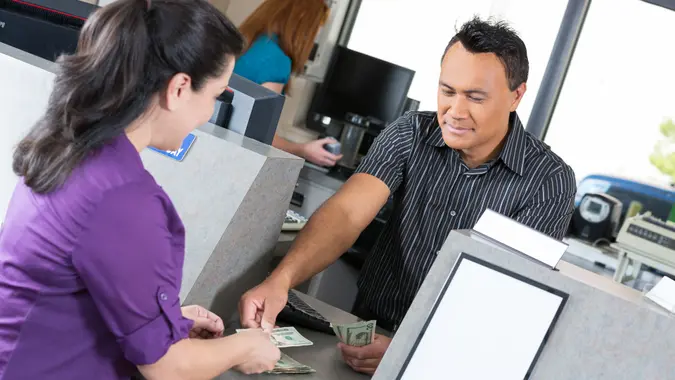 Alina555 / Getty Images/iStockphoto
In a world of digital wallets and payment apps, initiating a wire transfer may sound cumbersome and old-fashioned. But there's a reason this form of payment has stood the test of time: It's quick, easy, reliable and relatively safe — as long as you do your due diligence.
Wire transfers may cost a bit more than other methods of payment, but when you need to send money to someone quickly, inside or outside the U.S., they're hard to beat.
What Is the Process of Wiring Money?
When you need to send a large sum of money quickly, a wire transfer can be an ideal solution. Here are the steps to take.
1. Decide What Provider You Want To Use
You can send wire transfers through your bank or through a nonbank money transfer provider.
Bank-to-bank transfers: To complete this type of transfer, you can visit the bank in person, or most banks will allow you to complete the wire transfer online.
Wire transfer providers: An alternative to a bank-to-bank transfer is a money transfer service like Western Union, MoneyGram and Wise. These providers also offer the option of sending cash for pickup by the recipient.
2. Gather the Required Information
To wire money, you must provide the following information:
Sender's full name and contact information
Sender's bank account and transit number
Recipient's full name and contact information
Recipient's bank account and transit number
Recipient's bank name and information: ABA routing number for domestic transfers or SWIFT code for international transfers
When sending money in person, whether at the bank or via a wire transfer provider, you'll also need to show a government-issued photo ID.
3. Understand the Fees and Read the Fine Print
Before sending a wire transfer, make sure you understand how the fees and possible exchange rates will affect the total cost. In addition, ensure that the delivery date is within your expectations.
Most bank wire transfers cost between $1-$50. Generally, international transfers cost more than domestic transfers. Some banks, like Discover, don't charge any fees for incoming wire transfers. And banks like Citi® waive the fee if you have a qualifying account.
4. Fill Out the Form Carefully
It's important to take the time to fill out the wire transfer form completely and carefully. Because you are providing banking information and contact information, the money could be lost or sent to the wrong person if you make a mistake.
5. Verify the Wire Transfer Details
Make sure to get a tracking, confirmation or authorization number. To verify delivery, you can contact your initiating bank or provider with the details of your wire.
6. Keep Your Receipt and Follow Up
After you've made your wire transfer, you will get a receipt for the transaction. If you don't get a receipt, ask the bank or provider for confirmation that the transaction took place. Keep the receipt until you're sure the transfer has been received.
What Is a Wire Transfer?
A wire transfer electronically connects the sender's account directly to the recipient's account to transfer funds. There is no movement of physical cash in a wire transfer.
There are two types of wire transfers: domestic and international.
Domestic wire transfers are used to send money within the country of origin. Most domestic transfers are processed on the same day.
International wire transfers are conducted via the Society for Worldwide Interbank Financial Telecommunication (SWIFT) network. SWIFT transfers can take between 1 to 5 days to process.
Can You Do a Wire Transfer Online?
Yes, you can do a wire transfer online — most banks offer the option to wire money through your online bank account. Some may require you do set up the transfer in person.
Pros and Cons of Wire Transfers
Like all payment methods, wire transfers have their benefits and drawbacks. Here are a few to consider:
Pros
Safe, reliable and fast
Convenient
Can be used for domestic and international transfers
Cons
Nonreversible, so be careful when inputting information
Other transfer methods may be faster or cheaper
Alternatives to Wire Transfers
If you don't want to wire money, you may want to consider one of the following alternatives.
Cashier's Checks, Bank Drafts or Money Orders
A cashier's check or bank draft can be written for large amounts. It eliminates the risk associated with a personal check because the bank guarantees the funds.
Money orders are cheaper options that only cost $1-$3 at the post office. However, they can only transfer amounts up to $1,000.
Mobile Apps and Services
Mobile apps like Venmo, PayPal, Cash App, WorldRemit and Zelle let you send money electronically. Transfer limits and fees vary per service.
Final Take
Wire transfers quickly and securely send money domestically or internationally. They're helpful for transactions like sending money abroad, paying rent remotely or making large business transactions.
However, you may end up paying higher fees than with other payment methods. While costs vary by provider, destination and amount, all wire transfers essentially offer the same service.
Preston Hartwick contributed to the reporting for this article.
Information is accurate as of March 17, 2023.
Our in-house research team and on-site financial experts work together to create content that's accurate, impartial, and up to date. We fact-check every single statistic, quote and fact using trusted primary resources to make sure the information we provide is correct. You can learn more about GOBankingRates' processes and standards in our editorial policy.