Why You Need To Close Your Unused Bank Accounts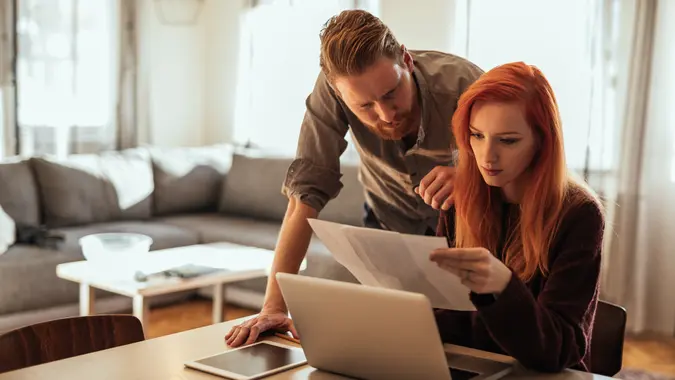 bbernard / Shutterstock.com
Every few months, it seems that a new bank unveils a new account with cooler features and better incentives than the one that came before. With the Fed raising interest rates, banks are increasing their yields, and people are leaving their old accounts behind in search of the ultimate savings rate.
See the List: GOBankingRates' Best Banks of 2023
Read:What To Know If You Deposit More Than $10K Into Your Checking Account
From savings and checking to brokerage and money market accounts, it's a time of financial flux. If you followed the allure of better rates and features away from an old account, you might have some loose ends to tie up.
There's nothing wrong with changing accounts, but abandoning the one you leave behind without closing it first is poor financial management. Here's why.
Protect Yourself — Static Accounts Are Hacker Magnets
Bank accounts contain more of your critical information than just about any other corner of your life — and hackers know it.
"Closing unused bank accounts is important because of the potential for fraud and identity theft," said Jake Hill, CEO of DebtHammer. "Many thieves actually look for unused accounts on purpose when selecting their targets."
One reason is that victims are much less likely to notice suspicious activity on old or forgotten accounts. Another is that even when there's no money to steal, your data is at least as valuable as your deposits.
Your Bank Account Could Become Government Property
If you ghost an account for too long, eventually someone else will decide its fate for you.
"If you have balances in bank accounts that you haven't used, the institution may consider them abandoned after a period such as three to five years," said Laura Adams, MBA, a personal finance expert with Finder.com. "If the bank can't reach you, it may turn your funds to the state's unclaimed property office."
According to the Office of the Comptroller of the Currency, banks send letters to last-known addresses and even publish the accountholder's name in the paper before turning their accounts over to authorities. But in other cases, the decision isn't theirs to make.
"Government regulations determine what happens to unused bank accounts," said Dakota McDaniels, co-founder of Pluto, a financial platform for automated trading.
Take Our Poll: Are You Planning To Buy or Sell a House This Year?
Regulations Vary by State
Where it all ends depends on where you live.
"In New Jersey, for example, the bank is required to escheat those funds to the state," said Donald Mindiak, president and chief executive officer of First Commerce Bank. "If that someone then remembers the account, they would need to provide proof to the state of New Jersey to retrieve their funds."
If your state government has taken control of one of your old bank accounts, visit the National Association of Unclaimed Property Administrators and choose your state to learn about your options.
Banks Use Fees To Retain Control (and Get Your Money, of Course)
If there's still money in your account, your financial institution might not want to turn it over to the state just yet.
"Banks will typically charge inactivity fees to keep control of these accounts," said McDaniels.
If fees are periodically deducted, the account is technically active.
"As you let your unused account remain open, you could come to realize that your bank is slowly eating away at whatever money is left," said McDaniels. "Do not let this happen to you. Close your accounts on your own terms and keep your money."
Small Fees Can Lead to Big Fees — and Even Bigger Problems
The most immediate consequence of inactivity charges is that the bank slowly siphons off your cash for itself until there's nothing left.
"If a customer forgets about the money in their account, the fees may slowly deplete all of the funds in that account," said Jenn Schell, a financial researcher and writer for Annuity.org and a member of the National Association of Insurance and Financial Advisors.
But the real trouble starts when inactivity fees drop you below the account's minimum allowable balance, triggering new charges that leave you with less than nothing.
"Many banks have minimum balance fees," said Schnell. "If the account becomes overdrawn, the customer will have to reach out to the bank and settle it before closing the account. If the account goes into the red, the customer's debt could be sent to collections, which could affect the customer's credit report."
Account Maintenance Is Part of Good Financial Hygiene
Finally, old, unused accounts are the personal finance equivalent of clutter in your house. If you think you might have one, some spring cleaning is in order.
"Keeping track of all your financial accounts and ensuring they are correctly managed is vital for maintaining good financial health," said Susannah Harmon, lending industry veteran and founder of Car Title Loans 123. "Therefore, it's essential to follow the key steps of closing a checking account, including checking for outstanding balances or charges, notifying your bank, gathering the necessary documentation, deciding on a disbursement method, and following up with the bank. The amount of time it takes to close an account may vary, but typically it takes a few days to a week. Keep in mind that there may be conditions that can prevent closure, such as outstanding balances or negative account history."
More From GOBankingRates