Don't Miss Out on These 6 American Express Gold Card Benefits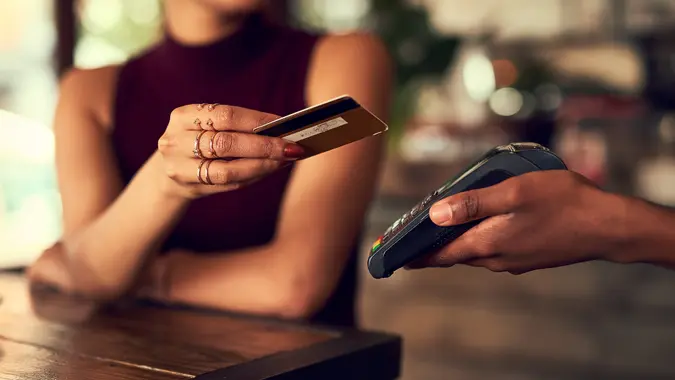 PeopleImages / Getty Images/iStockphoto
The is one of the many options provided by American Express. It's the middle tier of the company's travel credit card options, between the Green Card and The Platinum Card®. The card has an annual percentage rate of APR and comes with a wide range of American Express Gold benefits.
What Are the Benefits of Gold American Express?
American Express Gold Card offers many rewards, travel benefits and other bonuses. Card Members will earn American Membership Rewards points on every dollar spent on eligible purchases. There are also many categories that provide reward points multipliers.
These points can be used as the Card Member wishes in a variety of categories. They can book travel opportunities and pay for their hotel, vacation or cruise using points. Partnerships with a variety of restaurants and retailers provide even more ways for Card Members to pay with their points.
1. A Variety of Bonus Rewards
American Express Gold benefits let Card Members rack up even more points with a variety of bonus categories. The card offers 4X points at restaurants worldwide, along with the same bonus on both takeout and delivery options in the U.S.
For those who'd rather dine at home , the Gold Card lets you stock up on groceries from U.S Supermarkets with the same 4X points bonus, on up to $25,000 in purchases per calendar year. Travelers will enjoy 3X points on flights, whether they are purchased through American Express or directly with the airlines.
The American Express Gold Card currently features a very attractive welcome offer. New Card Members can receive 60,000 Membership Rewards points by spending $4,000 on eligible purchases in the first six months.
2. More Ways To Spend Points
The company offers access to countless online shopping opportunities and other ways to spend points to make the most of the American Express Gold benefits. American Express partners with companies like Best Buy, Apple, Sephora and Bose to let Card Members cash in their points for the latest and greatest products .
If Card Members don't find what they'd like there, they also have the option to cash out with gift cards from brands like TJ Maxx, Adidas, Airbnb, Marriott, Old Navy, Walmart and more.
3. A Bundle of Restaurant Credits
American Express has partnered with a variety of restaurants and food delivery apps to provide credits for their Card Members. The $120 annual dining credit gives Card Members a statement credit of up to $10 per month when they spend at The Cheesecake Factory, Goldbelly, Wine.com, Milk Bar, Shake Shack and Grubhub.
A separate $120 annual Uber Cash credit lets Card Members choose to apply the credit toward transportation or meal delivery. Card Members can link their American Express Gold Card to their Uber account to receive a $10 credit each month, usable for both Uber Eats and Uber rides in the U.S.
4. Exclusive Access to More Events
American Express Gold benefits include access to both American Express Experiences and American Express Preferred Access. These two programs provide exclusive access and discounts to entertainment, cultural and sporting events both within the U.S. and around the world.
Not only do these programs provide easy access to some of the best tickets in the house, but they also provide one-of-a-kind experiences with features such as dedicated entrances and even offers on concessions, amongst several other exclusive American Express Gold benefits.
5. The Full Package for Travel Insurance
With the American Express Gold Card, Card Members have access to a variety of travel insurance perks and protections. Card Members always have access to the American Express Global Assist® Hotline, no matter where they are in the world. The hotline provides medical referrals, emergency cash wires and other aid for emergencies.
Travelers can also rest easy with the Baggage Insurance plan protecting their belongings. This plan covers lost, damaged or stolen luggage up to $1,250 for carry-on luggage or up to $500 for checked luggage. The insurance covers tickets purchased with the card, including planes, trains, ships and buses.
Getting around with confidence is a lot easier with the car rental loss and damage plan provided by the card. Vehicles rented with the card can be covered against both damage and theft, although there are some important exclusions and restrictions that Card Members should read.
6. Buy Now, Pay Later With Plan It®
American Express Gold benefits also include access to Plan It®, the company's flexible installment payment plan. With Plan It, Card Members can make major purchases and split them into fixed monthly payments to take advantage of rewards without any uncertainty about the cost of borrowing.
Do American Express Gold Members Get Lounge Access?

American Express has an excellent lounge program called Priority Pass that grants members access to over 1,200 lounges in over 130 countries. Unfortunately, Priority Pass is only available to Platinum Card Members, making it one of the few benefits of which Gold Card Members can't take advantage.
What Income Do You Need for the American Express Gold Card?
American Express doesn't list the specific income requirements for its credit cards, including the American Express Gold Card. When applying, applicants must provide their income details along with other required details to carry out a credit check.
American Express has a variety of resources available to make accessing credit easier for consumers. Its pre-qualification tool makes it easy to check eligibility without impacting credit scores. American Express also partners with Nova Credit to facilitate access to credit for newcomers to the U.S.
Is American Express Gold Card Worth It?
The American Express Gold Card offers an extensive range of benefits with a decent APR range. Take advantage of the benefits today by signing up for an American Express Gold Card. While there is a annual fee that the card carries, the generous reward categories and a great bonus offer can make up for it, and it is certainly worth considering.
Editorial Note: This content is not provided by any entity covered in this article. Any opinions, analyses, reviews, ratings or recommendations expressed in this article are those of the author alone and have not been reviewed, approved or otherwise endorsed by any entity named in this article.
All information about American Express card offers have been collected independently by GOBankingRates and have not been reviewed or approved by American Express. These offers are not available through GOBankingRates.