How To Make an Avant Credit Card Payment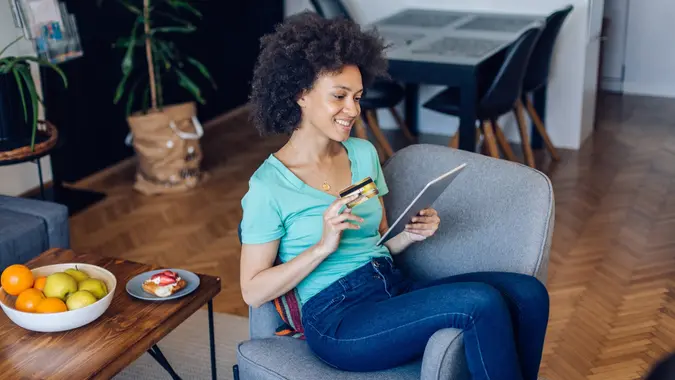 MixMedia / iStock.com
Avant credit cards are targeted toward people with fair to average credit scores who want to build credit. The card doesn't require a security deposit and doesn't carry any hidden fees. This makes it an excellent choice for consumers who wish to boost their credit score by making timely payments.
This article covers the different options that Avant credit card holders have when making their monthly payments.
How Do I Pay My Avant Card Online?
Making an Avant credit card payment online is straightforward and doesn't incur any additional fees.
Paying Online 

First, log into Avant's online banking portal at avant.com. 
Add your checking or savings account to your account profile by inputting your bank account number and routing number. Credit cards are not accepted as a repayment method for the AvantCard.
Select your payment amount and choose your payment date.

You can also set up automatic payments by selecting the AvantCard AutoPay option.

In your account profile, register your valid checking or savings account and enroll in AutoPay.
To check the balance on your Avant credit card, access your account statement online by going to "Settings" and selecting "Statements."
How To Make an Avant Credit Card Payment by Mail
Some customers prefer to make their credit card payments by mail. Here's how the process works for Avant credit cards:
First, write a check or money order for the desired payment amount.
On the check, provide your full name as it appears on your statement and the last four digits of your credit card account number.
Address the envelope to:
Avant, LLC
P.O. Box 1429
Carol Stream, IL 60132-1429
Payments must be received by 5 p.m. CT to be credited on that day. Post your payment at least a week before your payment is due to ensure timely delivery and avoid any expensive late fees.
How To Make an Avant Credit Card Payment by Phone
Avant does not accept credit card payments by phone. Instead, customers must submit payments online or by mail.
To reach the Avant credit card customer hotline about other issues related to your Avant credit card, dial 855-752-7012. Customer service hours are from 7 a.m. to 10 p.m. CT on Mondays through Fridays, and 7 a.m. to 8 p.m. CT on Saturdays and Sundays.
What Are the Late Fees for Avant Credit Cards?
Avant credit card payments are due at least 24 days after the close of each billing period. To avoid late fees, submit your monthly payments on time.
If you have no prior late payments within six billing periods, the late fee is $28. However, if you have submitted other late payments within the previous six months, the late fee is $39.
Takeaway
Applying for an Avant account doesn't hurt your credit because the company performs a soft credit inquiry. As a result, Avant credit cards are a good opportunity for people to build their credit by submitting their monthly payments on time. You can make Avant credit card payments via online banking or by mail.
Editorial Note: This content is not provided by any entity covered in this article. Any opinions, analyses, reviews, ratings or recommendations expressed in this article are those of the author alone and have not been reviewed, approved or otherwise endorsed by any entity named in this article.