How To Get Pre-Approved for a Discover Card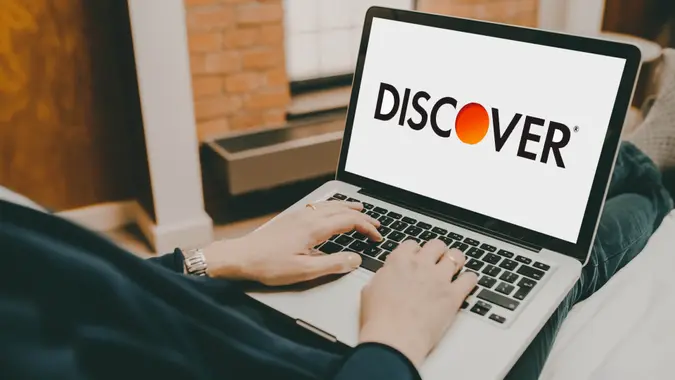 Wojciech Kozielczyk / Getty Images/iStockphoto
When debating adding another credit card to your wallet, and what that card should be, it is helpful to research not only its featured products and services but also whether or not there is a pre-qualification approval tool with your name on it. Many credit bureaus make you jump through a bunch of hoops when you apply for credit before you get approved for that credit card. 
However, there may be a chance you can bypass all the hoopla with the Discover credit card. Credit card preapprovals help you skip the line right to terms and conditions and here is how you can take advantage of a pre-approved offer with Discover.
What Does Pre-Approval Mean? 
To put it simply, pre-approval is an initial evaluation of your creditworthiness based on your credit history by the credit card company. If you are pre-approved, it doesn't mean you are approved for the card yet, but it does mean the credit card issuer thinks you fit the criteria to be so.
Typically, the issuer will pull your credit history by doing a soft credit check, which will not affect your credit score.
3 Steps for Discover Pre-Approval
Checking to see if you qualify for pre-approval for a Discover card can be as easy as one, two, three. There is no impact on your credit score for the initial inquiry. However, when the application is submitted, Discover does run a hard inquiry on your credit report. Here are three steps to follow to get the ball rolling:
How To Find Out If You're Pre-Approved for a Discover Card

Step 1: Fill out an application form with your name, address, date of birth and financial information.
Step 2: Browse the card offers and choose a customized pre-approved selection.
Why You Should Check If You Are Pre-approved
Going through the process of pre-approval is a great way to see not only what offers Discover currently has but also what APR you can get based on your credit history. Checking to see if you are pre-approved does not affect your credit, so there really is no harm, no foul — going straight to the application without checking for pre-approval could land you with a ding to your credit score and a denied application.
Either way, pre-approval lets you know where you stand with Discover and if they can customize a card offer for you or not.
Pre-Approval Offers with Discover
With pre-approval, the card offers you are shown are the ones Discover thinks you qualify for and best suit your needs. By checking your pre-approved or pre-qualified offers, you can see the best rates, promotional rates, fees, benefits and features currently available for you.
Here are some key takeaways about pre-approval offers with Discover:
Pre-approved offers are only available online, and not by phone.
An offer has an expiration date, and you typically have seven days to apply for your pre-approval offer before it expires.
If you are not pre-approved, you will be told why, and you'll be able to apply again after eight days, should you choose.
Checking to see if you are pre-approved only has a soft inquiry into your credit history, and therefore doesn't impact your credit score. However, if you do apply for the credit card, there is a hard inquiry that could affect your credit score.
You can find unique Discover offers that match your credit profile.
Final Take To GO
Discover claims to treat you like you'd treat you, and given some of its credit card offers, this may well be true. Finding out if you are pre-qualified or pre-approved for certain Discover cards can show you what options you have available where credit cards are concerned. It doesn't hurt to know, so why not find out how far your credit can go?
FAQ
Here are answers to frequently asked questions about Discover pre-approval and how to get pre-approved.
Is Discover pre-approval legitimate?

Yes, Discover pre-approval is legitimate. You can fill out the pre-approval application on Discover's website to find out which cards you're likely to be approved for, if you decide to apply.

How long does Discover pre-approval take?

Often, pre-approval is very quick – you may find out within minutes, though it could take longer.
Once you apply and get approved for the card, getting the card itself can take anywhere from seven to 10 business days.

Does Discover pre-approval affect credit?

No, pre-approval doesn't affect your credit, as it is only a soft inquiry. Be aware though, that if you are approved and apply for the credit card, there will be a hard inquiry run on your credit history.

What credit score does Discover use for approval?

Discover could pull your credit score from any of the three major credit bureaus: Equifax, Experian and TransUnion.
Though none of the Discover cards list a minimum credit score requirement for approval, a better credit score might get you better card offers.

What does it mean when you are pre-approved for Discover?

Being pre-approved for Discover, after a preliminary evaluation of your creditworthiness and credit history, means you pre-qualify for certain card offers. This doesn't mean you are guaranteed the card yet, but it does mean Discover thinks you fit the criteria to be so.
Discover will pull your credit history by doing a soft credit check, which will not affect your credit score, and then present you with card offers for which you can apply.
Information is accurate as of May 3, 2023.
Editorial Note: This content is not provided by any entity covered in this article. Any opinions, analyses, reviews, ratings or recommendations expressed in this article are those of the author alone and have not been reviewed, approved or otherwise endorsed by any entity named in this article.