How To Check Your Chase Credit Card Application Status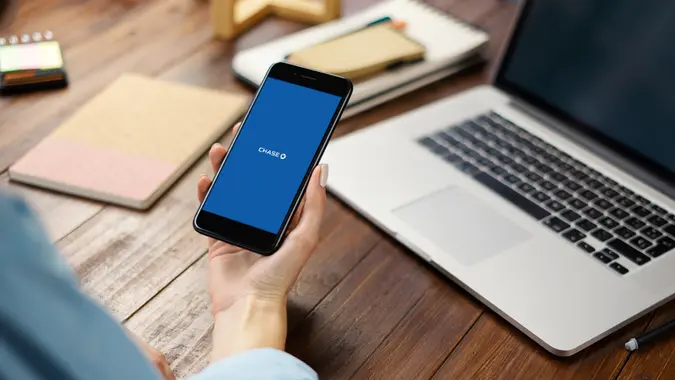 Chase offers highly coveted, top-tier credit cards with excellent rewards. So when you apply for a Chase card like Chase Sapphire Preferred or Chase Sapphire Reserve, you might be excited to find out if you are approved.
Don't worry if you don't get instant approval from Chase. Applications can take 7 to 10 days to process, and sometimes even more than that. Keep reading to find out how to improve your odds of approval, reasons your application could be delayed and, most importantly, how to check the status of your Chase credit card application.
How Do I Check the Status of My Chase Credit Card Application?
If it's been 7 to 10 days and you are getting concerned about the status of your application, you can check your Chase credit card application status by phone or online.  
To check your Chase credit card application status by phone, you can call 888-338-2586 or 800-432-3117. When calling, simply press # and follow the prompts to check the status of your application. You will need to enter your social security number for security purposes.
If you already have a Chase account through another credit card, a loan, or a checking or savings account, you can also check the status of your application online.
To do so, log in to your Chase account with your username and password. Click "Customer Center" in the top left corner and then click "Check my application status."
If you don't have an online account from an existing loan, credit card or checking account, you can open a Chase online account using your credit card application number. Simply click "New to Chase Online?" and create an account by entering your application number and your social security number.
Does Chase Credit Card Give Instant Approval?
Sometimes, Chase offers instant credit card approval. If that happens, you'll receive a notification saying "Your application has been approved" moments after you hit send on your application.
This typically happens if you have a high credit score, enough income to justify the credit card, and do not have many Chase credit cards in your name. If you have not applied for five credit cards in the past two years, you also have better approval odds for a Chase credit card.
How Long Does It Take To Get a Chase Credit Card Approved?
You may get a message that pops up after you submit your application indicating you will have an answer within two weeks. Alternatively, you will get a letter in the mail within 7 to 10 days that confirms your application or says you are denied.
Does 7-10 Days Mean Denial?
If you don't hear back from Chase within 7 to 10 days, it doesn't mean you were denied. You will receive a response about whether your application is approved or denied. Sometimes, a decision can take up to 30 days.
What Happens If You Are Denied?
If you receive a notice saying you were denied a Chase credit card, you are entitled to a free credit report from the credit bureau which denied you — either Experian, TransUnion or Equifax. The letter from Chase that says you were denied will provide the phone number, address or website to request your free credit report from the agency that denied your application.
Reasons Your Chase Credit Card Application Might Be Denied
Chase offers high-value travel and cash-back rewards credit cards that may be difficult to obtain.
Reasons your application was denied could be:
Your credit score.
Your income may be too low for you to qualify.
You could have too much debt compared to your income.
Chase follows an unwritten "5/24" rule, which means they are unlikely to approve applicants who have opened more than five credit cards in the past two years, whether or not they are Chase credit cards.

The 5/24 rule applies to any personal credit cards from banks or retail stores. If you are added as an authorized user to someone else's credit card account, this may also count toward your five new credit accounts in 24 months, according to Chase's unwritten rule.
How To Improve Your Odds of Credit Card Approval With Chase
If you are denied a Chase credit card, there are steps you can take to improve your odds.
First, you can call 888-270-2127, which is the Chase reconsideration line. Call this number within 30 days of your credit denial. It's best if you can make a case for approval. For instance, if you've made a typo or error on your application, point that out to the representative.
If you want a card because of the benefits and rewards and would be willing to shift balances from other credit cards, mention that. If you want to shift a balance from a higher-interest credit card to a Chase card, the representative is more likely to reconsider your application.
If you've already called the reconsideration line and still can't get approved, work on paying down your debt. Your credit utilization ratio accounts for 30% of your FICO credit score.
If you have missed a few payments, continue making on-time payments to boost your score.
Finally, if you have opened five or more cards in the past two years, give it some time before applying for your next Chase card. With the travel rewards and bonuses, it will be worth the wait.
Information is accurate as of Dec. 9, 2022. 
Editorial Note: This content is not provided by any entity covered in this article. Any opinions, analyses, reviews, ratings or recommendations expressed in this article are those of the author alone and have not been reviewed, approved or otherwise endorsed by any entity named in this article.
Our in-house research team and on-site financial experts work together to create content that's accurate, impartial, and up to date. We fact-check every single statistic, quote and fact using trusted primary resources to make sure the information we provide is correct. You can learn more about GOBankingRates' processes and standards in our editorial policy.