How To Call the Chase Reconsideration Line if Your Credit Card Application Is Denied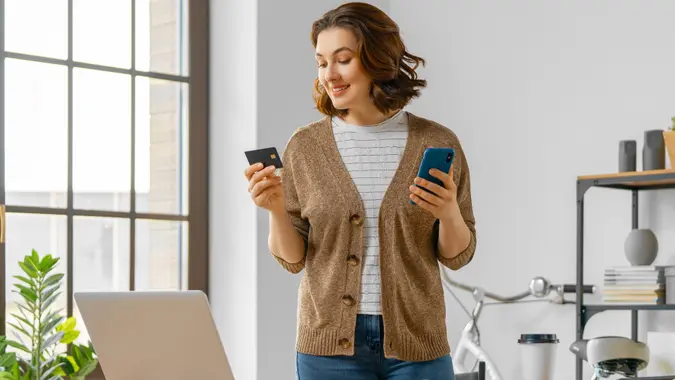 Choreograph / iStock.com
Chase is the largest financial institution in the U.S and offers a wide variety of travel and cashback credit cards. Some of its most popular cards include the Chase Sapphire Reserve, Chase Sapphire Preferred and Chase Freedom Unlimited. Chase typically requires a good to excellent credit score to get approved for one of its card products.
While Chase typically offers an approval moments after you apply online, there are times you may be denied, even with a positive credit history. If you strongly believe you should have been approved, you can contact the Chase reconsideration line to request another view at your card application. This guide will share everything you need to know about how to get Chase to give you a second chance.
What Is the Chase Reconsideration Line?
The Chase reconsideration line is a special phone number you can call if you've been denied for a business or personal credit card. Speaking with one of the Chase reconsideration credit specialists offers you the opportunity to request another look at your card application — and possibly get a denied card application overturned. 
Who Should Call the Chase Reconsideration Line?
Not everyone needs to call Chase to reconsider a credit card application. In many cases, Chase will provide a clear reason for why your card application was denied or even offer steps on what's next. 
For example, your application may be denied due to your credit score or insufficient income. If the reason for your denial was a low credit score or insufficient income, it may be best to work on improving your credit or improving your income to reapply for a Chase card in the future. If you believe Chase had incorrect information regarding credit or income, you could contact the Chase reconsideration line to notify them.
In other cases, Chase may provide instructions of what happens next, such as waiting an additional 30 days while the bank investigates closer. In such a case, you'll need to wait while Chase makes a final decision. On the other hand, Chase may ask you to contact them with further information or request that you unlock your credit file for review.
If you believe that the information Chase based its decision on was incorrect or incomplete, you should call the reconsideration line to update the bank and request another look at your application. 
How To Review a Chase Credit Card Application Status
If you were informed that Chase needs more time to review your application, you could always check the status of your credit card application by logging into the account you created when you applied. 
In addition, Chase has two automated phone numbers to give you more details about what's going on with your credit card application. They are:
How To Request a Credit Application Reconsideration
If you receive a rejection or denial from Chase, you could request another look at your application by a credit analyst. Here's how: 
Call the Chase reconsideration line at 1-888-609-7805.
Verify some of the details you provided on the credit card application. 
Explain why you're calling, such as incorrect or incomplete information or the reason you believe the rejection should be reconsidered. 
The reason you need the credit card, such as changes to your finances, needing to separate expenses or to earn more loyalty rewards.
If the call doesn't go in your favor, you could always call back and speak to a different analyst. However, previous calls are documented and the new credit representative will know you've called earlier.
Does Chase Reconsideration Work?
Depending on the factors that led to a rejected or denied credit card application, the Chase reconsideration line could work. In some cases, missing or incomplete information may have led to a rejection. A call could quickly fix the situation. 
In other situations such as a less-than-perfect credit history, the Chase reconsideration line may not be able to give you the approval you're hoping for. 
Takeaway
If you believe you should have been approved for a Chase credit card, don't give up if you receive a rejection or denial. You could contact the Chase reconsideration line and speak with a credit specialist in order to convince them to give your application a second chance. 
But before you do, make sure you have a solid explanation of why you need the card — and why the representative should reconsider the denial. Remain calm and clearly explain why you disagree with the application rejection and hope for the best.
FAQ
Does Chase approve instantly?

In most cases, Chase gives you a decision on your online credit card applications nearly instantly. However, if the application is incomplete, the process could be delayed as much as 30 days while it's reviewed manually.

Does Chase have a reconsideration line?

Chase has a reconsideration line at 1-888-609-7805. You can speak with a credit analyst about your application to request another look and an approval.

How long does Chase reconsideration line take?

In many cases, the Chase reconsideration line analyst could approve or deny the reconsideration while you're on the phone. In other cases, your application will go into further review, potentially taking up to 30 days for a decision.
Information is accurate as of July 28, 2022.
Editorial Note: This content is not provided by Chase Bank. Any opinions, analyses, reviews, ratings or recommendations expressed in this article are those of the author alone and have not been reviewed, approved or otherwise endorsed by Chase Bank.
Our in-house research team and on-site financial experts work together to create content that's accurate, impartial, and up to date. We fact-check every single statistic, quote and fact using trusted primary resources to make sure the information we provide is correct. You can learn more about GOBankingRates' processes and standards in our editorial policy.