What To Do When Your Debt Goes to Collections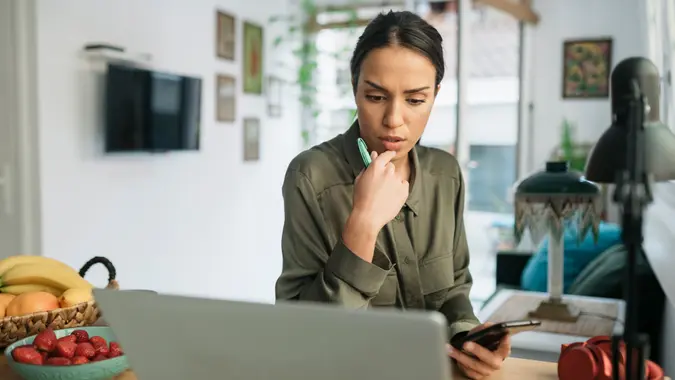 Brothers91 / Getty Images
When you answer the phone and hear the words, "This is an attempt to collect a debt," your first impulse might be to disconnect the call. However, that would be a mistake because ignoring collections can have serious long-term consequences, including damaged credit and possible legal action. A better strategy is to hear the debt collector out and then take action to resolve the delinquency.
What Is Debt Collection?
Debt collection is an attempt to collect an outstanding debt. When a borrower fails to repay an overdue debt within a certain period, the creditor either passes the account to an in-house collection department or sells it to a third-party collection agency. The collection department or agency then tries to get the individual to pay the debt, or at least some portion of it.
A debt collector might contact you to locate someone else who owes a debt. In that case, they're not allowed to tell you they're attempting to collect a debt, according to the Consumer Financial Protection Bureau. If the debt collector tells you they're attempting to collect, it's because they believe you owe it.
What Should I Do When My Debt Goes to Collections?
Dealing with a debt collector can be stressful, but a proactive approach will reduce the strain and shorten the time it takes to resolve the issue.
Here are the steps to take when your debt goes to collection.
1. Verify the Debt
The law requires debt collectors to provide written validation of the debt within five days of their initial contact with you. This validation should note that it's from a debt collector and include the following details:
The name(s) of the original creditor(s)
The account number of the past-due account
An itemization of the debt, including the overdue balance, interest and fees, plus payments credited since the reporting date
Contact information for the debt collectors
Instructions for disputing the debt
You have 30 days to dispute the debt or request information about the original creditor, the CFPB notes. The debt collector must stop collection activities "until they've adequately responded to your verification request."
2. Evaluate Your Ability To Repay the Debt
Review your budget to see whether you can afford to repay the collection account in full. This is usually the best strategy because it eliminates the debt faster and can reduce interest and fees. It may also be the least damaging option for your credit.
3. Negotiate With the Debt Collector
If you can't, or prefer not to, immediately repay the debt in full, you might be able to negotiate a satisfactory arrangement with the debt collector. For example, the collector might agree to a partial payment followed by affordable monthly payments. They might even accept less than the full amount you owe.
Settling the debt for less than the full balance can result in a derogatory item on your credit report. Before you settle, try to get the debt collector to agree in writing to report the account "paid in full" or "paid as agreed," advises Equifax, one of the three major credit bureaus.
Make sure you keep records of your communications with the debt collector. Keep copies of letters and emails, and note the date, time and subject of each conversation. "These records can help you if you have a dispute with a debt collector, meet with a lawyer or go to court," according to the CFPB.
What If I Can't Pay?
Sometimes it's just not possible to reach an acceptable deal with a collection agency on your own. If that's the point you've reached, an accredited consumer credit counselor might have better luck. Unlike debt settlement companies, consumer credit counseling agencies are nonprofit organizations. They work on your behalf to negotiate an affordable repayment plan and keep you from incurring additional interest and fees.
When the debt is too big to manage even with the assistance of a credit counselor, it's time to contact an attorney. You still have options — debt settlement, for example — but they have a major impact on your credit and could have tax implications as well, so they're best approached with legal representation.
What Are the Risks of Paying My Collections?
Repaying collection debt is usually the right thing to do and the best thing for your credit and long-term financial health. But you might face some bumps along the way.
Collection accounts usually stay on your credit report for seven years, beginning with the date the creditor reported the delinquency. However, the more time that passes, the less impact the collection has on your credit score. So if you have to choose between paying a collection that's about to fall off your credit report and paying a more recent one, the recent one should take priority.
Note, too, that many states have a statute of limitations that prevents creditors from suing to collect some types of debt after a certain time, typically three to six years, according to the CFPB. After that, the debt is considered time-barred.
"In some states, if you make a payment or even acknowledge in writing that you owe the debt, the clock resets and a new statute of limitations period begins," the Federal Trade Commission warns. "In that case, your debt is no longer time-barred." That means you're once again vulnerable to legal action.
What Happens If I Ignore My Collection Debt?
At first, ignoring your collection debt might result in lots of annoying collection calls and letters, but not much else. But as the delinquency becomes more serious, so do the collection agency's efforts to collect.
Here are some of the consequences of failing to pay, according to Lexington Law:
Damage to your credit report: Collections remain on your credit report for seven years.
Additional debt: Your debt might continue to accrue fees and interest charges.
Escalating collection efforts: The collection agency might contact people you know in an attempt to locate you. It might also refer your account to its attorney.
Legal action: In the event the collection agency sues, the court can enter a judgment against you. The judgment might result in a lien on your property and/or garnishment of your wages and other assets.
Whether you pay your collection in a lump sum or make payments over time, your budget is likely to feel the strain. But any negative consequences you experience in the short term will be well worth long-term benefits like improved credit, a better chance of being approved for auto and mortgage loans — and relief from those infuriating collection calls.
Our in-house research team and on-site financial experts work together to create content that's accurate, impartial, and up to date. We fact-check every single statistic, quote and fact using trusted primary resources to make sure the information we provide is correct. You can learn more about GOBankingRates' processes and standards in our editorial policy.