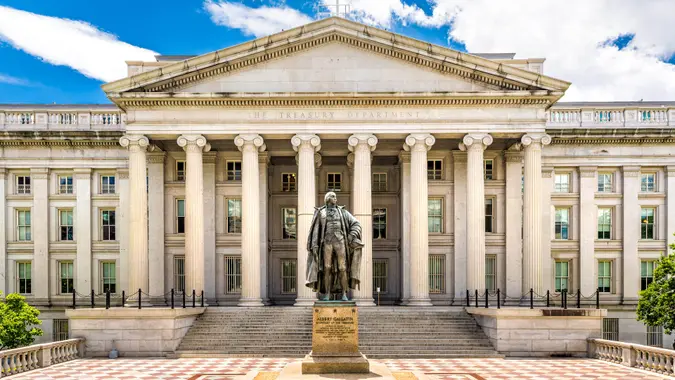 Ultima_Gaina / Getty Images/iStockphoto
Current macroeconomic conditions are leaving consumers scratching their heads as they look for appropriate ways to beat inflation. Holding cash doesn't seem to be a safe option anymore, but there is one solution: I bonds.
I bonds are a long-term savings option for U.S. citizens to earn a return while hedging against inflation. There is an annual purchasing limit of $15,000 per person.
What Are I Bonds?
I bonds, or Savings Bonds: Series I, are securities issued by the U.S. Department of the Treasury. Just like any other savings bond, they're a long-term method for people to earn interest on their money.
How Do I Bonds Work?
I bonds are interest-earning for up to 30 years, but they can be redeemed early should the owner choose to cash out. Buyers should be aware, however, that I bonds cashed within the first five years forfeit three of their interest-earning months.
What Are the Benefits of I Bonds?
The main benefit of attracting consumers and investors to I bonds is their connection to the inflation rate. A fixed interest rate is combined with the inflation rate — which is set twice per year — to get the total compoundable interest rate. This way, consumers can protect their hard-earned savings from deteriorating in value.
Additional advantages of I bonds are that they are risk-free and can be redeemed as soon as one year after purchase.
How Do I Bond Rates Work?
I bond rates change twice a year — every six months starting from when you purchase the bond. This is to adjust for both higher and lower periods of inflation. Currently, the I bond interest rate is 9.62% until October 2022.
Some see I bonds as an alternative safe-haven asset given the recent volatility in commodities, stocks and crypto markets.
Where Can I Buy I Bonds?
I bonds can only be purchased directly from the U.S. Department of the Treasury. They come in two forms:
Electronic I bonds
Paper I bonds
Electronic I bonds can be bought from Treasury Direct. Users are required to set up an account to do so. The other option is to buy paper I bonds using a federal income tax refund. 
Both options are subject to separate minimum and maximum purchases per year. For electronic I bonds, the minimum buy is $25 and the maximum is $10,000. For paper I bonds, the minimum is $50 and the maximum is $5,000. 
These maximum limits can be combined to arrive at a total cap of $15,000 for I bond purchases annually. 
If a purchase order of I bonds exceeds the limits in place, it could take up to 16 weeks for the buyer to be refunded.  
Who Can Buy I Bonds?
To own I bonds, individuals must have a valid Social Security number and be one of the following:
A U.S. citizen (including those living abroad)
A U.S. resident
A civilian employee of the U.S.
I bonds can also be bought on behalf of children under 18 if they also satisfy the above conditions. Corporations and partnerships cannot buy I bonds.
Can You Lose Money on I Bonds?
No. Buying I bonds carries no risk because they are backed by the U.S. government. I bonds can be redeemed at any time after 12 months have passed to collect the interest accrued.
Final Take
In recent months, I bonds have been seen as an alternative safe-haven asset given the recent volatility in commodities, stocks and crypto markets. If a consumer has excess savings that they won't need access to any time soon, I bonds will give a far better return than savings accounts.
FAQ
Here are some common questions people ask about I bonds.
What is the current rate for I bonds?

Series I bonds rates will vary over time, but the rate for I bonds is 9.62%, as of June 2022.

Are I bonds a good investment?

I bonds are a great way for individuals to diversify a portfolio across asset classes. I bond investments are ideal for individuals targeting risk-free options that will still earn a return.

What will the I bond rate be in July 2022?

The I bonds rate for bonds purchased between May 2022 and October 2022 is 9.62%.

How long do you have to hold an I bond?

I bonds must be held for at least 12 months. After this period, individuals are free to redeem their I bonds any time they like.
The bonds will earn interest for 30 years, but if buyers cash them within the five years of purchase, three months of interest will be deducted from the total amount.
Rates are accurate as of June 24, 2022, and subject to change.
Our in-house research team and on-site financial experts work together to create content that's accurate, impartial, and up to date. We fact-check every single statistic, quote and fact using trusted primary resources to make sure the information we provide is correct. You can learn more about GOBankingRates' processes and standards in our editorial policy.