6 Best Crypto ETFs To Look For in 2021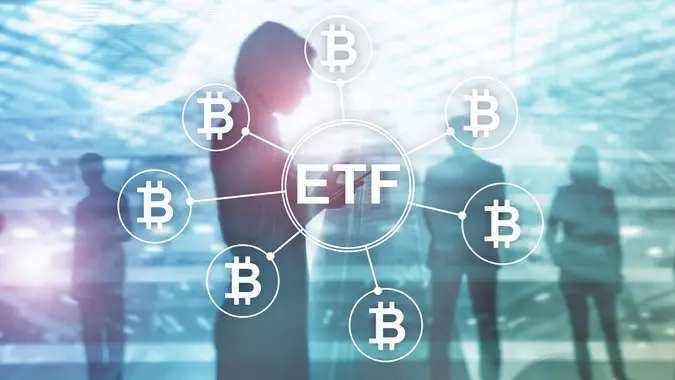 Funtap / Getty Images/iStockphoto
In simple words, ETF or exchange traded fund is a bag of securities that allows you to own the shares on an exchange. In terms of potential benefits and features, ETFs are similar to bonds, stocks or mutual funds.
Like stocks, you can trade ETF shares throughout the day as their prices fluctuate according to supply and demand.
Just like mutual funds, professional money managers operate the ETF portfolio while you have partial ownership.
Another significant advantage of ETF shares is that you can sell them short and trade on margin.
What Are Crypto ETFs?
A crypto ETF is a basket of cryptocurrencies like Bitcoin, Ripple, Ether, Bitcoin Cash, etc. This means instead of tracking an index or an asset portfolio, crypto ETFs track the value of one or more digital tokens.
When you invest in crypto ETFs, you possess computer-generated keys that give you the right to ownership. Plus, you don't need a bank to make payments as crypto payments are processed via a blockchain-administered computer network.
Blockchain is a decentralized digital ledger that duplicates and distributes each crypto transaction across the entire computer network.
With the above basics in mind, check out our six best crypto ETFs.
6 Best Crypto ETFs in Terms of Return Performance
To invest in cryptocurrency ETFs, it's essential to consider the return percentage. Here are the best Crypto ETFs based on 1-year return.
1. 21Shares Ethereum ETP
Fund domicile: Switzerland
Share value: EUR 34.81
1-year returns: 907.89%
Volatility: 113.55%
This Crypto ETP tracks the price of Ethereum. 21 Shares Ethereum ETP has a fund size of EUR 336 m while its total expense ratio is 1.49% p.a. Launched in March 2019, 21Shares Ethereum ETP has since gained momentum and performed beyond investors' expectations. As far as its 1-year performance goes, the returns on the Crypto ETF have increased by 907.89% — including dividends.
Moreover, 21Shares aims at making investing in cryptocurrency easier by replicating the conventional ETP structure. Also, the company has appointed five new executive heads to target customers from Europe and the Middle East.
2. BTCetc – ETC Group Physical Bitcoin
Fund domicile: Germany
Share value: EUR 48.200
1-year returns: 396.38%
Volatility: 84.66%
BTCetc – ETC Group Physical Bitcoin incorporated in Germany in June 2020. As the name suggests, the crypto ETF tracks the price of Bitcoin. Presently, this crypto ETF has a volume of 644,073 shares with a 115.24% YTD return. As of Oct. 11, 2021, BTCetc – ETC Group Physical Bitcoin has a total asset value of $1,175,664 million.
This particular crypto ETF is physically backed and has a consistent track record. Since October 2020, the crypto ETF has shown a performance growth beyond 400% from March through May 2021 [8].
3. WisdomTree Bitcoin
Fund domicile: Jersey
Share value: EUR 12.19
1-year returns: 397.42%
Volatility: 85.58%
WisdomTree Bitcoin tracks the price of Bitcoin. This crypto ETF offers a total expense ratio of 0.95% p.a, and it is physically backed. WisdomTree Bitcoin started in November 2019 and has accumulated over EUR 271million assets
The Crypto ETF saw a steep decline in July 2021 but has gained stability from the end of that month. It offers 66.76% return over three months and a 397.42% annual return.
4. 21Shares Bitcoin ETP
Fund domicile: Switzerland
Share value: EUR 17.59
1-year returns: 298.68%
Volatility: 93.50%
21Shares Bitcoin ETP was introduced in February 2019, and physical bitcoin holdings back it — it's more than two years old and has a sound profile. The crypto ETF has since accumulated EUR 244 million worth of assets under management.
Performance-wise, 21Shares Bitcoin ETP has been relatively consistent, showing a 1-year return performance of 403.92%, with dividends included, nd 65.97% return over three months.
5. CoinShares Physical Ethereum
Fund domicile: Jersey
Share value: EUR 93.61
6-month returns: 77.76%
Volatility (1 year): N/A
CoinsShares Physical Ethereum began in February 2021. The crypto ETF tracks Ethereum prices and is physically backed. Initially, the share prices were below expectations. However, the crypto ETF has seen significant improvements since mid-July 2021, with six months return performance going beyond 90% at certain points.
6. VanEck Vectors Ethereum ETN
Fund domicile: Liechtenstein
Share value: EUR 18.89
3-months returns: 71.26%
Volatility: N/A
VanEck Vectors Ethereum ETN is a relatively new crypto ETF but has been gaining traction. The crypto ETF tracks the price of Ethereum and is physically backed. Since its inception in March 2021, the crypto ETF has expanded its fund size to 78 million Euros.
VanEck Vectors Ethereum ETN has a reasonable price history while the charts also show positive growth.
Final Take
We have discussed the six best crypto ETFs above after considering their performance, prices and fund size. If you want to diversify your portfolio, you can choose the right option from the above list based on your investment plan.
Data is accurate as of Oct. 11, 2021, and subject to change.
GOBankingRates' Crypto Guides
Our in-house research team and on-site financial experts work together to create content that's accurate, impartial, and up to date. We fact-check every single statistic, quote and fact using trusted primary resources to make sure the information we provide is correct. You can learn more about GOBankingRates' processes and standards in our editorial policy.