Crypto Isn't Dead for Everyone: A Surprising Number of Millennials, Gen X Are Still Invested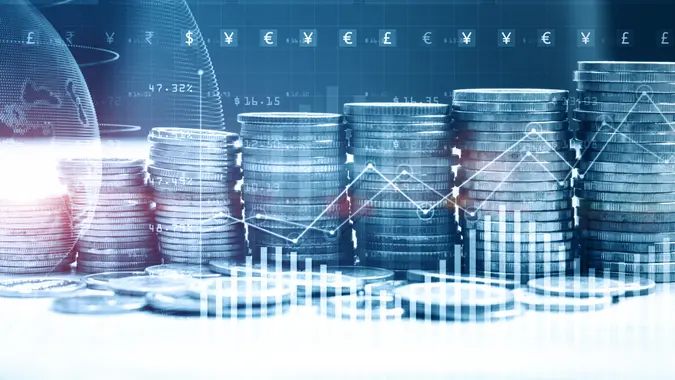 KanawatTH / Getty Images/iStockphoto
Crypto isn't dead for everyone. GOBankingRates surveyed 1,091 Americans aged 18 and older from across the country in August and found that most millennials and Gen Xers aren't ready to turn away from crypto just yet. Nearly 20% of 25- to 34-year-olds, 18% of 35- to 44-year-olds and 19% of 45- to 54-year-olds are still invested in crypto or want to be.
In comparison, boomers are in the single digits. It's clear that cryptocurrency still has its loyal supporters, and it'll be interesting to see how this trend develops in the years to come.
What Is the Future of Cryptocurrency?
The global market in crypto assets has been experiencing a "crypto winter." Cryptocurrencies have lost approximately $2 trillion in value since the peak in November 2021, with Bitcoin down over 60% since its all-time high of nearly $69,000.
So, what's next for crypto?
Short-Term Outlook (1-5 years)
Ziad K. Abdelnour, seasoned investment banker and founder of Blackhawk Partners, Inc., believes cryptocurrency has been experiencing and will continue to experience ongoing short-term volatility influenced by regulatory changes, market sentiment and technological advancements.
"This volatility can be both a boon and a bane, offering opportunities for quick gains but also carrying the risk of substantial losses," he said.
If you're a short-term investor, Abdelnour suggests prioritizing caution, portfolio diversification and staying well-informed to navigate these fluctuations.
Long-Term Outlook (5+ years)
The future of cryptocurrencies looks bright, according to Abdelnour.
"When I look beyond the next few years, the cryptocurrency landscape appears promising," he said. "The transformative potential of blockchain technology suggests that cryptocurrencies could become more stable and widely accepted." 
Plus, governments worldwide, like El Salvador, are recognizing the potential of cryptocurrencies, with some even exploring the creation of their own digital currencies. A growing number of businesses are also beginning to accept digital currencies as payment options. However, Abdelnour warns that the pace of this evolution likely will hinge on regulatory developments and market maturation. 
Should You Put Money Into Crypto?
Whether you should put money into crypto depends on factors like financial goals and risk tolerance level. As we've seen by crypto's track record of boom and bust cycles, these assets can offer potentially higher rewards but with much higher volatility. So, no matter which way you slice it, crypto is risky. 
"As an investment, crypto does not yield any income and has no intrinsic economic value. The only way you can profit on a crypto acquisition is to sell it to someone else at a higher price," said Thomas Brock, CFA, CPA and expert contributor for Annuity.org.
Also, given its highly volatile nature and uncertain future, it's difficult to time a purchase and sale properly. 
"I categorize buying crypto as a speculative gamble rather than an investment," Brock said. "That said, it can have some diversifying benefits to a portfolio comprised of stocks, bonds and cash."
Still, he believes you should be OK with losing most, if not all, of the position if you buy crypto.
Even if you can stomach the risk, Brock suggests limiting positions to 5% of your total investment holdings.
"Positions in cryptocurrencies can be established by entering into futures contracts traded on the Chicago Mercantile Exchange, a safe and highly regulated platform," he said.
But if you're uncomfortable trading futures, Brock recommends getting the same exposure via exchange-traded funds (ETFs) linked to Bitcoin and Ethereum futures. 
Of course, if you know how to safely purchase cryptocurrencies through exchanges like Coinbase, that's also an option. But you'll be responsible for protecting and securing your crypto wallet.
Understand the Risk of Owning Cryptocurrency
Putting money in cryptocurrency is not for the faint of heart. As Robert R. Johnson, Ph.D., CFA, CAIA, professor of Finance at Creighton University's Heider College of Business, notes, crypto is speculative, and the price is determined solely by what someone is willing to pay for it in the future.
"Even talking about 'investing' in cryptocurrencies gives the commodity a sense of legitimacy that is not warranted," he said. "Simply put: Any commitment of capital to cryptocurrencies should be labeled as speculation and not investment." 
It's easy to be tempted by the success stories of crypto millionaires who struck it rich with their involvement in these digital assets. However, cryptocurrency is different from stocks, bonds or real estate.
"It's purely speculative and is akin to gambling," Johnson said.
So, before you jump onto the next big crypto wave, take some time to educate yourself on the subject. It could save you from unnecessary financial loss.
More From GOBankingRates