Crypto: When Will the Next Bull Market Begin?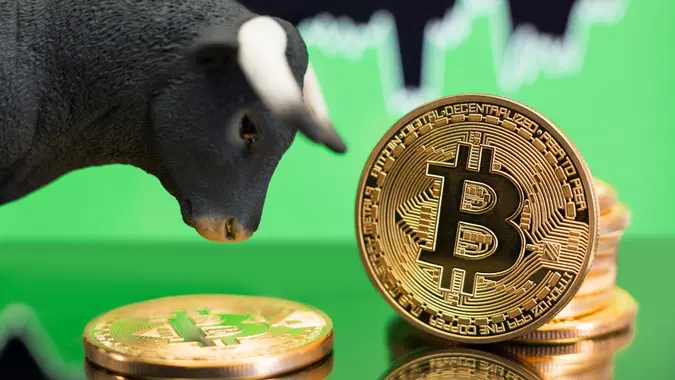 24K-Production / iStock.com
With a few rare exceptions, investing in cryptocurrency in 2022 has been a disaster. Even market leaders like Bitcoin and Ethereum have lost more than half of their value, and some smaller cryptos are down 80% or more.
While the stock market has a long-term track record of recovering from bear markets and going on to set new highs, there is no such history for the crypto market. This has led many market participants, from investors to pundits alike, to wonder when — or if — the next bull market will begin in cryptocurrency.
Here are some insights from a few experts in the field. 
2023
One of the most bullish experts when it comes to cryptocurrency is Yves Lamoureux, the president of macroeconomic research company Lamoureux & Co. Over the years, many pundits have thrown out the mythical figure of $100,000 as a price target for Bitcoin, and Lamoureux is no different. In fact, as recently as May 26, 2022, Lamoureux suggested that Bitcoin will reach that lofty price as soon as the end of 2023. 
However, just because Lamoureux thinks a bull market is brewing in Bitcoin doesn't mean he's necessarily supportive of a big rally in the asset class as a whole. In fact, he advises against taking a shotgun approach to investing in cryptocurrency.
Lamoureux feels that smaller cryptos are far too risky and that investors shouldn't stray too far from Bitcoin. As Lamoureux himself puts it, "I'm interested in Bitcoin because it is the king and that's where institutional money will flow first. So always stick with the best. Everybody wants to be Bitcoin, but they're not. … Don't make it complicated; stick with bitcoin."
2024
While Lamoureux feels the next leg up in Bitcoin is right around the corner, a number of experts feel that 2024 should be the big year for cryptocurrency in general, with Bitcoin as the leader.
This is because the next "halving event" for Bitcoin will occur in 2024. A halving event is a regular occurrence that makes it harder to mine additional Bitcoin. This reduces the income supply of Bitcoin, theoretically making it scarcer and potentially more valuable, according to the laws of supply and demand.
But history also has shown that there is traditionally a spike in Bitcoin prices after each halving event. Thus, many experts, including Lamoureux, think the price of Bitcoin can jump again in 2024 — based on both historical precedent and basic economic principles. 
For example, Du Jun, the co-founder of Huobi, suggests that there may be something of a "crypto winter" until prices rebound once again in 2024 and into 2025. Du Jun also subscribes to the belief that Bitcoin won't rally until its next halving event in 2024.
As he told CNBC, "It won't be until end of 2024 to beginning of 2025 that we can welcome the next bull market on Bitcoin."
Never?
Many old-school, traditional investors think the days of cryptocurrency are numbered and there may never again be a bull market in the asset class. No less than Warren Buffett, the CEO of Berkshire Hathaway and "The Oracle of Omaha," has had many negative things to say about crypto in general and Bitcoin in particular.
In 2018, Buffett told CNBC that cryptos "will come to a bad ending." At the Berkshire Hathaway annual shareholder meeting in 2022, he said he wouldn't "buy all the Bitcoin in the world for $25."
His co-chair Charlie Munger is similarly downbeat on crypto, calling it "rat poison."
Or Is This Selloff Just a 'Typical' Bear Market?
Some industry experts think that, while the current crypto selloff may be gut-wrenching, it is a completely normal process.
Jason Yanowitz, the co-founder of Blockworks, a research platform for crypto investors, said, "Crypto bear markets usually draw down between 85% and 90%."
Yanowitz notes that, in the last decade, there have been two vicious bear markets in crypto, with Bitcoin losing more than 80% of its value. But, both times it bounced back and went to even greater highs. Thus, he believes that investors shouldn't be scared away from the recent significant price drops.
The Bottom Line
Cryptocurrency always has been a haven for speculators, and that can explain the divide in opinions between more traditional investors and the new generation. For every Munger or Buffett who thinks crypto will go to zero, you're just as likely to hear a Yanowitz sound a rallying cry for investors.
Whichever side of the argument you fall on, be sure to consult with a financial advisor to see whether cryptocurrency matches your investment objectives and risk tolerance.
More From GOBankingRates