What Is a Bull Market?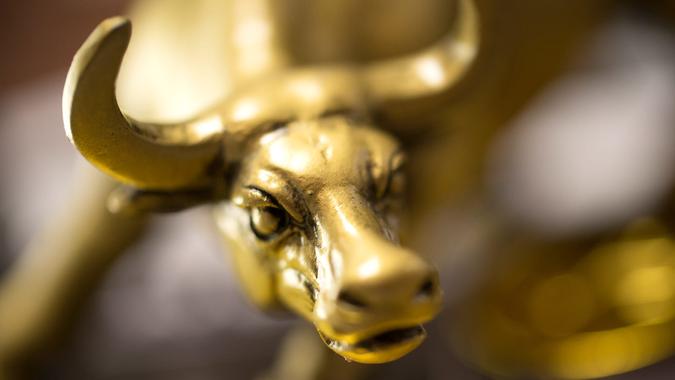 Kameleon007 / Getty Images/iStockphoto
"Bull market" is a term investors use to describe a cycle where stock prices continue to rise for an extended period of time–that's what that famous charging bull statue on Wall Street is all about. It's one of the two main conditions the stock market can exist in. The other is a bull market's opposite: a bear market.
Bull markets tend to emerge when the economy is strong and investor confidence is high. Bear markets often coincide with economic downturns. Understanding that bull markets are up and bear markets are down is a good start. But to move past the novice level, budding investors should take a deeper dive.
Bull Market Definition
Technically, according to investment platform Acorns, a bull market occurs when major indices like the Dow Jones Industrial Average and S&P 500 rise by 20 percent or more and continue to add value. The truth, however, is that any extended period of market gains is often referred to casually as a bull market. 
On the opposite side of the coin, a bear market takes over when the benchmark indices fall by at least 20 percent and continue to drop. Bulls buy securities they expect to rise in price. Bears buy stocks they predict will fall.
There are all kinds of urban legends about the genesis of the terms, but according to Merriam-Webster, they date back centuries to proverbs about selling bearskin rugs. Either way, it's easy enough to remember that bulls charge and bears hibernate.
Hallmarks of a Bull Market
Bull markets tend to coincide with other positive changes in the overall economy. Although there are some exceptions. 
Bull Markets Generally Coincide With:

Widespread corporate self-investment:

As stock prices rise, the companies that issue those stocks have a fresh influx of cash, which they invest in things like labor, facilities, and technology.

Low unemployment:

Bull markets generally don't happen when the jobless rate is high and people are looking for work. 

Rising wages:

As unemployment falls, the job market tightens, and employers are forced to compete by raising salaries.

Greater participation in the market:

As wages rise, people have more money to invest, which pushes the price of bull-market stocks even higher as demand increases.

Rising inflation: The natural result of increased spending and higher wages is rising prices for goods and services.
Long-Term Trends
Although market selloffs called corrections–defined as a drop of at least 10 percent–happen every year or so on average, true bull markets last longer. The longest bull market in history began in March 2009 when the Dow hit rock bottom during the Great Recession. That was the start of a decade-plus-long bull market that was conquered by its proverbial matador only when the market cratered upon the arrival of the pandemic in early 2020. Before that, a five-year bull market stormed through the early-to-mid 2000s until it finally hit a brick wall in the form of the Great Recession in 2007. If you can remember only three things: 
Most bull markets last for years

All bull markets are preceded and followed by bear markets

No bull market ever has, will, or possibly can last forever
Tips for Running With the Bulls
The market is cyclical. It goes from bull to bear and back again based on an essentially infinite and always-changing combination of variables. It can all be confusing and distracting. Keep your eye on the ball by sticking to the basics: 
Timing
Don't overestimate your sense of timing. It's tempting to try to buy at the lowest lows of a bear market and sell during the highest peak of a bull market. It's called timing the market, and it's an incredibly risky proposition and one that's rarely a better idea than sticking to a long-term strategy over time.
Diversify Your Funds
In other words, put some distance between your eggs. Every bull market launches a few stocks into the stratosphere. These rock star stocks make a few people rich, make a lot of people jealous, and make plenty of other people fall into the trap of dumping all their money into what turns out to be the flavor of the month. Diversification is the name of the game. In bull and bear markets alike, hedge your bets by spreading your money around. 
Buy an Index Fund
People who pick stocks seldom beat the overall market, likewise for expensive, actively managed mutual funds. If you can't beat the market, match it by buying an index fund that tracks the S&P 500, Dow Jones, Nasdaq or another major index.
In Conclusion
Bull markets are a sign of a strong, productive economy. When they happen, stock prices climb and climb, luring more people into the market, which, in turn, makes prices rise even higher. They often last for years, but they never last forever. Those who thrive in bull markets tend to be diversified, long-term investors who stick to a strategy, buy and hold, and never try to time the market whether it's up or down.
John Csiszar contributed to the reporting for this article.
Our in-house research team and on-site financial experts work together to create content that's accurate, impartial, and up to date. We fact-check every single statistic, quote and fact using trusted primary resources to make sure the information we provide is correct. You can learn more about GOBankingRates' processes and standards in our editorial policy.