3 Cryptocurrencies To Invest In for Retirement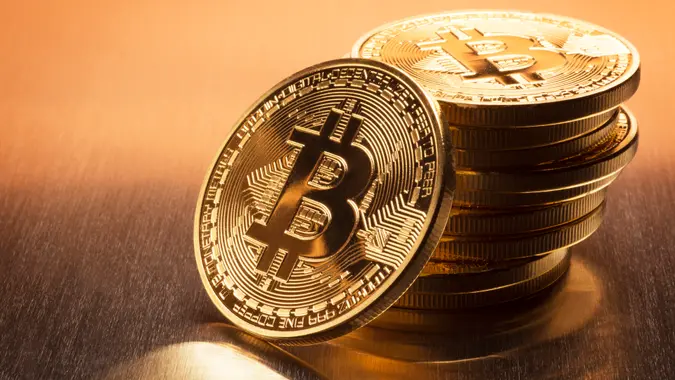 skodonnell / Getty Images
Cryptocurrency and retirement plans don't necessarily go hand in hand. However, if you've built a well-diversified portfolio that is on track to sustain you through retirement, a small allocation to crypto can be entirely appropriate for investors who have a high risk tolerance. Although the debate over whether crypto is a generational game-changer or simply a passing fad will continue on a daily basis, the fact remains that cryptocurrency, in general, has suffered mightily in 2022.
See: 22 Side Gigs That Can Make You Richer Than a Full-Time Job
Check Out: 7 Surprisingly Easy Ways To Reach Your Retirement Goals
For those looking to finally dip a toe into that market, many cryptos can now be had for less than half the price they traded at the start of the year. This could potentially make it a great time to get some crypto assets into your retirement portfolio — or, it could just be the beginning of even greater declines. When considering investing in speculative assets, particularly during volatile times, it pays to both consult with a financial advisor and to stick with the cream of the crop. Here are three cryptos that have real-world functionality and are likely to be among the leaders of any resurgence in the sector over the long run. 
Bitcoin (BTC)
Price as of Aug. 3: $22,819.36
Bitcoin is the old man in the room when it comes to the crypto world, as it was created way back in 2009. In addition to being the first cryptocurrency, Bitcoin remains the largest, and by a wide margin. For example, as of Aug. 3, Bitcoin had a market cap of $437.4 billion, more than double that of second place Ethereum, at $197.1 billion. While none of the freely traded cryptocurrencies can be considered "stable," Bitcoin at least has the name-brand recognition, market cap and trading volume to easily be considered the market leader. One old Wall Street adage states that if you can't make money on the market leaders, you can't make money anywhere, and the same is likely to be proven true in the cryptocurrency market. If you're looking for the crypto that is most likely to still be around by the time you retire, Bitcoin is likely to be that investment. Just remember that even as the market-leading crypto, Bitcoin has still lost two-thirds of its value since hitting its all-time high. Whether that's an opportunity or not is a good discussion to have with your financial advisor. 
See: 6 Alternative Investments To Consider for Diversification in 2022
Ethereum (ETH)
Price as of Aug. 3: $1,616.72
When it comes to market price, Ethereum has moved essentially in lockstep with Bitcoin over the past year or so. During that time, Ethereum has dropped about 36%, compared with Bitcoin's 40%, and both cryptos are down about 67% from their all-time highs. And although Ethereum is a distant second to Bitcoin in terms of market cap, it's also miles ahead of the third-largest crypto, Tether. As of Aug. 3, Ethereum's market cap of $197.1 billion is nearly triple that of Tether, which comes in at just $66.4 billion. In other words, Ethereum is still a giant in the crypto world, and it stands as a distinct competitor to Bitcoin, even though it was originally envisioned to complement it. What's perhaps most interesting currently about Ethereum is its shift to a "proof-of-stake" consensus protocol, away from the "proof-of-work" system that Bitcoin still uses. Ethereum bulls say this is a much more modern and energy-efficient protocol that should help give Ethereum longevity.
Polkadot (DOT)
Price as of Aug. 3: $7.97
Even those who don't invest in cryptocurrency are likely aware of Bitcoin, and many have likely heard of Ethereum as well. However, Polkadot likely flies under the radar of those who are not that familiar with crypto. Polkadot fundamentally operates in a similar manner to Ethereum, but with some added bells and whistles. For example, Polkadot's creator estimates that the platform will eventually be able to handle 1 million transactions per second (TPS), which puts it in its own universe of speed when compared with Ethereum's 15 TPS. Polkadot also solves the problem of interoperability in the crypto world, as its parachains are compatible with external blockchains. What does all that techno mumbo-jumbo mean in the real world? For one, it means that with the exception of Bitcoin and Ethereum, Polkadot was the third most widely held cryptocurrency by hedge funds and venture capitalists as of the fourth quarter of 2021. When the so-called "smart money" is behind something, it greatly increases its chances of longevity and long-term success. 
More From GOBankingRates