Cryptocurrency Is About To Go Mainstream With Latest Bitcoin ETF — Can It Make Owning Crypto More Profitable?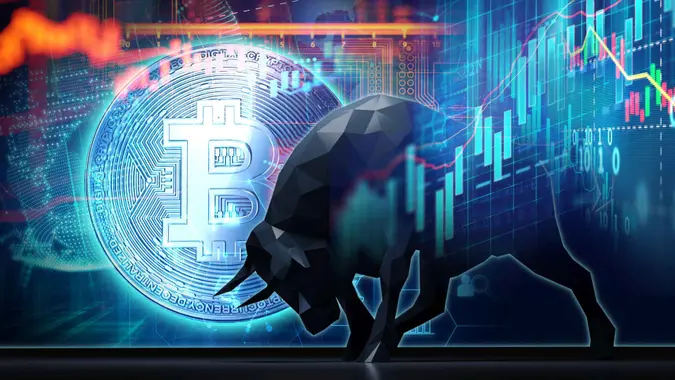 monsitj / Getty Images/iStockphoto
So-called "spot" Bitcoin exchange traded funds (ETFs) — which are "Bitcoin only" or "pure Bitcoin" funds — have been a holy grail concept for crypto aficionados for some time, but have long faced legal stalling from regulators.
Investors and investment managers have anxiously been awaiting approvals from the Securities and Exchange Commission (SEC) regarding Bitcoin ETFs, as several companies have filed for the approval of such funds with the SEC — approvals which have either been rejected or delayed.
Now, though, it appears things may begin to change.
As Bloomberg reported on Oct. 16, the SEC will not ask a federal appeals court to reconsider a ruling that paves the way for Grayscale Investments to launch a spot Bitcoin ETF, according to a person familiar with the matter. Some experts are viewing this outcome as a watershed moment.
In October 2021, Grayscale announced it had filed with the SEC to convert its Bitcoin Trust into a Bitcoin Spot ETF "on the heels of the SEC's clearance of a Bitcoin Futures ETF," according to an announcement. The filing faced opposite from the SEC, however.
In August, in a highly anticipated decision, the U.S. Court of Appeals for the District of Columbia Circuit vacated the SEC's decision.
"The denial of Grayscale's proposal was arbitrary and capricious because the Commission failed to explain its different treatment of similar products. We therefore grant Grayscale's petition and vacate the order," court documents read.
A Grayscale spokeswoman indicated the Federal Rules of Appellate Procedure's 45-day period to seek rehearing has now passed.
"The Court will now issue its final mandate within seven calendar days. The Grayscale team remains operationally ready to convert GBTC to an ETF upon the SEC's approval, and we look forward to sharing more information as soon as practicable," she added.
Is An Approval Likely To Arrive Soon?
According to Thomas Hogan, former chief economist from the U.S. Senate Banking Committee and economist with the American Institute for Economic Research, although there has been no official word from the SEC, there are hints that the approval of a Bitcoin ETF is becoming more likely.
"Major investment companies like BlackRock, the world's largest asset manager, have joined the many firms filing applications for Bitcoin ETFs. Almost 100% of BlackRock's previous ETF filings have been approved, so they probably would not have filed an application unless they thought approval was likely," said Hogan.
Several experts echoed the above sentiment, including Nihar Neelakanti, CEO and co-founder of Ecosapiens. Neelakanti said it seems an approval of a spot BTC ETF is actually right around the corner — and, at the latest, is poised to happen early next year.
"There's just too much political pressure placed on the SEC for it not to approve, especially when you think about what institutions are involved here, such as BlackRock and Vanguard," said Neelakanti. "Legally, with courts having essentially weighed in in favor of Grayscale and its proposed ETF, it's now almost impossible to resist an approval."
Neelakanti added that when an approval happens, we will see a wall of money flooding into the space.
"We saw a hint of this when there was false news reported recently about an approval of the iShares BTC ETF," said Neelakanti, referring to the erroneous news published earlier this week. "The price of BTC shot up 10% in seconds when that false approval news was reported. This tells me we will see something similar, and likely far more pronounced, when an actual approval happens."
What Would a Spot Bitcoin ETF Approval Mean for Investors?
Zachary Townsend, co-founder and CEO of Meanwhile, said the SEC's deadline for appealing the decision around Greyscale's ETF application passed a few days ago — that it's less a matter of if it will be approved, but rather when.
And when a spot BTC ETF is approved, he said he expects tens of billions of dollars to flow into Bitcoin and then, indirectly, the broader digital asset ecosystem.
"So many investors are keen on getting exposure to Bitcoin, but they don't want to go through the hassle of self-custody, which is difficult for even seasoned Bitcoiners," said Townsend.
In turn, he added that an approved spot BTC ETF will provide that kind of investment vehicle for investors — and that such a vehicle will also make it far easier for investment advisors to advise their clients in getting BTC exposure via one of these approved ETFs.
"There's just a tremendous amount of passively invested money that is poised to go into these BTC products, which are likely going to be available for 401k-like investments and such," he said. "The issue now is timing, and I think next year is likely when we will see these approvals come about. There could be more delays, of course, but next year seems likely to me."
Another impact of a potential approval is on Bitcoin's price, which, according to several experts, could shoot up once this happens.
Bradley Duke, chief strategy officer at ETC Group, said that Bitcoin holders are celebrating this news because they believe a spot Bitcoin ETF being approved in the U.S. will unleash pent-up demand. It is also believed that, ultimately, the ETF issuers will need to buy and hold a lot of Bitcoin to back these ETFs.
"With the total supply of Bitcoin being fixed at 21 million coins, this jump in demand will undoubtedly lead to upward price pressure on the Bitcoin spot price," he said. "It's hard to know how big this pent-up demand is and the timing thereof, but many institutional investors will get comfort from the fact that asset management giants like Blackrock will be issuing these new products, along with the fact that just about every major U.S. player in financial services, now has some kind of business in crypto — from Goldman Sachs to Fidelity, from Citadel to Charles Schwab and many others."
Can Approval Help the Broader Crypto Space?
While a spot Bitcoin ETF has the potential to increase Bitcoin adoption, particularly among traditional financial players and advisors, it's important to note that the ETF has certain limitations in comparison to owning actual Bitcoin. This is the position held by David Waugh, business development and communications specialist at Coinbits.
"On one hand, an ETF can act as a connection for financial professionals who were previously hesitant or unprepared to enter the cryptocurrency space, which could positively impact Bitcoin's price," he said.
However, he noted that ETFs are restricted because they operate within the traditional financial system, so they do not provide complete protection against market, government, or compliance risks that holding Bitcoin in self-custody does.
"In other words, Bitcoin ETFs make the asset more accessible, but they do not fully encompass the revolutionary autonomy and protection that Bitcoin represents as a decentralized asset," he added.
More From GOBankingRates