CryptoGPT: Everything You Need To Know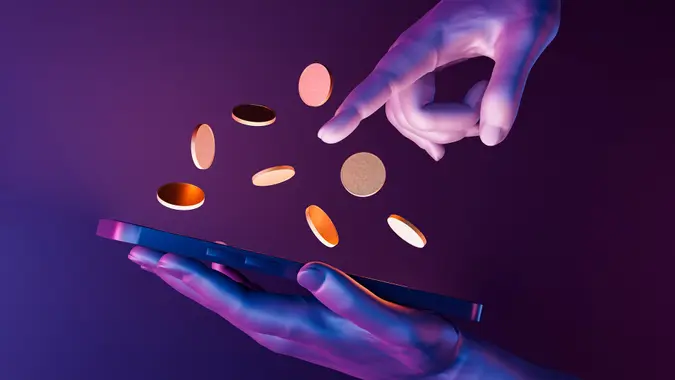 AntonioSolano / iStock.com
Arnold Schwarzenegger could not have warned the human race more — artificial intelligence, or AI, technology is not only coming, but it seems like it is here to stay. With new advances in AI tech such as ChatGPT, any investment that is AI related seems to be a hot commodity, including CryptoGPT. Because of this fact, be sure you understand more than just the buzzwords when and if you choose to invest in AI or crypto — or both.
What Is CryptoGPT?
An Ethereum-based scaling solution, CryptoGPT is a layer-2 blockchain focused on artificial intelligence development. Essentially, it combines blockchain technology, data market monetization and AI data, which, once bundled together, are stored again in the main chain.
CryptoGPT uses zero-knowledge, or ZK, layer-2 blockchain rollups to increase and expedite throughput. The ZK rollups incorporate validity proofs of anonymized data points in order to check that an off-chain digital asset or transaction is valid.
CryptoGPT Key Takeaways

CryptoGPT recently launched its native token, GPT, which has been showing sizable gains.
It is a protocol designed to increase usability and value to its ecosystem partners.
By bundling and validating transactions off-chain, it helps reduce traffic congestion on the main chain.
Layer-2 scalability solutions can take on more transaction volume without affecting the transaction processing times and fees of the main chain.
Investing in CryptoGPT
The real-time price of GPT as of publication is $0.015623. This is down from its highest price of $0.148135, which it reached in March 2023. It has a market capitalization of $4.36 million and a 24-trading volume of $224,109.
Experts say if the market performance improves, GPT could recover in the last half of 2023. Current growth is predicted to be bearish — however, the average price of the GPT token has leveled out. When the market turns more bullish, GPT may soar a bit more in the long-term.
GPT Token
Right in the dead center of the CryptoGPT ecosystem is the GPT token. Here are a few important takeaways to keep in mind:
It will be used to pay gas fees. 
It can be staked to earn validation rights.
Users will be paid in GPT tokens for their activity data.
Holders of the GPT token will also earn voting rights on various proposals on the platform's DAO.
CryptoGPT Token Current Breakdown
| GPT Token Data Point | Current Value or Statistic |
| --- | --- |
| Current price | $0.015623 |
| Market cap | $4.36 million |
| Current circulating supply | 279 million out of the maximum supply of 3 billion GPT |
Final Take To GO
With future technology available today, there is no wondering why investing in AI tech can seem incredibly exciting. However, this technology may not be able to deliver on all of its promises, so continued growth in the market is not guaranteed.
Buzzwords like AI, GPT or crypto may be attention-grabbing but do not necessarily indicate that you should automatically reach for your wallet.
FAQ
Here are some answers to frequently asked questions about CryptoGPT.
What is CryptoGPT?

CryptoGPT is an Ethereum-based scaling solution that combines blockchain technology, data market monetization and AI data, bundles it and stores it on its blockchain. It collects this data for AI development.

Where can I buy CryptoGPT tokens?

CryptoGPT is not yet widely available, but you can find it on a few decentralized exchanges, or DEXs, like Uniswap. You might have more luck finding GPT as half of a crypto pair, rather than on its own.
Other ways to buy crypto include:

- Centralized Exchanges, or CEXs
- Crypto Wallets

Is CryptoGPT legitimate?

As CryptoGPT is still relatively new and working out some bugs, many experts have weighed into the legitimacy of its claims. Some have claimed that it is even a scam and that its $250 million valuation could be a false claim.
As with any investments, be sure to do your research and watch out for red flags on websites that seem too good to be true – and never invest more than you can afford to lose.

How much is CryptoGPT?

Though the price fluctuates, the current real-time price of CryptoGPT as of publication is $0.015623. This is lower than its highest price of $0.148135, but an increase from its lowest price, recorded in May of 2023, when it was trading at $ 0.013553. It has a market capitalization of $4.36 million.

What is the total supply of GPT coins?

The total maximum supply of GPT tokens is 3 billion. It currently has a circulating supply of 279 million.
Information is accurate as of June 1, 2023, and is subject to change.
Our in-house research team and on-site financial experts work together to create content that's accurate, impartial, and up to date. We fact-check every single statistic, quote and fact using trusted primary resources to make sure the information we provide is correct. You can learn more about GOBankingRates' processes and standards in our editorial policy.