15 Ways To Earn Free Crypto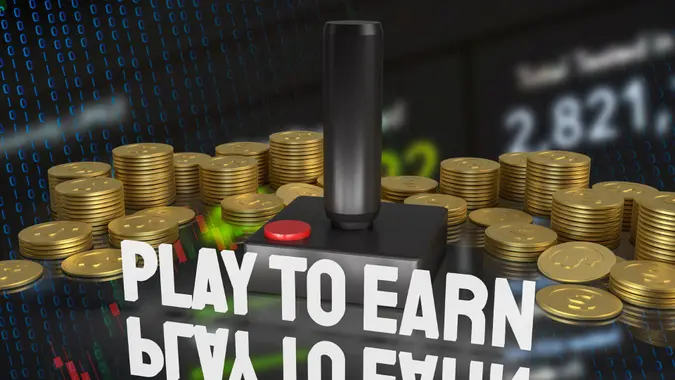 Crypto has the potential to grow in value over time. Bitcoin, perhaps the best-known currency, is currently valued at over $28,000 but was worth $3,000 just a few years ago. Imagine what your investment would look like if you could earn free crypto and hold it for a while.
15 Ways To Earn Free Crypto
Here is a glance at some of the ways to earn free crypto:
Look for a signup bonus
Learning
Crypto staking
Play-to-earn
Move-to-earn
Surveys
Join a faucet
Add a rewards web browser 
Get a crypto credit card
Find an airdrop
Become a crypto lender
Open a crypto savings account
Find a free NFT giveaway
Try cloud mining
Try yield farming
1. Look for a Signup Bonus
Just like banks offer bonuses for opening an account, many exchanges entice you with free crypto. Check out the following:
Gemini: Offers $15 in crypto of your choice when you refer a friend and they trade at least $100 in the first month after signup.
Coinbase: Earn $5 in BTC when you sign up and buy any crypto.
If you go for a sign up bonus, make sure to read the fine print. You'll likely need to make some trades before the sign up bonus hits your account.
2. Learning
Some platforms such as Binance and Coinbase produce short videos or tutorials with the incentive of awarding you with some free tokens if you watch and pass a short quiz. It only takes a few minutes of your time to learn more about the digital currency world but you could earn free crypto.
The catch is that you likely won't have control over what type of crypto you earn. With that, you could be earning a type of cryptocurrency you aren't interested in.
3. Crypto Staking
Once you start building a crypto portfolio, you could stake your tokens to earn cash for more. It's a form of currency stabilization. Similar to a certificate of deposit, you'll need to commit your crypto for a period of time to earn interest while it's staked. Rates can vary between 3% and 20% APY.  
StakingRewards is a site that tracks the most lucrative tokens to stake and the top platforms. If you have the following coins, they may earn you a return of:
Ethereum (ETH): 3.46%
Solana (SOL): 7.09%
Cardano (ADA): 3.03%
If you choose to pursue crypto staking, do your research to find the best returns for your situation.
4. Play-To-Earn
Some games allow you to unlock and earn free crypto by completing game missions. It's a fun way to earn tokens in your downtime. Some of the most popular play-to-earns are: 
Sandbox: Create a whole Kverse and buy virtual land.  
Crypto Popcoin: Earn free Ethereum and PopCoin by grouping and popping coins.
MetaBlaze: NFT-driven gaming. You can earn bitcoin, ethereum, solana, binance coin and more.
Lucky Block: Buy tickets to be entered into draws.
5. Move-To-Earn
You could keep fit and earn free crypto. Move-to-earn platforms pay out crypto for moving — exercise, walking and running could all qualify. 
Coin Hunt World is similar to Pokemon Go. You'll need to walk, ride a bike or run around and open boxes, collect keys and more to earn bitcoin and ethereum for free. Step App counts your steps when you run, jog or walk to pay out tokens. Plus, you can compete against other users worldwide.
6. Surveys
There are survey-for-money websites that let you earn cash. Some platforms such as Grab Points will offer crypto — namely bitcoin — instead of cash. It's a great way to start building your bank of tokens while passing the time by answering questions and taking quizzes.
7. Join a Faucet
Faucet services allow you to sign up and complete activities such as solving puzzles or filling out a CAPTCHA to earn crypto. If you prefer more variety in the form of different activities, a faucet may be the best option. Some of the top faucet platforms include:
8. Add a Rewards Web Browser 
If you tend to spend time surfing the web, you could earn free crypto simply for browsing. Install the Brave browser to receive tokens for everyday activities. In addition, the platform claims it's private, removing ads and trackers from websites you visit but giving you the option to view Brave-approved content instead.
9. Get a Crypto Credit Card
A crypto-rewards credit card is similar to a standard cash-back credit card. But instead of earning cash back on every purchase you make, you can earn crypto. Depending on the credit card, you might earn bitcoin or another type of cryptocurrency.
A few credit cards that offer crypto rewards include the Gemini credit card and the Brex credit card. Both allow you to earn cryptocurrency as you make purchases with a credit card. This strategy offers a relatively low maintenance way to build your crypto portfolio.
10. Find an Airdrop
When a new developer releases a cryptocurrency, it's not uncommon for them to give some of the coins away for free. The goal of the developer is to build some interest around the coin and hopefully kickstart the long-term success of the cryptocurrency. As someone looking for free crypto, participating in an airdrop can help you add some crypto to your wallet.
While it's usually free to participate in an airdrop, you might need to complete some specific tasks. For example, you might need to follow the project on social media.
The downside of this option is that many airdrops turn out to be scams. So, even if you receive the coins, they might not be worth anything. Do your research before jumping into an airdrop opportunity.
11. Become a Crypto Lender
If you already have some cryptocurrency, you can use those funds to generate more cryptocurrency through peer-to-peer lending.
Many platforms offer the opportunity of peer-to-peer lending in the form of crypto. But as with all peer-to-peer lending options, it's critical to confirm the borrower can repay the funds before you finalize a loan. Carefully research the platform and inspect the borrower's credentials before finalizing a loan.
12. Open a Crypto Savings Account
Tucking your existing crypto into a special savings account can give you an opportunity to earn interest on your crypto savings. Essentially, this works like a regular savings account. But instead of earning interest in traditional currency, you'll earn interest on your crypto in the form of more crypto.
In most cases, crypto savings accounts come with better interest rates than traditional savings accounts. But as with other types of savings accounts, it's helpful to shop around to ensure you are locking in the best deal for your situation.
13. Find a Free NFT Giveaway
Non-fungible tokens or NFTs are digital assets or artwork that have been encrypted on the blockchain network. The hype around NFTs has made them incredibly popular and expensive. Although NFTs are not technically cryptocurrencies, you can trade your NFTs and get popular crypto for free.
Many crypto trading platforms or new crypto projects offer NFT giveaways. All you have to do is follow their Discord channel or Twitter and if you are lucky, you might win free NFTs as a part of their promotional campaigns.
14. Try Cloud Mining
If you are willing to try a more technical option, cloud mining offers a potential way to earn crypto for free. Essentially, cloud mining offers a chance to earn free crypto without purchasing specialized computing equipment. Instead, you'll commit a minimum investment for a cloud mining website to mine for you.
After you invest some funds, you'll earn a portion of the revenue generated from the mining activity. It's a relatively passive way to earn crypto. But you'll need to have some funds to invest upfront in order to enjoy the passive stream of crypto.
15. Try Yield Farming
Yield farming offers an opportunity to earn interest on your existing crypto holdings. Essentially, yield farming involves lending out your cryptocurrency in exchange for a fee. But unlike some of the more passive ways of earning crypto, yield farming requires more active involvement from the investor. In fact, you'll likely need to move your funds around almost constantly to tap into the most lucrative yield opportunities.
The risk of yield farming is that it can get relatively complicated quickly. If you don't understand the rules of the investment game, then it's easy to lose crypto through yield farming. Additionally, successful yield farming requires a relatively stable coin that can maintain its value over time. If the coin rapidly loses value, then you could miss out on the opportunity to sell at the right moment.
Takeaway
If you're just getting started with crypto or you'd like to earn free tokens simply for doing everyday activities, there are plenty of options available to grow a cryptocurrency portfolio. All you need to do is invest some time consistently to start earning.
As you build your crypto holdings, you'll find more opportunities to put your existing crypto to work in an effort to earn more crypto. Like other types of investing, the world of crypto comes with a learning curve. Take your time to learn the basics of crypto as you wade into this volatile market.
FAQ
Here are the answers to some common questions that you may have when you start exploring the possibilities of earning free crypto.
Which crypto app gives free coins?

Several crypto apps including Gemini and Coinbase reward new account holders with free tokens.

Can you earn crypto by playing games for free?

Gamers will love crypto-based play-to-earn games such as Sandbox, Crypto Popcoin and Lucky Block. Free games that reward you with tokens for having fun playing are some of the best ways to earn free crypto.

How do you get a shiba inu coin for free?

Sites like Freecash and Cointiply will pay you in crypto for completing activities such as solving puzzles or filling out a CAPTCHA.

Is there a way to earn crypto for free?

Yes, you can earn crypto in many different ways. Here's a look at a few:

Look for a signup bonus
Learning
Crypto staking
Play-to-earn
Surveys
Join a faucet
Add a rewards web browser
Get a crypto credit card
Find an airdrop

Does Coinbase give free crypto?

You can earn free crypto by registering with Coinbase and buying any crypto with your account.

What apps give you crypto for learning?

Binance and Coinbase will award you with free tokens if you watch short videos and take quizzes.
Suchetana Bhattacharyea and Sarah Sharkey contributed to the reporting for this article.
Information is accurate as of Oct. 20, 2023. 
Our in-house research team and on-site financial experts work together to create content that's accurate, impartial, and up to date. We fact-check every single statistic, quote and fact using trusted primary resources to make sure the information we provide is correct. You can learn more about GOBankingRates' processes and standards in our editorial policy.