What Is a Bitcoin Faucet? Here's How They Work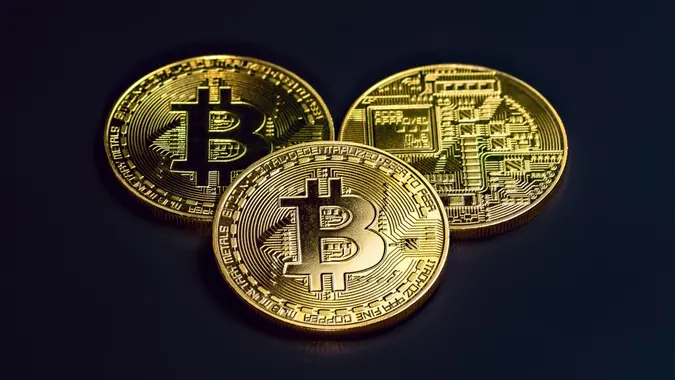 Stanislav Palamar / Getty Images
Cryptocurrency and the culture of work-from-home side hustles emerged around the same time — and if you're looking to earn a little bit of the former with one of the latter, a bitcoin faucet might be just the thing for you.
Bitcoin faucets — and crypto faucets, in general — let just about anyone earn small amounts of free cryptocurrency with minimal effort on their phones and computers. They won't make you tomorrow's next crypto millionaire, but if you're just getting started and looking to add some tokens to an empty digital wallet, a Bitcoin faucet can be a great way to enter the cryptocurrency space — even if you don't have any money to spend on even the smallest of investments. 
What Is a Bitcoin Faucet?
A Bitcoin faucet is an application or website that awards tiny amounts of cryptocurrency to users who perform simple tasks like completing a captcha, playing a game, solving a puzzle, clicking ads or watching videos. 
If the word "faucet" conjures images of a steady and endless flow of bitcoin pouring into your digital wallet, you should temper your expectations. On the contrary, the term alludes to the minuscule size of the bitcoin awards, which drip out in tiny drops like water from a leaky faucet. 
How Can I Get 1 Bitcoin For Free? 
You would have to spend a whole lot of time on a bitcoin faucet to earn even a single token — or even $1 worth of bitcoin. Just as you can divide dollars into smaller units like pennies, nickels and dimes, bitcoin can be broken down into smaller denominations, as well. 
The smallest of them all is called a Satoshi, named after Satoshi Nakamoto, the mysterious founder or founders of bitcoin. According to SoFi, most Bitcoin faucets reward the completion of tasks with one Satoshi unit.
According to CoinDesk, a single Satoshi is worth one hundred millionths of a bitcoin — or 0.00000001 BTC. You would need to collect one hundred million Satoshis to make a single Bitcoin. Another way to look at it would be that in order for a Satoshi to be worth a single penny, the price of bitcoin would have to rise to $1 million per token.
At current exchange rates, one Satoshi is worth $0.000205.
Is Free Bitcoin Faucet Real? 
Free Bitcoin faucets are real, but their big-money heyday has long passed. According to CoinGeek, software developer and cryptocurrency pioneer Gavin Andresen created the first bitcoin faucet on June 12, 2010, at the dawn of the cryptocurrency era. 
Andresen communicated directly with the still-anonymous Satoshi Nakamoto through private messages and forum posts. When Satoshi Nakamoto vanished, Andresen took control of the nascent bitcoin project. 
Andresen created the faucet concept to introduce people to bitcoin, spread it to new users and establish its utility as a digital currency. Since cryptocurrency was virtually unknown in the mainstream, the dollar value of a coin wasn't as important back then as what bitcoin could do — but the faucet would soon be worth a fortune. 
According to Medium, Andersen created a simple website that awarded five bitcoins to anyone who used it to solve a captcha, download the bitcoin software and establish a bitcoin address. 
What Would Be the Value of Those Bitcoins Today?
At current conversion rates, those five bitcoins would be worth around $98,000 today. Over the course of 2010, Andresen gave away 19,700 Bitcoins.
Had Andresen held the coins, they would now be worth more than $386 million.
So, the Bitcoin faucet concept endures, but if you missed the boat, then here's the tough truth. A few clicks could earn you an award that would have soon ballooned into something approaching six figures in value. 
Which Crypto Faucet Is Best?
Bitcoin was the first cryptocurrency and Andresen's project launched the first faucet, but just as other digital coins emerged in bitcoin's footsteps, so, too did other crypto faucets. Which crypto faucet is best? That depends on which cryptocurrency you're interested in earning. 
Here's a look at some of the top bitcoin faucets and some of the best crypto faucets that award other kinds of coins.
FreeBitco.in 
Founded in 2013, FreeBitco.in is one of the oldest bitcoin faucets still in existence. The site gives away up to $200 in free bitcoin every hour. So far, it's awarded more than 179,325 Bitcoins in total to nearly 19 million registered users through more than 90 billion games played. 
Users love it for the simplicity and familiarity of its casino-based dice game format — you don't need a credit card and no deposit is required to sign up. You're allowed to complete a captcha and roll the dice once per hour, every hour — and Satoshis are a guarantee with every roll. The faucet awards bigger prizes through weekly and monthly jackpot contests and if you refer friends, you get 50% of their faucet winnings for life. 
Bitcoin Aliens
The Bitcoin Aliens faucet has been awarding cryptocurrency since 2014 — and not just bitcoins. The site's collective apps have given away more than $20 million worth of bitcoin, bitcoin cash (BCH) and litecoin (LTC). 
Today, more than 5 million users continue to use the site to earn crypto from their phones. There are several different ways to earn tokens through the Bitcoin Aliens suite of apps, which includes: 
Litecoin Giveaway
Bitcoin Cash Giveaway
Alien Run
Blockchain Game 
Free Bitcoin.
Some of the apps involve playing games, and others require you to watch videos, solve puzzles or view advertisements — but all are free to download and use.  
Cointiply
Cointiply boasts 3 million users who have earned more than $12 million worth of bitcoin, but the site also awards litecoin, dogecoin (DOGE) and dash (DASH). The site is known for its high payouts and many ways to earn, which include: 
Surveys: Earn $1-$5 in coins for every survey you complete for businesses, products and services.
Games: Install games and earn coins as you progress through them in either desktop or mobile modes. 
Videos: Earn crypto for every video you watch.
Tasks and offers: You can earn rewards points for every task you complete and every offer you accept.
Referrals: Earn 25% of the faucet awards from every friend you refer and 10% of their offer earnings. 
Interest: Earn 5% interest on all your holdings once you reach 35,000 coins. 
CoinPayU
CoinPayU utilizes crypto faucets as part of its advertising platform, and it stands out for the wide variety of tokens it awards, including: 
FreeBitcoins.com
FreeBitcoins.com allows users to participate with up to two accounts to double their rewards of Bitcoin and several available altcoins. The offerings include ethereum, dash, dogecoin, bitcoin cash, clamcoin, curecoin, rhombus, mazacoin and more. Users never have to make a deposit or risk anything. 
The site has a long history dating back to 2010 when bitcoin was trading for about $0.25. The site is a full-service exchange, and its faucet rewards users for testing and using the website so its administrators can identify flaws and make improvements. It also awards coins for telling people about the exchange through its affiliate program. 
What Are the Risks of Bitcoin Faucets?
According to SoFi, cryptocurrency faucet users should assume a guarded attitude and take the same precautions that they would if they were trading crypto. Some sites and apps purporting to be faucets could install malware, and there have been phishing attacks and other scams associated with imposter faucets. 
The temptation of free money can make people let their guard down — a fact that hackers know well. Faucet scammers can use that lure as part of a scheme to steal identities or break into crypto wallets by asking users to click a bait link, download a malicious file or reveal passwords or other critical data.
Use common sense and avoid any faucet that contains many grammatical errors or other suspicious visual cues. You're not going to get rich by using a crypto faucet — if the rewards appear too good to be true, walk away. Finally, be skeptical of any unsolicited faucet offer you receive through an email or message. 
Final Take
Crypto faucets do not provide a feasible way to accumulate significant crypto holdings. The tasks required to earn crypto can quickly become tedious, and earning even a few dollars worth of coins typically requires a time commitment that's too big to justify the minor reward. 
However, faucets do give away real crypto. That gives newbies and hobbyists the chance to populate their wallets with different types of coins while learning how different cryptocurrencies work and what they can do. As an added benefit, they can be a fun way to pass the time online in a productive way — at least for a while.
Our in-house research team and on-site financial experts work together to create content that's accurate, impartial, and up to date. We fact-check every single statistic, quote and fact using trusted primary resources to make sure the information we provide is correct. You can learn more about GOBankingRates' processes and standards in our editorial policy.