Top 3 Silver ETFs for 2023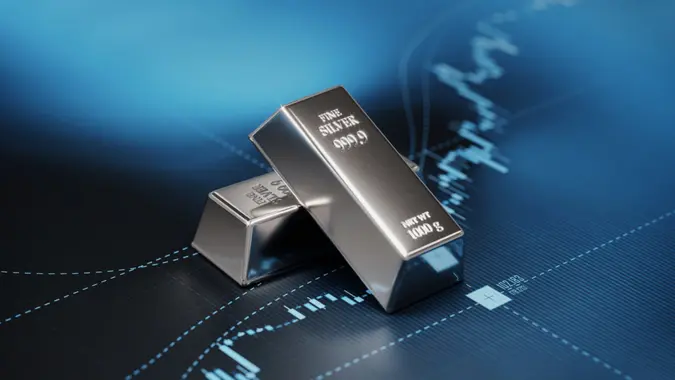 MicroStockHub / Getty Images/iStockphoto
Exchange-traded funds can be an excellent way to diversify your portfolio while still investing in a specific product, market or sector that you are interested in supporting. Silver ETFs, in particular, allow investors to protect their assets against inflation by investing in a fund that represents the price of silver without purchasing — and having to store — the physical metal.
Learn: 3 Things You Must Do When Your Savings Reach $50,000
Top 3 Silver ETFs for 2023
Read below about the top three silver ETFs for 2023 and how to choose one that's right for you.
iShares Silver Trust (SLV)
Price: $21.97
Net Assets: $11.19 billion
NAV: 21.78
Total Return YTD: -1.16%
Expense Ratio: 0.50%
30-Day Average Daily Volume: 16,399,535
30-Day Median Bid/Ask Spread: 0.05%
The iShares Silver Trust (SLV) from BlackRock, Inc. represents the price of silver based on the London Bullion Market Association (LBMA) silver price. The SLV aims to allow investors access to physical silver and the daily fluctuations in the price of silver in a convenient way. It also aims to create protection against inflation for investors that want to diversify their portfolios.
abrdn Physical Silver Shares (SIVR)
Price: $22.96
Net Assets: $1.12 billion
NAV: 22.73
Total Return YTD: -1.15%
Expense Ratio: 0.30%
30-Day Average Daily Volume: 678,292
30-Day Median Bid/Ask Spread: 0.09%
The abrdn Physical Silver Shares ETF (SIVR) seeks to track the price of physical silver. Instead of transporting, warehousing and insuring physical silver, investors can buy shares of the SIVR ETF to diversify their portfolio and invest in silver without extra expenses and responsibilities.
Invesco DB Silver Fund (DBS)
Price: $32.46
Net Assets: $42.12 million
NAV: 31.81
Total Return YTD: -1.83%
Expense Ratio: 0.75%
30-Day Average Daily Volume: 50,865
30-Day Median Bid/Ask Spread: 0.31%
The Invesco DB Silver Fund (DBS) is slightly different from SLV and SIVR since it tracks the price of the DBIQ Optimum Yield Silver Index Excess Return and includes the interest income from some other holdings that are mostly comprised of U.S. Treasury securities and money market income. Therefore, instead of investing directly in physical silver, the fund invests in silver futures, which can be riskier and more speculative than traditional silver ETFs.
How To Choose a Silver ETF
While many silver ETFs strive to reduce the risk for investors, some risk is always involved in investing in these funds, so it's important to do your research and invest according to your risk tolerance.
Volatility
A silver ETF will fluctuate based on the price of silver, which can go up and down based on supply and demand. Since silver is more volatile than gold, evaluating each ETF before investing is essential to understand its performance and the likelihood of making a return on your investment.
Expense Ratio
The expense ratio is one of the most significant aspects of silver ETFs that affects your return. An ETF with higher expense ratios means you need to pay more for management fees and other charges. The higher the expense ratio, the smaller your return.
Tracking Error
In addition, each ETF will have some level of tracking difference and tracking error, which measures the difference in return between the fund and the index that it tracks. The smaller the fund's tracking error, the closer it follows the index's performance and returns.
Is a Silver ETF a Good Investment?
Investing in silver ETFs has its pros and cons, just like investing in physical silver does. When you buy physical silver, you must pay to transport, warehouse and insure the metal, among other expenses, which can make it a difficult investment compared to a silver ETF.
However, there are significant risks that come with trusting others to manage your assets for you, and no investment is without risk. The decision to invest in silver ETFs is an individual one that should be based on your investment strategy, financial situation and personal preference.
Getting Started With Silver ETFs
Investing in ETFs is similar to investing in stocks. You simply need to open a brokerage account of your choosing and then buy shares of the silver ETF that you choose. Begin by completing your research on silver ETFs and brokerage accounts, and then get started with your investments quickly and easily.
FAQ
Here are some quick answers to your most frequently asked questions about silver ETFs in 2023.
What is the biggest silver ETF?

The iShares Silver Trust (SLV) is the largest silver ETF. As of Jan. 25, 2023, SLV has $11.19 billion in net assets.

Does Vanguard have a silver ETF?

Vanguard does not have any ETFs that are specifically meant to represent the price of silver. However, it does have the Vanguard Materials ETF (VAW) that includes silver as a small part of the fund's holdings.
Data is accurate as of Jan. 25, 2023, and is subject to change.
Our in-house research team and on-site financial experts work together to create content that's accurate, impartial, and up to date. We fact-check every single statistic, quote and fact using trusted primary resources to make sure the information we provide is correct. You can learn more about GOBankingRates' processes and standards in our editorial policy.