10 Best Places To Buy Silver — And Why You Should Invest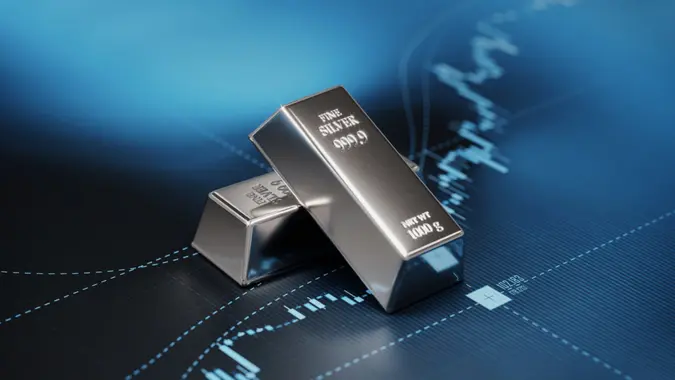 MicroStockHub / Getty Images/iStockphoto
Tangible assets — like a home, art or precious metals — are great for diversifying an investment portfolio beyond purchasing stocks. Silver, for example, is a tangible asset with intrinsic value and no default or counter-party risk. Although its price fluctuates depending on various factors, this coveted mineral resource is immune to today's inflation climate.
Read on to learn about the best place to buy silver and why you should consider it.
Investing in Silver
From time immemorial, precious metals like silver and gold have been considered money. The U.S. dollar even gets its name from the term "thaler," a silver coin produced at a mine in Joachimsthaler, Bohemia.
Silver has all the qualities of a widely accepted medium of exchange, including: 
Durability
Scarcity
Fungibility
Portability
Unlike printed currencies, the value of silver, gold and other precious metals doesn't depend on global or local financial conditions. Instead, it's dictated by other factors like demand and availability. Investors should keep these aspects in mind to know what to expect when picking the best place to buy silver.
Why Invest in Silver?
Money's purchasing capabilities decrease as prices get higher across local and global economies. In times of financial instability and rising inflation rates, the value of currency can decrease severely. That's where finding the best place to buy silver comes in to help investors protect their wealth.
Make Your Money Work for You
Much like with anything else, high demand for silver and other precious metals increases their prices. This provides silver owners with an advantage against money depreciation.
What Makes Silver So Coveted?
Silver is a highly desirable mineral with numerous applications across several industries. Demand for this precious metal is tightly associated with the many use cases it has in fields like:
Medicine
Technology
Manufacturing
Fashion
Silver is a limited resource, and its supply is bound to decrease over time. When compared to gold, silver has substantially smaller stockpiles. As of 2021, global silver reserves totaled roughly 530,000 metric tons.
The combination of scarcity and high demand will almost inevitably result in a stronger silver market. However, investors still need to keep in mind that silver prices have a tendency to fluctuate noticeably and often.
What's the Difference Between Investing in Silver and Gold?
When it comes to precious metals, silver and gold are the two go-to options for investors to store wealth. Apart from their price, there are three significant differences between silver and gold to consider before investing.
Make Your Money Work for You
Silver vs. Gold

Volatility: Gold is a steadier investment than silver. It tends to both fall and rise less than silver in bull markets, making gold less volatile than its counterpart. Silver requires investors to monitor bull markets closely so that they can sell right after any big run-up. 
Supply: Central banks tend to stock more gold than silver. That's perhaps because gold has a stronger reputation as an alternative currency.
What Is the Best Silver To Buy Right Now?
Investors have several options when it comes to investing in silver. In addition to purchasing silver coins and bars, they can also put their money to work by acquiring:
Silver mini stocks
Physically-backed ETFs
Synthetic products tied to the price of silver
However, physical silver is the only option with no counter-party risk. This tangible asset gives investors a safety net against some common financial risks associated with other types of investing.
Make Your Money Work for You
What Is the Best Way To Start Buying Silver?
Silver bars are a good alternative for large-volume silver traders. Yet, coins are the best way to invest in this precious metal because they're highly liquid and easy to exchange.
Is It Better To Buy Silver Online or In-Store?
According to Forbes, the best place to buy silver is online. Silver investors should find a dealer with a buy-and-store program to avoid taking physical possession of their assets. This preventive measure will keep their investment safe because the purchased coins and bars would remain securely stored in an approved vault.
Breaking the chain of custody could make investors struggle to sell their silver in the future. Additionally, taking silver to keep at home could result in unpleasant surprises if part of the stash is accidentally misplaced.
Whether investors choose to buy silver online or in-store based on their personal preferences, it's imperative they find a reputable seller. Additionally, comparing and contrasting options will arm buyers with the right tools to make the best decision before purchasing.
10 Best Places To Buy Silver
What is the most trusted place to buy silver? Here are the top choices for 2022:
Silver Gold Bull
Buy Gold and Silver Coins (BGASC) 
SD Bullion
American Precious Metals Exchange (APMEX)
GoldSilver, LLC 
Silver.com
Birch Gold Group
JM Bullion
Money Metals Exchange
Golden Eagle Coins
1. Silver Gold Bull
This retailer allows investors to buy and sell silver bullion products and other precious metals online. It offers a wide selection of silver coins at competitive prices.
Pros
It matches competitor prices.
It offers free shipping on orders over $199.
It offers discounts on some payment methods. 
Cons
It has a limited buy-and-store program that comes at an extra cost.
2. Buy Gold and Silver Coins (BGASC)
This is one of the largest precious metals online retailers available in the United States. BGASC offers a secure place to conduct silver trading transactions.
Pros
It takes several payment methods.
It offers a 24/7 ordering service.
Cons
Orders need to be over $5,000 to qualify for free shipping.
It doesn't ship internationally.
3. SD Bullion
This seller claims to offer the lowest prices available. It's so serious about that, that it's even included in the tagline. 
Pros
It has a buyback program with the highest payout guaranteed.
It sells accessories for silver safekeeping, cleaning and more.
Cons
It only ships domestic orders.
Free shipping and insurance require an order minimum of $199.
4. American Precious Metals Exchange (APMEX)
This e-commerce silver retailer has over 20 years of experience in precious metal trading. It offers a trustworthy option for silver investors in the United States.
Pros
It has over 50 partnerships with other retailers worldwide.
It offers a solid loyalty program with convenient rewards.
Cons
It doesn't have the most competitive prices.
5. GoldSilver, LLC
This global online retailer gives global investors access to a wide selection of silver products. It has over 15 years on the market and an extensive background in helping investors succeed.
Pros
It offers services in Spanish for non-English speakers. 
It provides customers with educational resources.
It has an iOS and Android-friendly app for its customers to track their investment values.
Cons
The minimum purchase for free shipping is $499. 
6. Silver.com
This online seller targets experienced investors. However, it also offers its services to those looking to dip their toes in the silver e-trading waters.
Pros
It offers 24/7 ordering and speedy delivery. 
It backs up the authenticity of its products with certificates.
It gives customers access to an investing guide.
Cons
Orders below $199 don't qualify for free shipping.
It doesn't have a buy-and-store program advertised on its site.
7. Birch Gold Group
This is one of the country's leading silver and other precious metals dealers. It empowers its customers with education on how buying silver can protect their finances and help them reach their goals. 
Pros
It offers new investors a free information kit.
It has tax guides for precious metal investors.
Cons
It offers only physical delivery. 
8. JM Bullion
For over a decade, this company has been one of the top-rated online retailers of precious metals in the U.S. It allows customers to purchase silver, gold and more through a simple process.
Pros
It has a zero-commission policy.
It offers a safe, TDS-compliant storage option. 
Cons
It's not a listed U.S. Mint dealer.
9. Money Metals Exchange
This silver-trading company claims to offer some of the lowest prices on the market. Furthermore, it prides itself on treating all its customers the same, regardless of the size of their orders.
Pros
It offers loans against gold and silver.
It offers a gold-backed scholarship program for students to pay for college.
Cons
It has high transaction fees on some payment methods.
10. Golden Eagle Coins
This precious metal retailer has been active since 1974. It has witnessed the American economy's highs and lows and has extensive silver trading experience.
Pros
It has the lowest minimum for free shipping on the list.
It charges no commissions when ordering through the site.
Cons
It can take up to 14 business days for orders to ship.
Final Take
Investing in physical silver is a great way to store wealth during economic uncertainty.
However, finding the right place to buy silver is necessary for a safe transaction within a competitive rate. The options above will help investors make an educated choice.
Our in-house research team and on-site financial experts work together to create content that's accurate, impartial, and up to date. We fact-check every single statistic, quote and fact using trusted primary resources to make sure the information we provide is correct. You can learn more about GOBankingRates' processes and standards in our editorial policy.
Make Your Money Work for You