Building a House: Where You Should and Shouldn't Cut Costs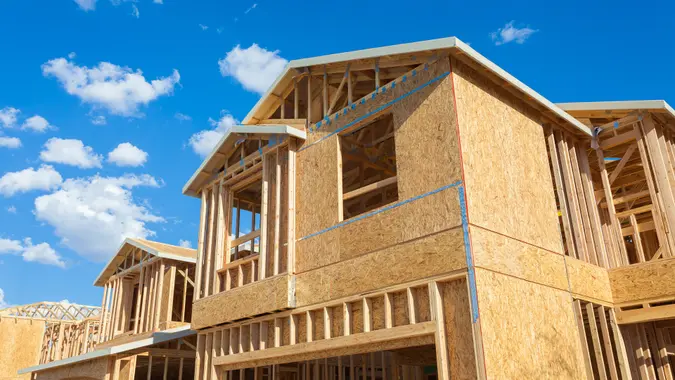 LPETTET / Getty Images/iStockphoto
It's no secret that lumber prices have surged and it costs much more now to build a home than it did pre-pandemic. But that doesn't mean that new home construction is at a halt. According to the annual State of the Nation's Housing report published by Harvard University Joint Center for Housing Studies, the pace of both single-family and multifamily construction has exceeded historical averages for nearly a year, but it's still not enough to meet demand. After all, it is a seller's market right now.
2021 Small Business Spotlight: Check Out Our Small Business Stories, Plus the Nominated Businesses Near You
See: 40 Cities That Could Be Poised For a Housing Crisis
Unfortunately, the shortage of available homes coupled with historically low mortgage interest rates equals fewer available homes for sale — conditions which can prompt potential homebuyers who are looking to upsize, downsize or relocate away from the city to build a new home.
Due to the increase in the cost of building materials, it's a fair assumption that you'll pay more to build a home now than you would if you waited for prices to go back down, but sometimes, you can't (or don't want to) put your plans on hold.
But before you dive into your homebuilding project, why not see if you can save some money by looking at where you should and shouldn't cut expenses? While this isn't an exhaustive list of all potential ways you can save, it's a good starting point when trying to budget costs for a new home.
Find Out: What Homes Will Be Worth in Your State by the End of 2021
Learn: 10 Signs You Should Not Buy a Home Right Now
Do Select a Base Floor Plan That Provides Flexibility
Brian Walsh, senior manager of financial planning and CFP at SoFi is currently in the process of working with a builder on a brand-new home for him and his family, so he's in the perfect position to advise others.
"When working with a builder you will typically start with a lot and base floor plan," said Walsh. "Keep in mind that the base floor plan does not typically include upgrades such as wood floors, a fireplace or granite countertops. Make sure that when you select your base floor plan, you are not already near the top of your budget, because upgrades will easily push you past your limit."
Do Consider Using Your DIY skills
"Generally, upgrades are very profitable for builders which means you can save some money if you do them yourself," said Walsh. "Everyone has a different level of comfort and skill with home improvement projects, so think about your abilities as you select upgrades. Taking on ceiling fans, bookshelves, wainscoting or even finishing rooms can be a great way to save money. The downside is that your home might not be 'done' right when you move in, but if your budget is tight the delay may be worth it. For example, we are leaving two rooms in the basement unfinished in our new house. Finishing them myself will save me $5,000, and I actually enjoy the occasional home improvement project."

Check Out: 20 Insider Tips To Save Money on Every Part of Your Home
Discover: Home Improvements That Are Not Legal To Do Yourself
Do Consider Buying Your Own Appliances
Walsh also recommends that you consider buying your own appliances to save money. "Just like with upgrades, builders will often charge more for appliances than you would spend buying them directly," he said. "Some appliances are needed to pass an inspection, but major appliances such as refrigerators, washers and dryers can wait until after you move in."
Do Find Ways To Save on Fixtures and Finishes
"Hardware, plumbing and electrical fixtures and tile can look chic and designer-caliber without breaking the bank," said Jennie Berger of Property People. The not-so-high-end-price-wise (yet almost identical) varieties of fixtures and finishes are readily available at a wide variety of locations –both brick-and-mortar and online. Some of our favorite places to snag great deals, sometimes at a savings of 15%-35%, are big box stores like Floor & Décor, Lowes and Menards, or online at Amazon, Wayfair and Overstock.com."
Do Consider a Different Type of Home Build
Don Howe of Barndominium Life said that one way to save money when building a home is to choose a different type of home than what's normally built. According to HomeAdvisor, the cost per square foot to build a new home is $100-$200, with the average cost being $150 per square foot, depending on factors like location, building products and materials used and cost of labor in your area. According to information on the Barndominium Life website, in 2020, the average cost for a full turnkey barndominium with high-end amenities like Andersen windows, rollup glass doors and granite countertops was between $95-$125 per square foot.
Explore: Why Now Is the Time To Sell Your House — Even If You Had No Plans To Move
Read: Houses in These Cities Are Suddenly Major Bargains
"Barndominiums have exploded in popularity in the past two years, and with lumber prices continuing to go crazy it's easy to see why," Howe said. "Barndominiums tend to be cheaper to build, more durable and just look plain cool. Many folks tell me that they got started on the idea of a barndo after being shocked how much building a home is right now."
Don't Opt for the Standard Insulation Package
Ben Neely, a Texas Hill Country home builder, acknowledges that while you can save money upfront by choosing a regular insulation package, it won't pay off in the long run.
"We standardly use Icynene spray foam for our insulation package, which gives owners superior airtightness and reduces your A/C bill while prolonging the life of your HVAC equipment. Changing from that to a regular Batts insulation package could save you $2000-$3000 initially, but you'll likely pay more than that in higher A/C bills over the lifespan of your home."
Don't Cheap Out on Windows
"Windows are incredibly important to the building envelope and will be responsible for your home energy costs over
the next 30 years," said Berger. "Lower-grade windows will end up costing you more in the long run. Don't skimp!"
Find Out: Renovated Home or New Construction? How to Find the Better Value in Today's Market
See: Energy-Saving Tips and Tricks That Will Save You a Bundle
According to the U.S. Department of Energy, heat gained and lost through windows is responsible for 25%-30% of residential cooling and heating energy use, so it's important to invest wisely in windows for your home.
Don't Opt for Stock Cabinets
"We don't encourage cost savings with cabinets," said Lauren McKinney of Judd Builders. "There are semi-custom options that can cost less than 100% custom and are good quality. You don't want to have to replace cabinets in five years, and some of the cheaper cabinets made won't last you long."
According to HomeAdvisor, semi-custom cabinets are reasonably priced — as low as $150 per linear foot installed — and are perfect for homeowners looking for unique, long-lasting designs without the huge cost of custom cabinets.
More From GOBankingRates
Last updated: June 21, 2021