Housing Market 2023: Boomers Likely To Win Bidding War on a Home — Here's Why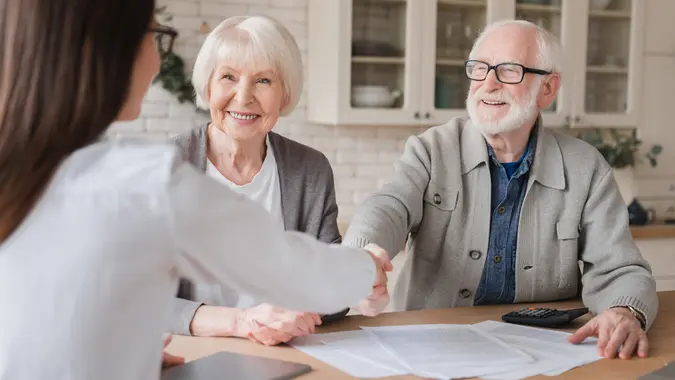 Inside Creative House / iStock.com
In spite of rising interest rates, U.S. housing still very much represents a seller's market. That means bidding wars continue for prime real estate across the country.
When multiple families are competing for a home, it's not always the buyer willing to pay the most who wins. Other factors come into play, including mortgage pre-approval (rather than pre-qualification), down payment or cash on hand, and even how fast the buyer is willing and able to close.
With all this in mind, new research from Realtor.com shows that baby boomers have the upper hand when it comes to sealing the deal on the next home of their dreams. Prospective homebuyers under 36, which represents the median age of first-time homebuyers across the U.S., might face struggles.
Who Is Buying Homes Right Now?
The National Associate of Realtors and Realtor.com analyzed U.S. census data to see who is buying houses right now.
First, it's important to point out that the age of first-time homebuyers has risen to 36 — it hovered between 28 and 33 since 1981 when NAR first started collecting data. Also, first-time homebuyers represent just 26% of the market right now. Historically, they made up 40% of buyers for primary residences.
What Keeps Millennials from Buying?
According to the NAR Profile of Home Buyers and Sellers, first-time homebuyers said they struggled to save money for a down payment, with high rent, car loans, credit card debt, student loans, and — in a distant fifth place — child care costs holding them back. Forty percent cited rent costs, while 39% cited car loans and 38% cited credit card debt.
However, 27% of first-time buyers found a loophole to the first challenge; they lived with a family member to save money before buying their first house.
Student loan debt is still a concern to millennial buyers; even with the pause on student debt payments, prospective buyers kept that debt in mind when calculating the feasibility of buying a home.
Why Do Boomers Have Such an Edge?
In 2023, baby boomers overtook millennials as the greatest percentage of homebuyers in the U.S., making up 39% of the market compared to 28% for millennials (and 24% for Gen X).
That could be because 51% of older boomers and 32% of younger boomers reported paying all-cash for their most recent home purchase. In a tight market with sellers eager to move, the cash offer is most likely to win a bidding war.
More From GOBankingRates