How To Keep Perspective as a Homebuyer (And Get the House of Your Dreams)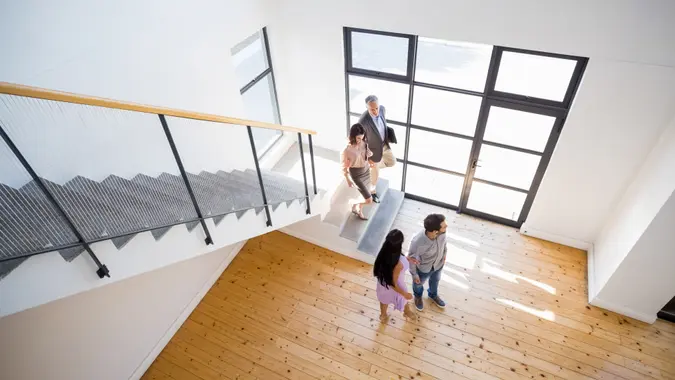 wavebreakmedia / Shutterstock.com
You've been searching for a new home for a while now, but you keep getting outbid. The process is beyond frustrating — i.e., find a property you're excited about, make an offer, lose to another buyer, repeat — and to be honest, you're exhausted from it.
Follow Along: 31 Days of Living RicherFind Out: What Homes Will Be Worth in Your State by the End of 2021
As of June 2021, there were 548,864 active listings — 43% less than last year at this time — homes were on the market for an average of 37 days — a 48% year-over-year decline — and the median list price was $385,000 — up 13% from June 2020 — according to Realtor.com.
Essentially, compared to last year at this time, there are fewer homes on the market, listings are selling faster and properties are more expensive. Therefore, if you're feeling discouraged, you're certainly not alone.
Despite that, Jason Gelios, a realtor in Southeast Michigan, said it's important to stay focused.
"While many home buyers have experienced offer fatigue, with many offers getting rejected, serious buyers should stay the course and learn from every rejection to be even sharper on the next home," he said.
Read: 10 Signs You Should Not Buy a Home Right NowLearn: Common Real Estate Myths That You Need To Know
He said buying a home in the current market is similar to applying for a job in a competitive industry.
"Buyers need to really stand out with their offers to get noticed and seal the deal," he said. "This could be offering free occupancy after closing or even covering their moving costs or partial credit for closing costs."
It might sound extreme, but Gelios said thinking outside the box is the best way to get your offer accepted.
Of course, it's important not to allow your desire for a particular property to cause you to make a poor financial decision.
Glen Pizzolorusso, a licensed associate real estate broker with Compass in Fairfield County, Connecticut, said knowing your buying power is the key to staying within your budget and winning a bidding war.
Expensive: 50 Cities With the Most Overpriced HomesBargain Hunting: 50 Cities With the Most Underpriced Homes
"If you have a pre-approval for $500,000, speak to your lender and ask them if that is the absolute maximum that you qualify for, or if there is any room to go over," he said. "In a multiple offer situation, the winning bid will be over asking price."
He said how much you can expect to pay over asking price depends on your local market conditions.
"Depending on the market you are shopping in, it could be substantially over asking price," he said. "In my market — Fairfield, Connecticut — we are seeing 5-15% over asking price on many multiple offer situations."
He said if your maximum budget is $500,000, you should not be looking at new homes listed for this price.
Check Out: What Your Real Estate Agent Wishes You KnewResearch: 7 Things You Should Know Before Buying a House
"You should adjust [to] 15-20% below your maximum approval amount," Pizzolorusso said. "The $400-425,000 price range is where you should be shopping, and then be prepared to pay $450K-500K for those homes, should they go in a multiple offer situation."
If possible, he said to be prepared to waive inspections on a property.
"On a new house, this is much easier than on an older house and never waive inspections on a property with a septic system — that could open a huge expensive can of worms," he said. "If you are not comfortable with waiving inspections, make them 'for major mechanical systems, health and safety issues only,' which covers all of your big-ticket items."
He said it's also important to make sure your real estate agent has experience navigating bidding wars and a good track record of winning them.
See: 10 Things To Always Ask the Home InspectorDiscover: 50 Housing Markets That Are Turning Ugly
"A well-respected agent will have a better chance of winning the contract with you, so make sure you do your diligence when selecting an agent," he said.
While often easier said than done, it's also important to try not to get too attached to a property until your bid has been accepted and escrow has closed. This can help you avoid both overpaying and feeling discouraged, because you haven't yet scored the keys to a new home.
The current rate for a 30-year fixed-rate mortgage is 2.9%, as of July 8, 2021. This is actually lower than last year at this time — 3.03%, as of July 9, 2020 — so it's unlikely the housing frenzy will slow anytime soon.
Therefore, integrating current market conditions into your search is a must. What worked to have your offer accepted a couple years ago probably won't be effective today, so maintain your perspective by adapting accordingly.
More From GOBankingRates
Last updated: July 23, 2021