If You Want To Buy a Home, You May Want To Get In Before It's Too Late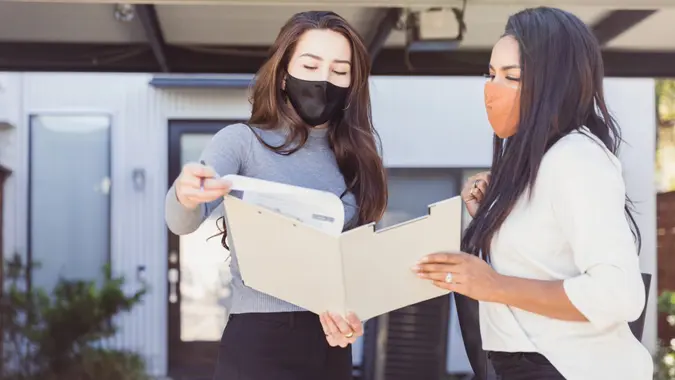 SDI Productions / Getty Images
Even though 30-year mortgage interest rates have risen since their all-time low of 2.65% in January and have held at 3% or a bit higher for all of March and part of April, they are still low. According to data from the Federal Reserve of St. Louis, 30-year mortgage rates didn't dip below 3.43% from January 2016 until March 2020, and during part of that four-year stretch, rates hovered over 4.5% and even approached close to 5% at times. At the end of April this year, rates were 2.98%, dipping from an all-time high for the year of 3.18% at the beginning of the month.
Local Spotlight: Don't Miss Out on Nominating Your Favorite Small Business To Be Featured on GOBankingRates — Ends May 31
While interest rates are still historically low, home prices are soaring. According to a Realtor.com Monthly Housing Trends Report released on April 29, the median U.S. home listing price climbed 17.2% year-over-year to a new high of $375,000.
In a market where mortgage rates are hovering at attractive levels but housing prices are not, some potential homebuyers are looking for a sign that now is the time to buy — wondering if waiting will cause them to lose out on potential savings, either in interest or on the price of a home they are interested in. Here's what real estate and mortgage lending experts had to say.
Don't Wait — Now Is the Time To Buy
Andrina Valdes, COO of Cornerstone Home Lending Inc., believes that many homebuyers who are on the fence shouldn't wait to make their purchase.
"We're in a very unique market — where rates are at record lows — making now a very ideal time to buy," said Valdes. "Compared to the high rates of around 12% seen in the 80s, a homebuyer who purchases at today's low rate (currently around 3%) may pay well over $1,000 less per month. Rates are expected to rise again soon, and buying the same home (using a $250,000 home for this example) when rates are just a half-point higher may cost you over $100 more each month.
Read: Real Estate Investing Guru Mindy Jensen Says To Avoid These Types of Properties
"This doesn't even account for missing out on the financial benefits of homeownership — like the potential for rising equity (with recent annual gains totaling $26,300), growing your savings, dramatically increasing your net worth and improving your financial security," Valdes said.
Valdes also pointed out that another solid reason to purchase right now is that housing prices are continuing to increase. "So, the home you have your eye on right now may cost several thousand dollars more in just a few months," she said. "And in that time frame, you'd also be missing out on the same potential gains in home equity."
More Reasons Homebuyers Should Get In Now Before It's Too Late
Sarah Renard, a real estate broker with Windermere Realty Trust in Portland, Oregon, said the two reasons homebuyers should get into the market now instead of waiting are home value appreciation and rising interest rates.
Discover: The Cost To Own a 3-Bedroom Home in Every State
"All signs point to the market continuing to be hot," Renard said. "We're not seeing any of the indicators of a market bubble like we did in 2008-2009. While we may see home value appreciation slow from its current historically high levels, they're still predicted to be rising.
"And interest rates are on the rise too," said Renard. "We saw them climb back into the 3% (range) in March and April and expect that increase to continue gradually through the end of the year.
"So, if a house is listed in May of 2021 for $542,000 (the March average home price in Portland, Oregon) and the buyer has an interest rate of 2.9% and 20% down, their monthly mortgage payments would be approximately $2,365," she said.
See: 25 Tricks To Sell Your House for a Bigger Profit
"If that same buyer waits until May of 2022, that same house would be listed for about $584,000, their interest rate would be closer to 4% and their down payment savings would now cover only 18.5% of the home price. Their new monthly payment would be $2,865-$500 more than it would have been if they had purchased now instead of waiting.
"I have buyers expecting a raise in the next year and thinking about waiting until then to purchase their first home. The thing is, if they get a 10% raise, that amount won't even cover the increase in their monthly payment that they'll incur just by waiting."
Caution: A Market Crash Is Ahead
But not all experts agree. Tomas Satas, founder and CEO at Windy City HomeBuyer, has a different opinion. He believes buyers should wait.
"Just like any other investment, the goal is to buy low and sell high," Satas said. "That's nearly impossible at this point. Unless a buyer has a specific need like moving for a job, it doesn't make any sense to get involved in the current feeding frenzy. We had a house last week with 36 offers in the first three days on the market. It sold for almost 50% over asking price. How long will it take that buyer to see any equity?"
Learn: 40 Cities That Could Be Poised For a Housing Crisis
Satas advised homebuyers to save their money for when the dip hits because "it always does." "We have some key indicators that it's coming sooner than later like the price of lumber up over 400%," he said. "This market simply cannot continue for long and when the crash hits, cash is king."
More From GOBankingRates
Last updated: May 5, 2021